Celeb First Homes & First Cars
Angelina Jolie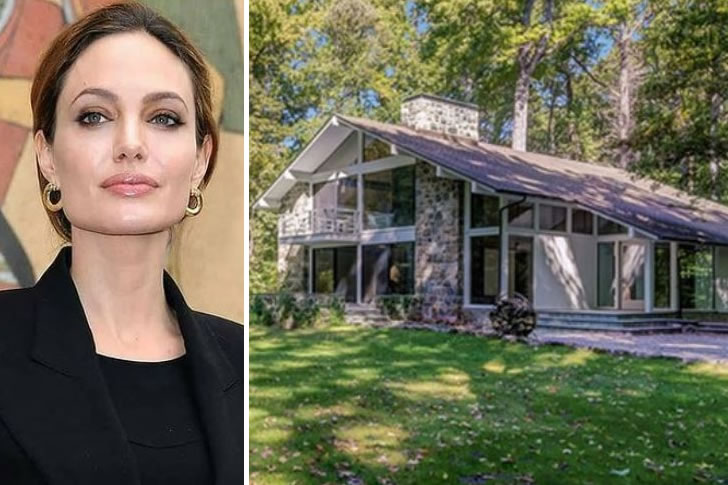 Angelina Jolie was born in Los Angeles, California, to a family of Hollywood personalities, so you'd expect that her childhood home was pretty spacious and lavish. Angelina's childhood home featured four bedrooms that is situated on two acres of private land located in Snedens Landing, New York. However, ever since she's made a name for herself as one of the most successful actresses in Hollywood, she's moved on to purchase a number of homes and real estate investments. One of the best properties in Angelina's ownership is her residence in Los Feliz, Los Angeles.
Angelina Jolie reportedly paid a whopping $24.5 million for the property. The home features six bedrooms, ten bathrooms that sit on a living space that spans 11,000 square feet. Angelina's dreamy mansion also comes with celebrity-grade amenities such as a pool house, a library, several entertainment spaces, and a self-contained guest house with a studio.
Eminem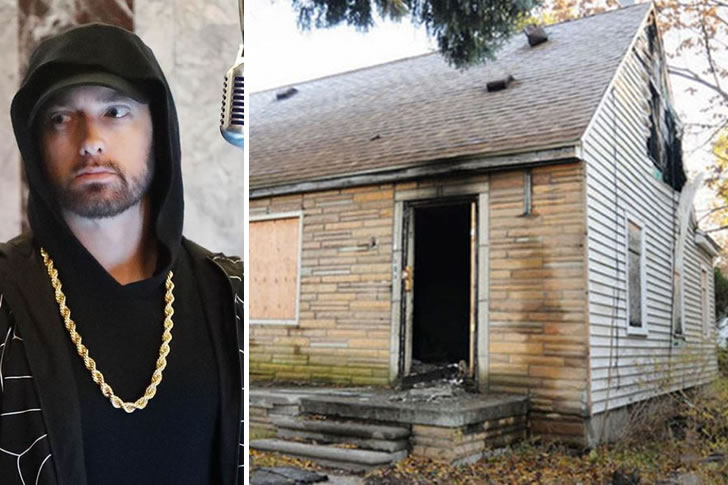 Almost every rap and hip-hop fan know that Eminem spent his younger days living in a working-class neighborhood in Detroit. Interestingly, he used his childhood home on the cover of his 2013 and 2000 Marshall Mathers studio albums. Unfortunately, the house is now in a dilapidated state. However, things have been looking good real-estate-wise for Eminem since he's achieved massive fame and wealth throughout his career.
Eminem isn't known to have a diverse real estate investment portfolio, but it was an obvious smart choice for him to purchase a beautiful mansion in Rochester Hills. "Slim" reportedly paid around $4.75 million back in 2003 for this massive 15,129-square-foot mansion. Eminem's property houses six bedrooms and nine bathrooms. It's also decked out with the most luxurious amenities such as a tennis court, a swimming pool, a five-car garage, and a lake!
John Travolta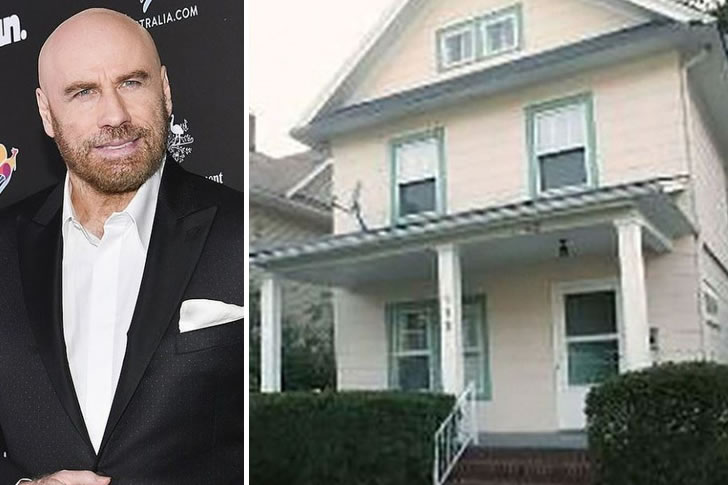 John Travolta is a multi-faceted Hollywood icon who's an actor and is also a singer! He grew up in a three-story home located in Englewood, New Jersey. The house has been his residence back when he was still waiting for his big Hollywood break, along with seven other members of his family. Travolta's childhood home was undoubtedly small and humble, and it is a complete contrast to his residence today!
Fast forward to today, the Grease star used his success in the entertainment industry to accumulate several real estate investments. One of his properties is his beautiful home located in Anthony, Florida. In case you're curious, Travolta's Florida residence isn't a regular celebrity home by any means! It has its own private airport, and it sits in the exclusive neighborhood of Jumbolair Aviation Estates residential airpark. The actor reportedly paid about $5 million for the property, and he uses it as a hangar for five of his planes, including a massive Boeing 707.
Michael Jackson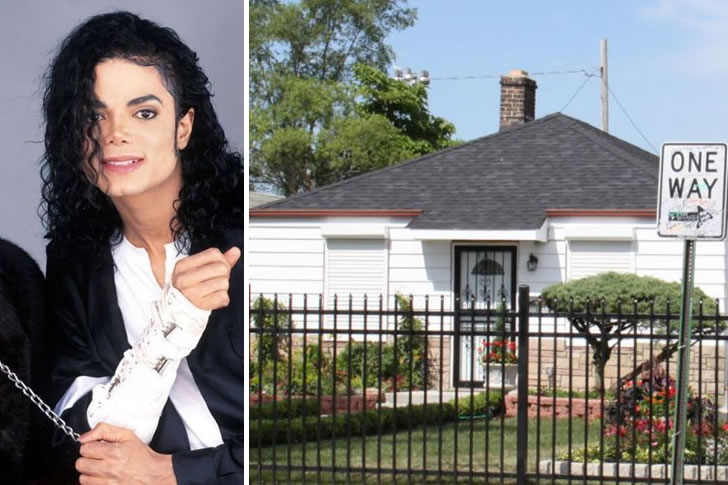 Together with the entire Jackson Five, Michael Jackson grew up in a single-story home in Gary, Indiana. Indeed, their upbringing was a humble one as their family of eleven shared a two-bedroom, one-bathroom house. Michael's entire family lived there until The Jackson Five started gaining popularity. When they became recognizable personalities in show business, the family of musicians moved to Hollywood in search of greener pastures. In the early 1970s, the Jacksons bought a two-acre property that they immediately called their new home.
Michael eventually carved his own path in show business and music, and he's managed to achieve massive success as a solo act. With all the acclaim and wealth that he acquired, the King of Pop devoted his spare time to making investments that would expand his real estate portfolio. In 1988, he purchased a property he promptly called the Neverland Ranch. Michael's Neverland Ranch features a 13,000-square-foot main house that sits in a 2,700-acre land. He reportedly paid between $19.5 million to $30 million for the property. It features an arcade, three railroads, and other rides that you'd often find in an amusement park!
Rihanna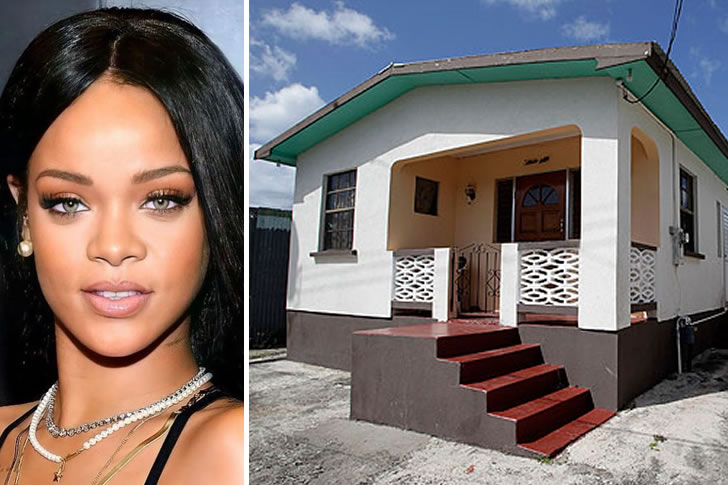 Renowned singer and actress Rihanna grew up in a humble and small bungalow-type home in Saint Michael, Barbados. Rihanna lived in the bungalow together with her two brothers and parents. Since she achieved massive success in the industry, it was a no-brainer to upgrade into a more lavish and luxurious real estate investment without having trouble paying for the mortgage!
Rihanna got hold of a beautiful and sprawling mansion located in Los Angeles. She reportedly paid around $6.8 million for the property that features six bedrooms and eight bathrooms in 7,130 square feet of living space. The home also features plenty of celebrity-grade amenities that the singer can enjoy whenever she's not working on another studio album. It turns out that Rihanna has been residing in London for the past couple of years, and she's currently renting her Los Angeles pad out for a bargain price of 35,000 dollars per month.
Taylor Swift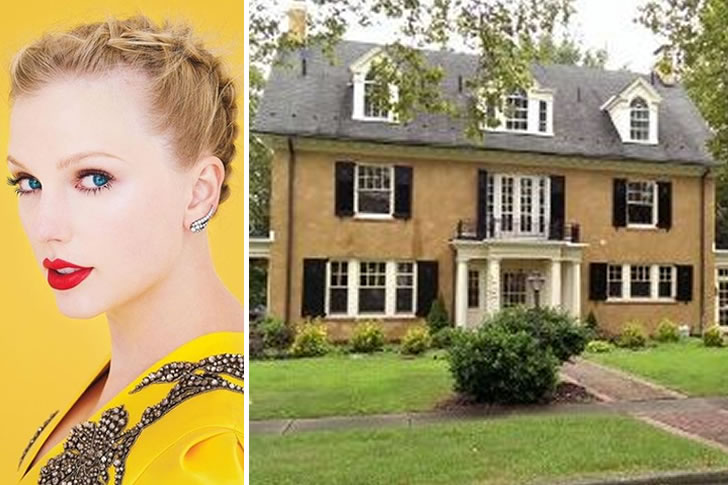 Before becoming one of the biggest pop stars and personalities in the entertainment industry, Taylor Swift was living in a three-story home that wasn't all too shabby. She grew up in a home located in Nashville, Tennessee, and you could argue that her childhood home was elegant, spacious, and certainly comfortable enough. Once she broke through and achieved massive success, it was a no-brainer for Taylor to move on and upgrade her living situation.
Taylor Swift has been known to own several houses, properties, and real estate investments. One of Taylor's properties and her current residence is her beautiful penthouse located in her hometown of Nashville. Taylor reportedly paid around $2 million for the two-story penthouse, and it came with three bedrooms and four bathrooms. She usually spends her time just chilling and relaxing on this property whenever she's in Nashville or whenever she's not working on new songs.
Zac Efron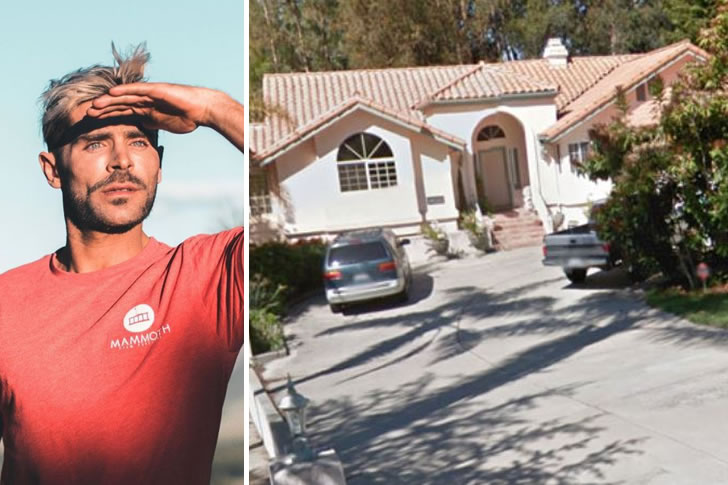 You probably know Zac Efron for his credit role as "Troy Bolton" on the hit Disney television film series High School Musical. Zac spent his younger years in the beautiful city of Arroyo Grande in California. His childhood home looked incredibly modest, and it looked like an ordinary Californian home in the suburbs with a garage, a spacious driveway, and lush greenery.
Since he has already achieved massive success as an actor, it was an easy financial decision for Zac to purchase a property of his own. He didn't move far away from his hometown as he now lives in Los Files, just 200 miles away. He purchased a beautiful mansion which he paid $4 million for back in 2013. The property came with five bedrooms and five bathrooms in over 5,640 square feet of living space. It also sports a games room, an indoor pond, a gym, a wine cellar, and breathtaking views of LA, as seen from the pool area and balcony.
Arnold Schwarzenegger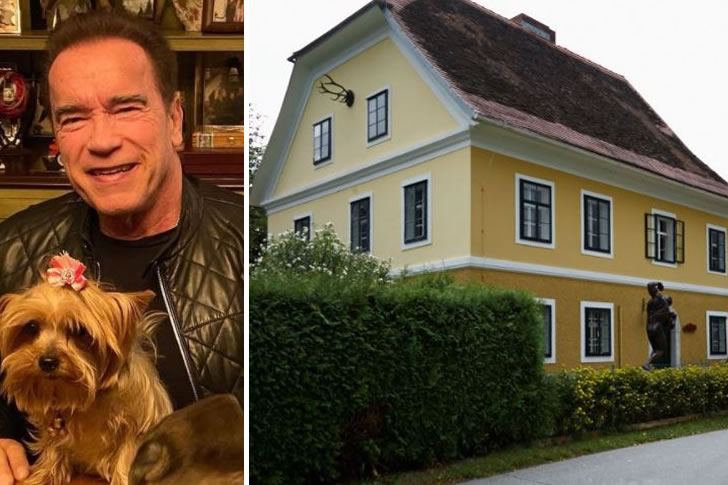 Everyone knows Arnold Schwarzenegger as he made his mark as an actor, a bodybuilding legend, and a former governor. Arnold grew up in a humble 2-story home located in his home country of Austria. It's located in Thal, near Graz, and it is no longer a home today. Instead, Arnold, in collaboration with the local government, decided to turn his childhood pad into a museum that's dedicated to his life and displays his credits and achievements as an actor, a bodybuilder, and a pop icon.
Without a doubt, Arnold has been widely successful since he decided to move to the United States. Today, he comfortably lives in his Brentwood home that's incredibly spacious and luxurious! Arnold's 14,500-square-foot Brentwood pad features seven bedrooms and ten bathrooms. He bought this beautiful pad in the early 2000s, and it also sports a swimming pool, a tennis court, a spacious home office, and of course, a private gym.
Chris Pratt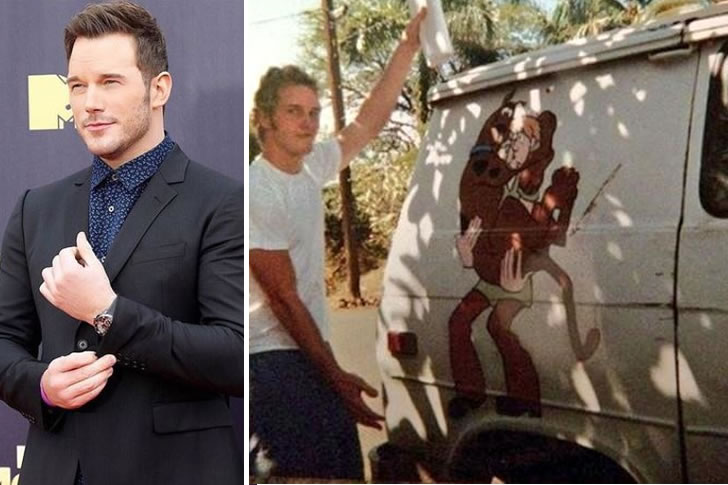 Chris Pratt is one of the biggest Hollywood stars today, and he grew up in his childhood home located in Lake Stevens, Washington State. Pratt first moved together with his family in this lovely property when he was seven years old. A decade later, Pratt decided to go on a solo adventure, and he found himself living in Hawaii, where he worked as a waiter while living in his van.
You'd certainly expect that Chris Pratt is no longer living in his van today. He now has numerous investments in real estate, one of which is his $3.3 million home in Hollywood Hills. Pratt resided in this beautiful 4,500-square-foot home together with his then-wife, Anna Faris. The home features a saltwater swimming pool, a tennis court, a gym, and plenty more celebrity-grade amenities. Today, Chris Pratt is reportedly building a new $15.6 million-mansion together with his now-wife, Kathy Schwarzenegger.
Jimmy Fallon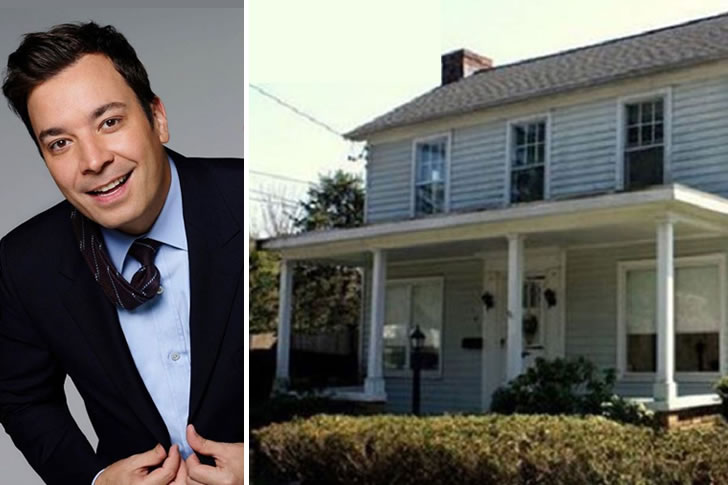 Jimmy Fallon once regularly roamed the Bay Ridge neighborhood of Brooklyn, New York. He spent his younger days living in his parents' modest and humble two-story suburban home located in Saugerties, New York. The property didn't have any fancy and luxurious amenities, but it was certainly enough for his parents as they were able to raise an iconic comedian in it. His childhood home and neighborhood are definitely a contrast to his current residence as he now lives in Sagaponack, Long Island, New York.
It isn't surprising for Fallon to use the millions he's earned as an entertainer on a beautiful property in Long Island. He reportedly paid around $5.7 million for the 3,500-square-foot home a few years ago. The property came with several rooms, including a swimming pool, horse stables, and a plethora of other luxurious amenities! Fallon certainly won't have any problems paying for the insurance and maintenance costs with all the projects that he currently has!
Lebron James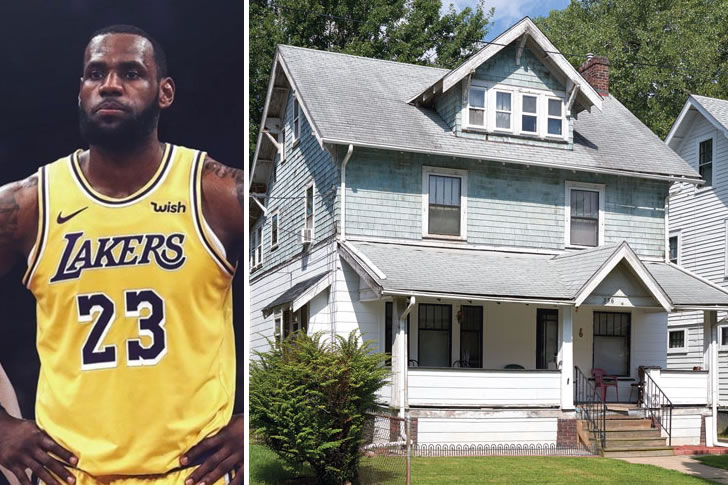 There is no doubt that Lebron James is a modern-day example of hard work and perseverance. He leveraged his talent as a basketball player to carve a massively successful career in the NBA. Lebron definitely deserves a ton of credit for making the most out of a rough childhood. Between ages 3 and 17, James was reportedly unable to find a permanent home. He was constantly sleeping on a lot of couches, and he lived in his coach's modest two-story home in Akron, Ohio.
Other than being one of the best basketball players, Lebron is also one of the wealthiest players today. We're confident that his financial advisor gave him the green light when he purchased a beautiful mansion located in Brentwood, LA. The property is now Lebron's main residence, and it features eight bedrooms, eleven bathrooms that include a gated driveway. The property also sports a top-of-the-line chef's kitchen, a home theater, a wine cellar, a gym, a pool and spa area, and a sizable garage.
Miley Cyrus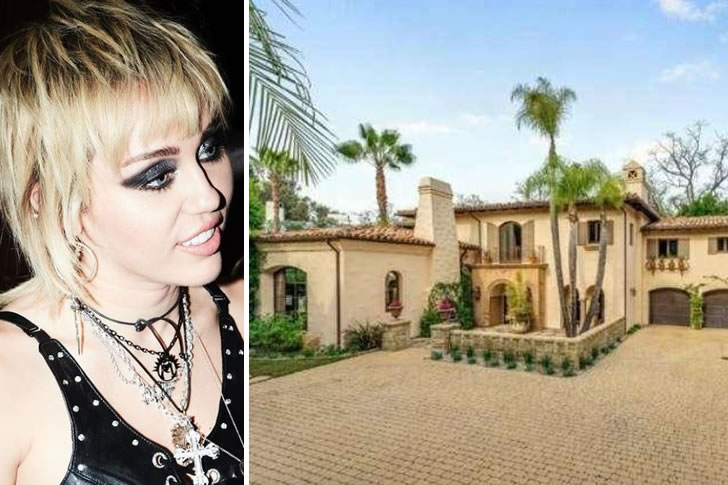 Miley Cyrus is one of the recognizable pop personalities today. She's a Tennessee-born singer, actress, and record producer who grew up in a beautiful farmhouse located just outside of Nashville. Since she's the daughter of well-known country star Billy Ray, you'd certainly expect that she lived in a very nice house. When she became a music star herself, it was a no-brainer to upgrade her residential and living conditions!
Today, Miley lives in a beautiful home located in the Hidden Hills neighborhood of Los Angeles. She reportedly paid around $4.95 million for the home back in 2018, and it features six bedrooms and six and a half bathrooms. Miley's Hidden Hills home also sports celebrity-grade amenities such as a gourmet kitchen, a swimming pool, a home theater, numerous fireplaces, and a patio. With a massive home like this, you'd think that the maintenance and insurance costs must be incredibly costly! However, for a teen pop star sensation like Miley, we're confident that it's something that she can easily cover!
Selena Gomez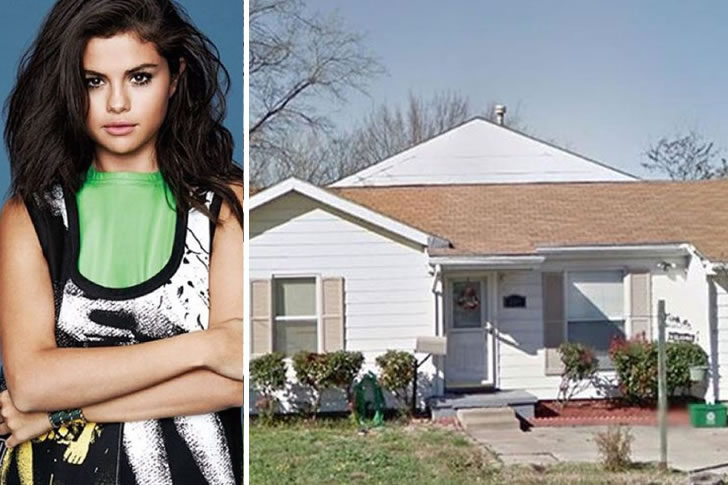 Selena Gomez is a successful young actress, singer, and record producer. She was born in Grand Prairie, Texas, where she grew up in a modest single-story house in a suburban Texas neighborhood. Selena's childhood home didn't look out of the ordinary, and it didn't feature any lavish celebrity-grade amenity. It was certainly enough for her to kickstart a successful career when she appeared on the iconic television show Barney & Friends at the age of 10 years old.
Soon after her television debut, Selena quickly rose to becoming one of the most recognizable personalities in Hollywood. Just like her friend Taylor Swift, Selena is very much into buying houses and other real estate investments. Over the past few years, Selena Gomez has been able to acquire at least four properties. Today, Selena lives in a beautiful mansion that was formerly owned by renowned singer and songwriter Tom Petty. Selena's current residence features six bedrooms, ten bathrooms, and a recording studio with its own vocal booth. It's also equipped with lavish amenities such as a wine cellar, sunken living room, a massage room, a swimming pool, and many other lavish things.
James Taylor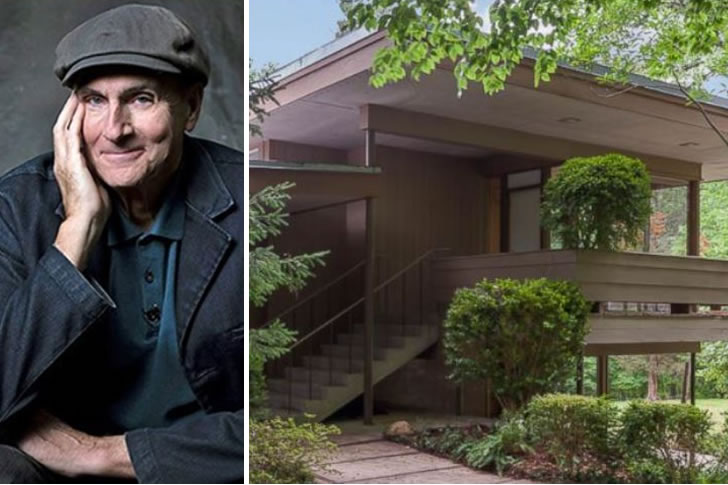 James Taylor is an accomplished American musician. With six Grammy Awards to his credit, he was inducted into the Rock and Roll Hall of Famer back in 2000 as he is widely considered as one of the best-selling music artists of all time. He came into prominence in 1970 with his single Fire and Rain and Greatest Hits album, which sold over 12 million copies in the US in 1976. For years to come after, each of his albums released would garner over a million copies sold. However, before all these, what you may not know is that James came from a well-off family. His father was a wealthy physician, and his mother was a classically trained opera singer.
In 2016, it came to the attention of the public that James' childhood home was listed for sale on the real estate market. Fans from all over came and visited the site and, to their delight, would not be disappointed. The house is a sprawling 3,172 -square-foot modernist style architecture. It is spacious, lavish, and is designed perfectly for parties and gatherings. The house would later be auctioned for a little less than $1.7 million.
Madonna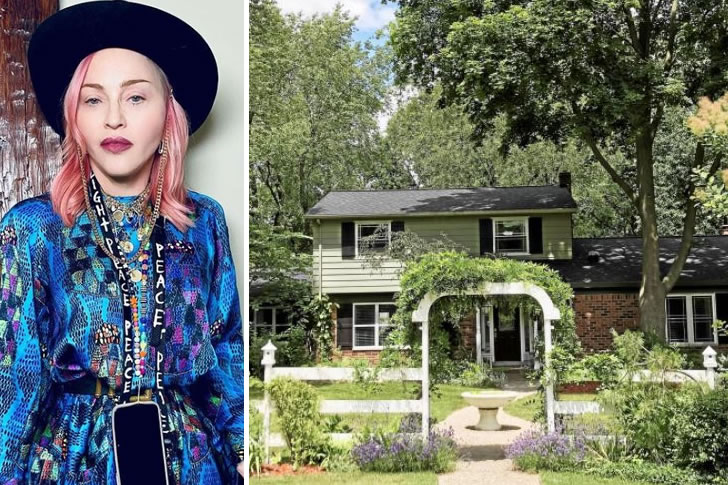 Madonna is considered to be one of history's most famous pop figures and is also referred to as the Queen of Pop. Throughout her career, fans have witnessed her genre of music evolve with pop culture. This enabled her to retain her prominence in the mainstream of the music industry. As witnesses to her live performances, Madonna is known for her showmanship and outlandish visual presentations that would never disappoint anyone. She has won 224 staggering accolades for various songs and albums throughout her career and is estimated to have a net worth of $850 million.
Before all the glamour and fortune came her way, the Queen of Pop lived a humble childhood in the suburbs of Detroit. In 2017, the quaint suburban house was sold for $411,000. With all the luxurious properties Madonna is known to have around the UK and the US, it is a welcoming surprise to know that through the formative years, she came from a much more relatable environment.
Gwyneth Paltrow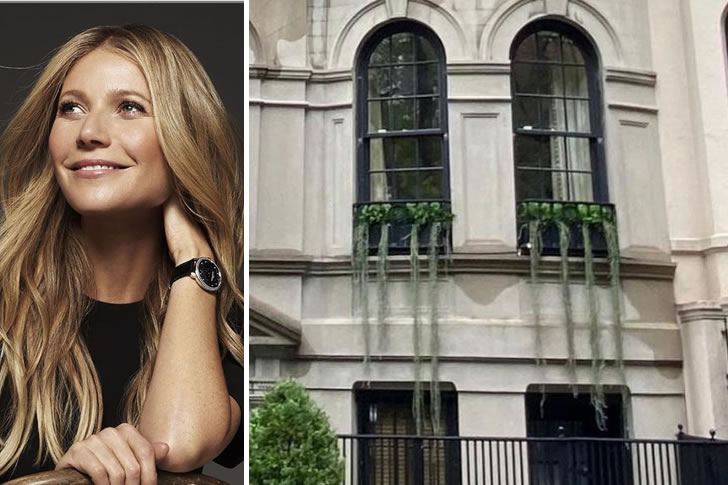 Gwyneth Paltrow is a famous actress and businesswoman. She has numerous accolades in her acting career, including two Screen Actors Guild Awards and a Golden Globe Award. She rose to fame for her roles in A Perfect Murder, Seven, Sliding Doors, and Emma. She'd gain further recognition in Shakespeare in Love, which garnered her an Academy Award. In the early 2000s, she would enter a new chapter of her life and start a family with her then husband, Chris Martin. Gwyneth stepped back from the limelight then and only made a few appearances until her recent famous role as Pepper Potts in the Marvel Cinematic Universe film franchise.
Growing up, Gwyneth came from a well-off family. Her father was a director-producer, and her mother was an actress. From recent news, it is evident that Gwyneth's childhood house was one of her parents' valued investments as it was  listed for $15.5 million. The grandiose townhouse is located at upper-east side Manhattan.
Hayden Panettiere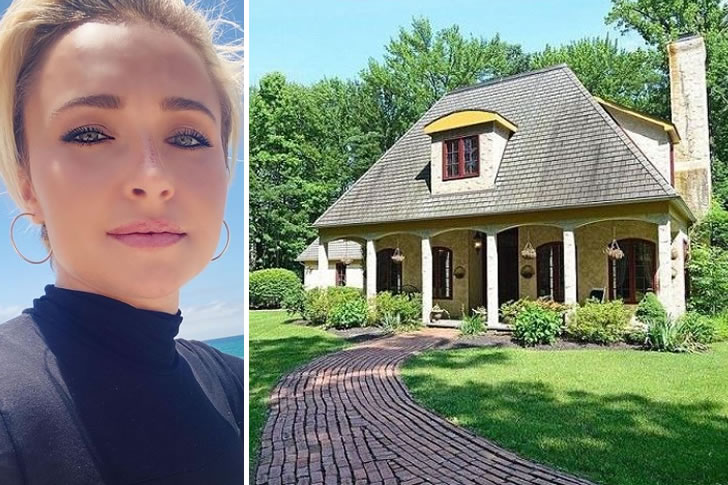 Hayden Panettiere is a famous singer, actress, and model. She is widely known for roles as Juliette Barnes in the musical series Nashville and as Claire Bennet in the series Heroes. Hailing from the state of New York, she started her career at a very young age, a little less than 1-year-old, appearing in a commercial. In 1994 she'd portray Sarah Roberts in One Life to Live and was then followed up with another TV series Guiding Light. Hayden also appeared in films such as I Love You, Beth Cooper, Remember the Titans, Raising Helen, and Scream 4, among others. Apart from these, she also has done voice acting roles for video games to her credit, including Kingdom Hearts and Until Dawn.
In 2015, Hayden's childhood home would be known to the public as it hit the real estate market for a little less than $1.8 million. The quaint house in the state of New York, was a perfect environment for Hayden during her formative years. The 4,700 square-foot property hosts four bedrooms and bathrooms and is surrounded by hiking trails. Being homeschooled, Hayden couldn't have asked for a better home such as this; comfortable and relaxed surrounded by nature.
Harrison Ford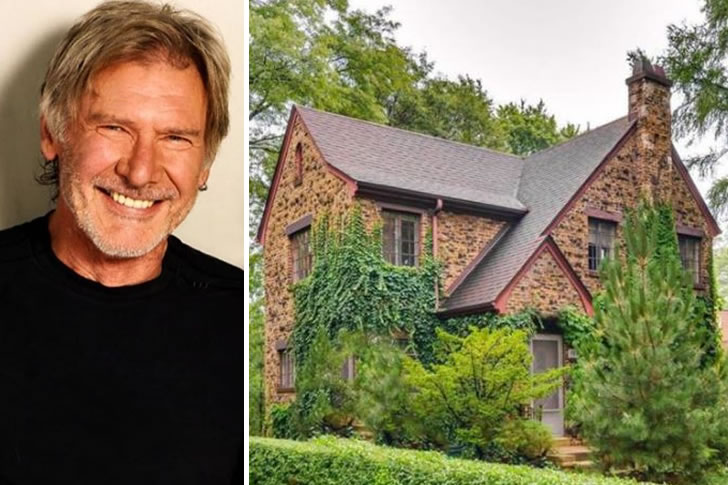 Harrison Ford is probably one of Hollywood's most recognizable names. It was reported in 2019 that his films had a gross of a staggering $5.1 billion in the US and $9.1 billion worldwide. It is undeniable how commercially successful Harisson's career has been in the Hollywood industry. He gained worldwide recognition for his role in the Star Wars franchise and is also widely known for his portrayal in the Indian Jones film franchise.
With all the accolades and commercial success he has gained, it doesn't come as a surprise that Harrison has made a number of investments in his life, including an 800-acre ranch where he and his family now reside. Before all the fortune and fame, as a young boy, Harrison spent his formative years in a fanciful Tudor-style house in Chicago, Illinois. The quaint property was sold for $600,000 in 2020, and it was also rumored that the young Harrison had Hillary Clinton as a neighbor back in the day.
Bruce Springsteen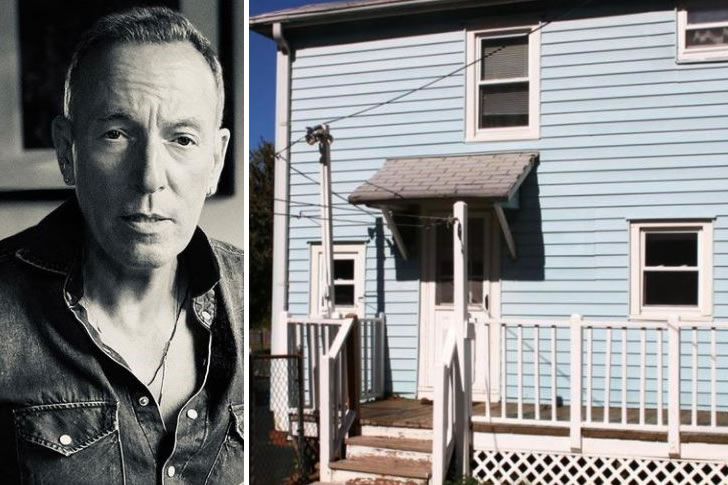 Bruce Springsteen has had a long-running career in the music industry spanning a good five decades. Nicknamed The Boss, Bruce is a rock icon known for his music that has a classic representation of the struggles of a diligent working-class American. His most commercially successful album to date is Born in the USA, released in the 1980s. It is considered to be one of the best-selling albums of all time, which sold 30 million copies across the world. He has made a huge social impact in American culture as he sang about the plights of the working American throughout his career.
To his credit, Bruce grew in an environment synonymous with his songs. The rock legend lived in Jersey Shore, New Jersey. He grew up in a humble 824 square-feet house with two bedrooms, as relatable as it can be for any hard-working American. He spent his formative years there between the ages of six and 19 before setting off to become the iconic musician that he is today.
Renee Zellweger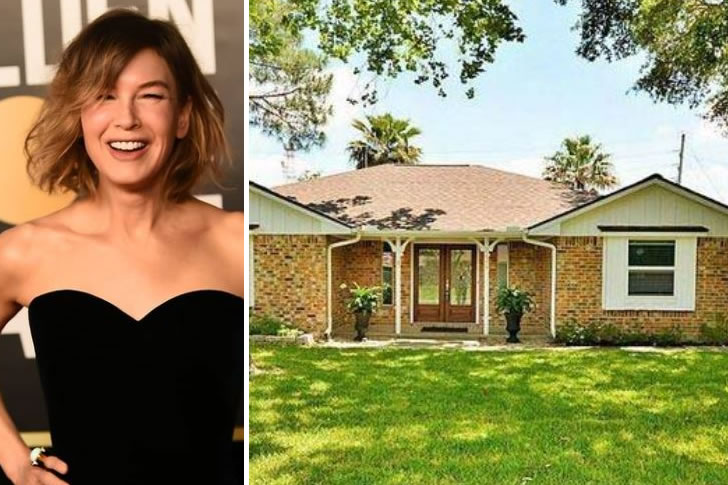 In 2007, Renee Zellweger was considered to be one of the highest-paid actresses worldwide. She is the recipient of numerous accolades, including two BAFTA Awards, two Academy Awards, and four Screen Actors Guild Awards. She studied to acquire a degree in English Literature and originally opted for a career in journalism. She had a change of heart during her college years and pursued a career in acting instead. Some of her first appearances in the industry include movies such as  Dazed and Confused, Reality Bites, and Texas Chainsaw Massacre (1994). She'd later rose to prominence for her roles in One True Thing, Jerry Maguire, Nurse Betty, and Me, Myself, and Irene.
Renee would gain worldwide recognition for her portrayal of Bridget Jones in Bridget Jones's Diary. She'd further gain more success in the musical Chicago and for the drama Cold Mountain. Before all the glamour and success Renee achieved, she lived a humbler life in her hometown of Texas. In 2020, it would be known to the public that her childhood house was sold for $687,000. The property's main-house is 2,897 square-feet big that comes with four bedrooms and two bathrooms – a perfect environment for the soon-to-be star.
Ben Affleck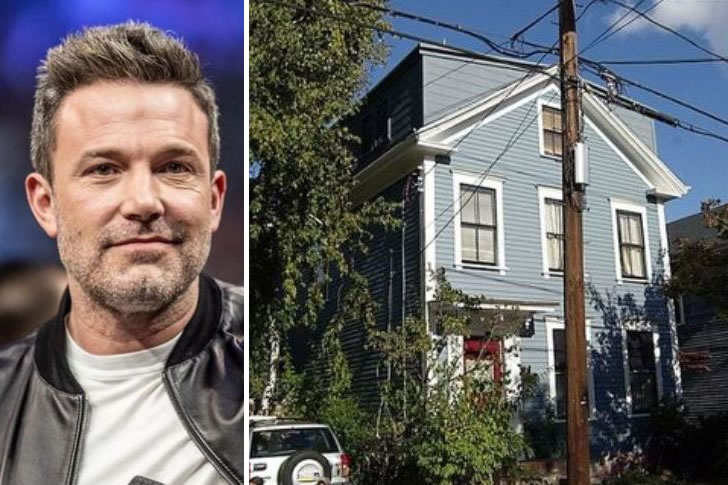 Ben Affleck is a famous American actor, director, producer, and screenwriter. He has two Academy Awards and three Golden Globes to his credit. He started his career at a young age but would not gain recognition until he landed roles in films with director Kevin Smith. His films with the director include Dogma, Chasing Amy, and Mallrats. He solidified his Hollywood prominence for his award-winning film, Good Will Hunting, in which he starred and co-wrote. He further starred in a number of films such as Hollywoodland, Gone Baby Gone, The Town, and Argo, among others. In recent years he is famous for his portrayal of Bruce Wayne, The Batman in the DC movie franchise.
As of 2021, he has an estimated net worth of $150 million. He truly came a long way, considering his humble beginnings living in a small house in Cambridge, Massachusetts. Affleck is also known for his lifelong friendship with fellow Hollywood A-lister Matt Damon. Ben and Matt spent their formative years together in the same neighborhood, and little did they know how successful they'd become in the industry.
Daniel Craig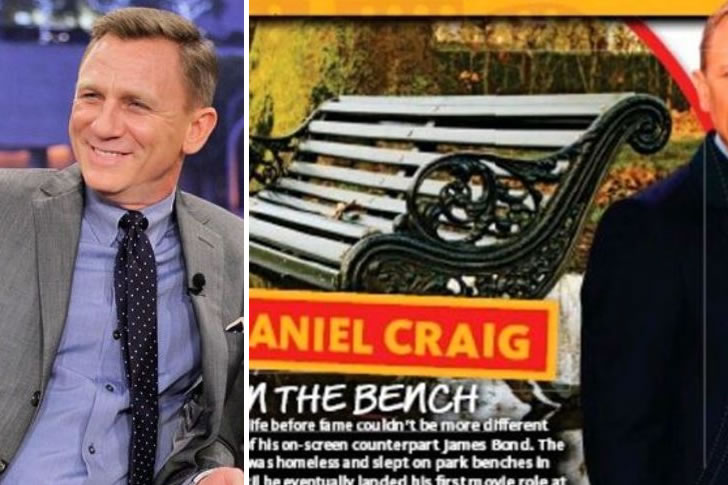 Daniel Craig is known for landing the iconic role of James Bond. To his credit, he is the seventh actor to play the role of the legendary British spy, and we all know he has not disappointed any of us. He has separated himself from his predecessors for his rougher and gritty portrayal of Bond. This would prove to be a new formula for success as Daniel has played the role for four movies to date and is set to release a fifth with No Time to Die, which is set to release this year.
Before his worldwide recognition, Daniel showed a level of gritty perseverance his character has shown as he lived a life of hardship, waiting tables and even homelessness. It has been reported that Daniel used to sleep on park benches aspiring for better days. Such days have come and gone, and even more for he is estimated to have a net worth of $170 million as of 2021.
Halle Berry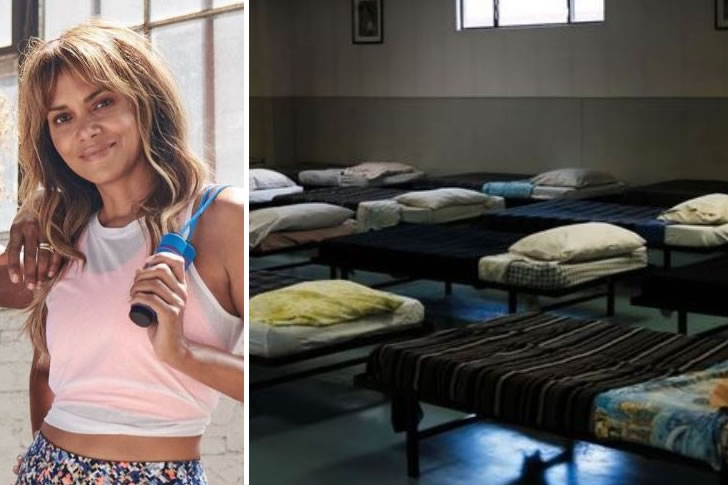 Before becoming a Hollywood actress, Halle Berry first started with a career in modeling. She entered various beauty pageants and even finished as a first runner-up in the Miss USA. In 1986, she finished sixth in the Miss World beauty pageant. As an actress, her breakthrough performance came in the 1992 film Boomerang, where she co-starred with Eddie Murphy. Halle would eventually win an Academy Award for Best Actress for her role in the movie Monster's Ball.
As of 2021, she is estimated to have a net worth of $90 million. However, it wasn't always this great for the beautiful actress. Her experience running up to the success that she has achieved is worth taking note of as she lived the life of a struggling artist. It is even reported that at the age of 21, she used to take refuge in homeless shelters just to get by. Looking back at her life, she truly counts her blessings and has made the investments of her dreams, considering she now lives at her dream house in Malibu.
Jim Carrey
Jim Carrey is a world-famous actor and comedian. He started out doing stand-up comedy in his homeland of Canada before making a name for himself as a comedy actor in the US. Some of his famous movies are Ace Ventura, The Mask, Liar Liar, and Bruce Almighty.
Before Jim brought laughter to the world, he lived a very trying life. For some time before he made his breakthrough, he used to live in his van and sometimes even sleep in a tent on his sister's lawn. It goes without saying that such are the struggles of an aspiring artist. During his formative years, his parents weren't well off. He was even a working student at a factory near their small humble home. To his credit, he has achieved his dreams and more as he is estimated to have a net worth of $180 million as of 2021.
Judy Garland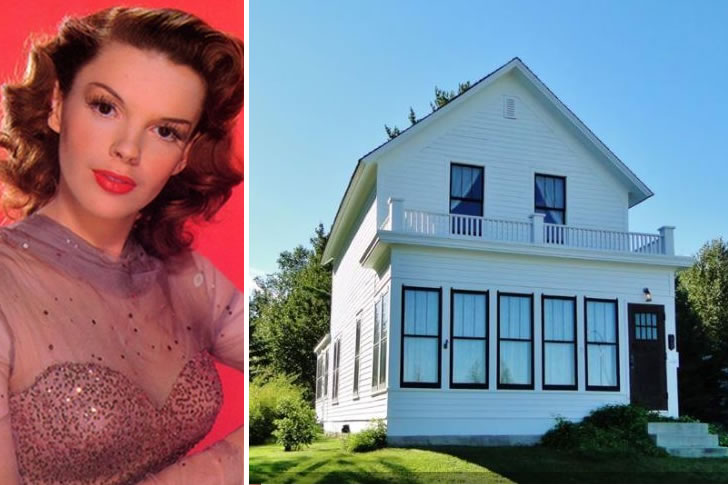 Judy Garland is the very definition of a multi-talented artist. She is a prolific actress, singer, and dancer. She is the first-ever female artist to have won the coveted Grammy Award for Album of the Year in 1961. Judy is also regarded as one of the pioneers of modern cinema and is remembered by many for her movies such as Wizard of Oz (1939), A Star is Born, and Judgement at Nuremberg. With all the success in Judy's four-decade career, she also experienced hardships along the way. She was the focus of some harsh criticisms from film executives, which eventually led her to a downward spiral.
Feeling the unwarranted pressure from her work environment, she turned to substance abuse and would pass away at the young age of 47. Fortunately, it is to her credit that we remember her for her talents in the art of singing and acting. Growing up, she lived a simple life in Lancaster, California near Hollywood. Her dad bought the house overlooking the local theater, dreaming of her daughter's future with her singing and dancing talents.
Kate Hudson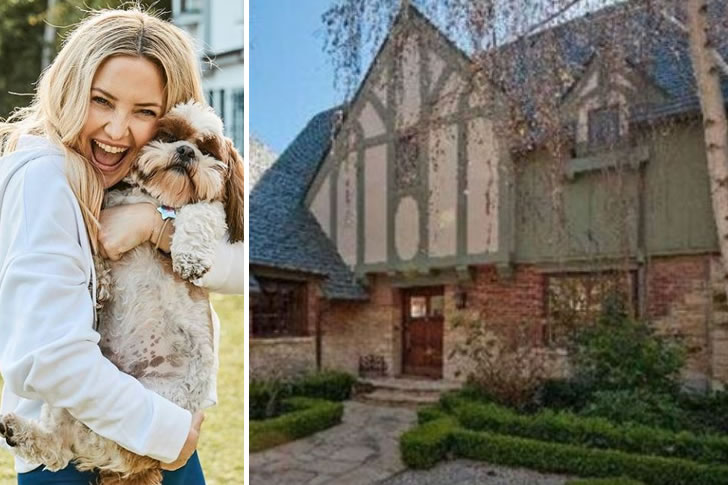 Kate Hudson is an actress, author and businesswoman. She initially gained her fame for her award-winning role in the movie Almost Famous. Kate is also known for movies such as The Skeleton Key, How to Lose a Guy in 10 Days, Deepwater Horizon, Bride Wars, and You, Me, and Dupree. Apart from her acting career, she is also the co-founder of Fabletics. The company is an online subscription retailer for sports apparels. Kate is also a successful author with two published books under her belt.
With all the wealth that she has earned through her career it is not surprising that she'd land some property investments. One of which is her childhood home in the Pacific Palisades. The house was built in 1935 and was originally owned by Kate's mother Goldie Hawn. It was later sold off and was expanded to a now sprawling 7000 square-feet property. In 2011 Kate purchased the house and also owns the house next door.
Leonardo DiCaprio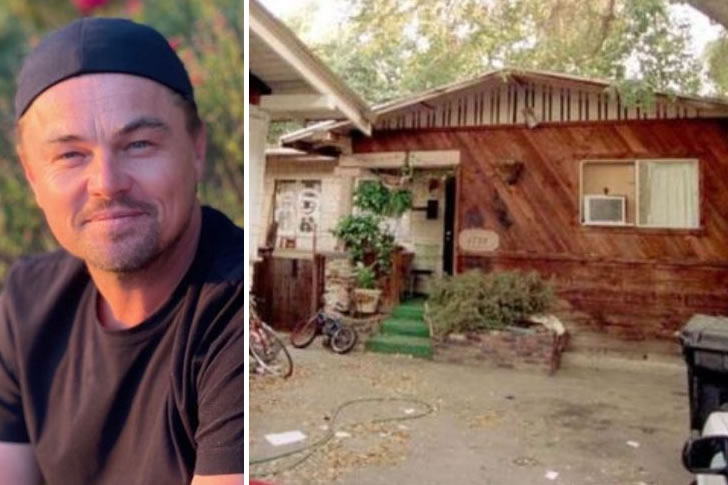 Much to everyone's surprise, Leonardo DiCaprio grew up in poverty. He grew up in a small house in the rough part of Los Angeles. He confessed that during those days, it wasn't unusual to see the darker side of life being surrounded by prostitutes and illegal substances in his neighborhood. Much of his success, he gives credit to his mother and saw acting as a way out of that life, which we all know he has already achieved. Now living at the other end of the spectrum, Leonardo has an estimated net worth of $260 million.
He also has the accolades to show for his hard work in the industry. Such awards include an Academy Award, a Golden Globe Award, and a BAFTA Award. It is truly heartwarming to know how a young aspiring Leanardo aspired of better days with the full support of his loving mother to then achieve his dreams.
Mark Wahlberg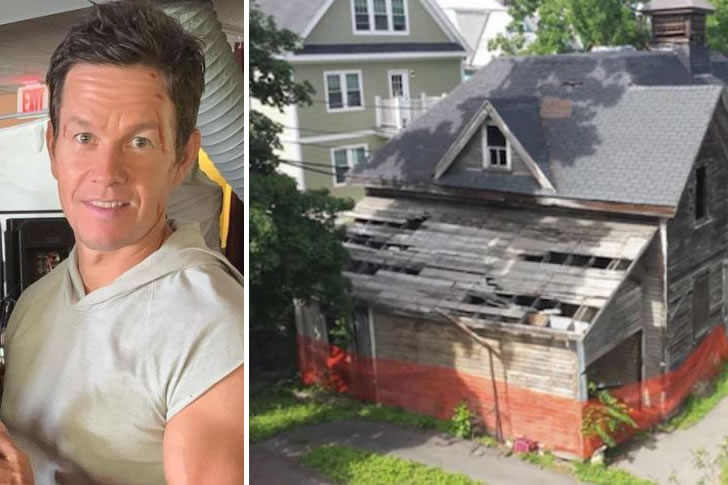 Mark Wahlberg is one of the most successful personalities in Hollywood. He isn't only an actor, but also he is a producer, entrepreneur, and former rapper. He first started out as a model and a rapper in a rap group named Marky Mark and the Funky Bunch. He would then transition to acting and eventually made his film debut in the 1994 Renaissance Man. He'd later gain more recognition for his credit role in the movie Boogie Nights. In the 2000s, we would witness Mark's rise to prominence in a series of high-budgeted movies such as The Italian Job, Planet of the Apes, and The Departed.
Apart from acting, he is also a successful producer, and his works include Entourage, Boardwalk Empire, Billions, and How to Make it in America, among others. Throughout his career, Mark has made a name for himself in Hollywood. In 2018, while on the set of Wonderland, Mark posted a video on his Instagram paying homage to his roots as he is seen standing in front of his classic triple-decker-style childhood house in Dorchester and writing "This is where it all began" as the caption on his post. Very fitting as he has come a long way with his very successful and lucrative career in Hollywood.
John Lennon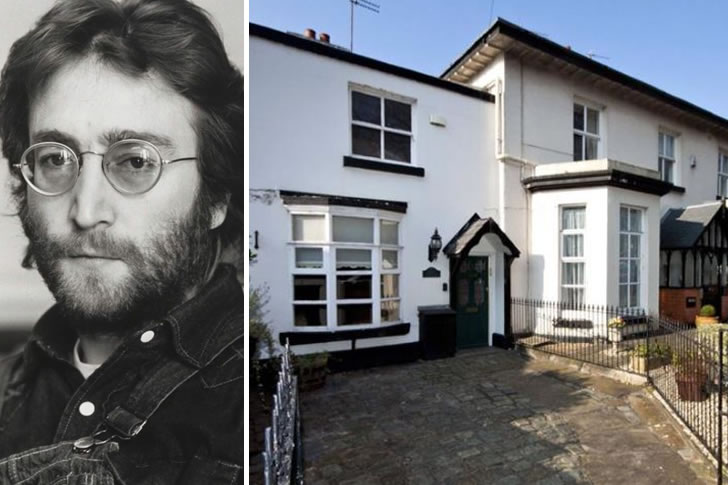 John Lennon was a musician from the worldwide phenomenon, The Beatles. Born in 1940 in Liverpool, England, Lennon did not have a normal childhood since his parents fought for his legal custody after her father, who was a seaman, discovered that his mother got pregnant by another man. He ended up living with his mother's sister, Mimi, and her husband, in a semi-detached home in Liverpool. He spent his life there from age five until he was capable of living on his own, and despite everything, his struggling mom gave him a visit.
After high school, Lennon's mother bought him an acoustic guitar. He then met Paul McCartney, and later on, the legendary band The Beatles was formed. Today, the band is considered as the best-selling musical act of all time. In 1969, he married Yoko Ono and had one son, Sean Lennon. In 2002, Ono bought the house Lennon grew up in and donated it in the National to prevent it from being demolished.
Andy Warhol
Andy Warhol was an American artist, cinematographer, and actor. He was one of the leaders of pop art, which is a visual art movement. He was born on August 6, 1928. At the age of six years old, he spent his life in a three-story house in Pittsburgh, Pennsylvania. This yellow-brick home was where he spent 15 years of his life until 1949. In the basement of this house was where he learned to use a camera.
Warhol's paintings were some of the most expensive artworks ever purchased. His single masterpiece, Silver Car Wash, was sold for a whopping $105 million. Several other paintings of him include celebrities like Marilyn Monroe, Elvis, Troy Donahue, and Muhammad Ali. Many of his works can now be seen at The Andy Warhol Museum in Pittsburgh. The museum is the largest in the United States, dedicated to just one artist.
Kurt Cobain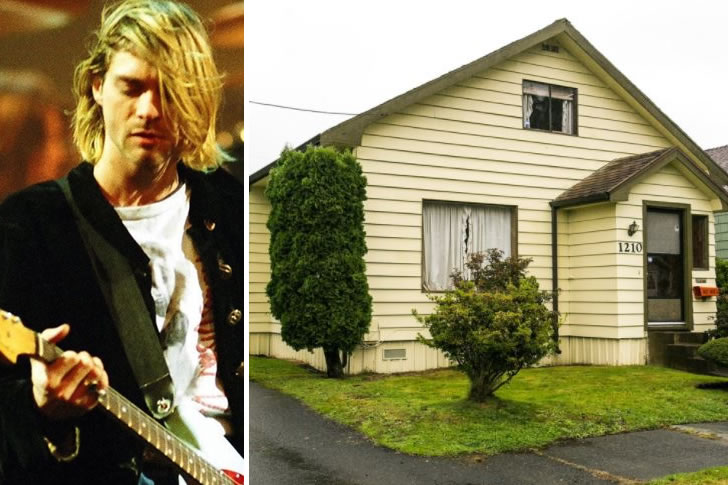 It smells like someone's spirit lived in this house in Washington. It was the frontman of the widely famous band Nirvana, Kurt Cobain. It is a 1.5 story house located on 1210 E. 1st Street, Aberdeen, WA. Cobain spent his early childhood here. He even enrolled at the nearest Robert Gray Elementary School in 1972 but eventually left after his parents separated and he moved in with his father. He was a high school drop-out and later pursued a career in the punk genre, then Nirvana was formed.
In an article from Forbes, way back in 2013, that same house was listed for $500,000, even though the assessed value was just $67,000. The one responsible for the sale was his mother, Wendy O'Connor. Unfortunately, there were no takers for the property, and none of his fans at least dared to get a house loan so they could get their hands on this memorabilia. So after a year, the price was lowered to $400,000, until it eventually dropped down to $225,000.
Bob Dylan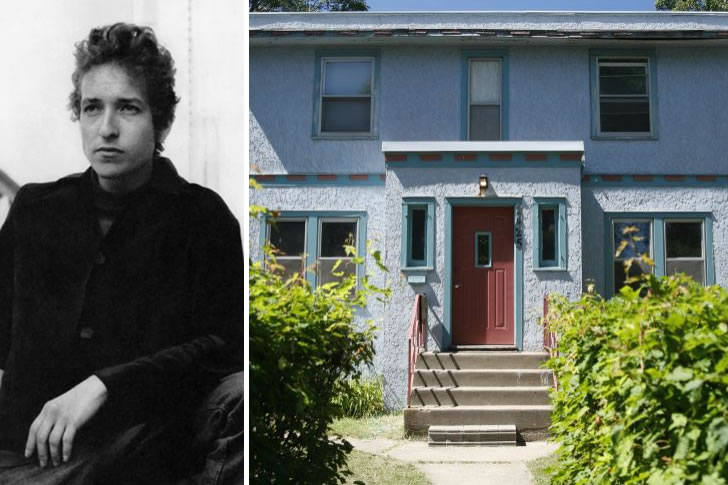 Before stardom, Robert Zimmerman, widely known for his stage name Bob Dylan, once lived on the second floor of a duplex house in Duluth, Minnesota. The place sits in a Jewish community, which is where he stayed for six years and experienced a lot of firsts in his life before moving to his mother's hometown in Hibbing, Minnesota.
He enrolled at the University of Minnesota and started performing at a nearby coffee shop. After his freshman year in 1961, he flew to New York, made numerous connections until he became the person we know today. Dylan is undoubtedly living with better roofing in Malibu, while his childhood home in Duluth is now owned by Bill Pagel. On Bob's birthday in 2017, numerous fans gathered in front of the house and had a little celebration. Bob Dylan is a 10th time Grammy and Academy winner, a Nobel prize recipient, including the Presidential Medal of Freedom.
Hans Christian Andersen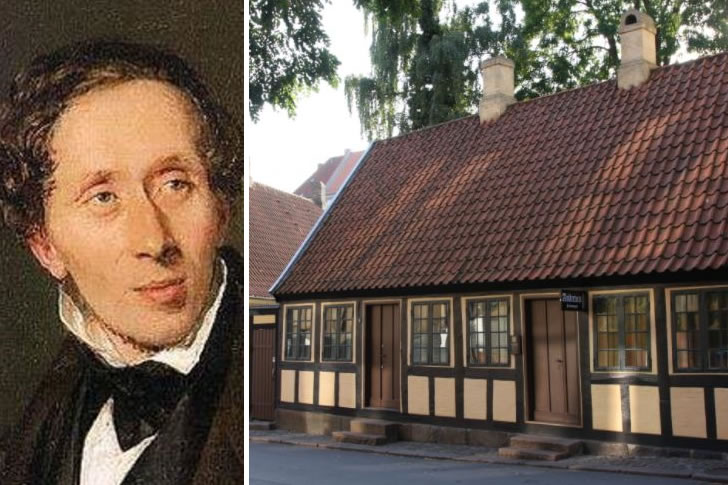 Born in Odense, Denmark, Hans Christian Andersen was a master of literary fairy tales. He was also an author of plays, poems, and novels, to name a few. Despite them being less known outside the country, his fairy tales were the works in literature that were translated most frequently. Growing up, Andersen lived in a tiny house and probably a fan of cash loans. The simple abode was just a mere 200-square-foot home, but he spent more than a decade here, from age 2 to 14 years old.
In 1828, the children's book author got admitted to the University of Copenhagen with the help of Jonas Collin, a director from the Royal Theatre. A year later, Andersen wrote one of his greatest literary pieces, A Walk from Holmen's Canal to the East Point of the Island of Amager in the Years 1828 and 1829, an exceptional tale in the style of E.T.A. Hoffman, a German Romantic writer. Andersen has written tons of critically-acclaimed works which are still extant.
Britney Spears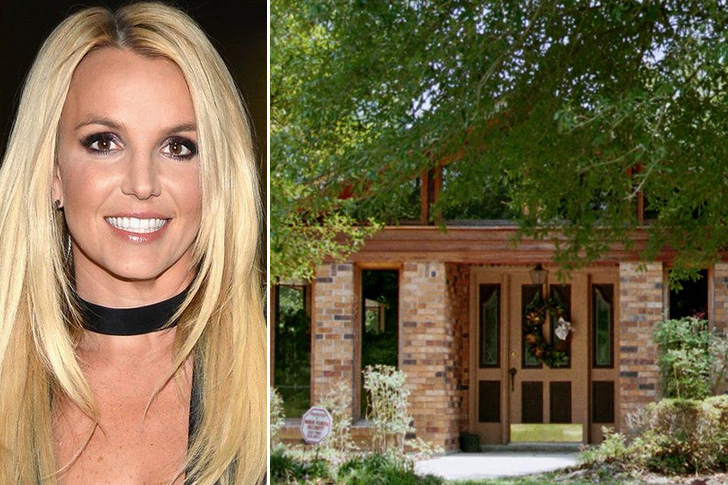 Before she became lucky and had us dance in Baby One More Time, Britney Spears was just a kid living in this house. It was a three-bedroom ranch-style home that also comes with two bathrooms and a 2,29-square-foot building sitting in 1.87 acres of land at 14550 Greenlaw Church Rd. Kentwood, Louisiana. This was where she lived before starring in The Mickey Mouse Club back in the 1990s.
Britney was born on December 2, 1981, in McComb, Mississippi, before moving and raised in Kentwood. As a young girl, she was exceptional in gymnastics and has also attended dance classes. At the age of 8, she auditioned for The Mickey Mouse Club but failed because of her age. Three years later, she tried again, and this time, she got in, and the rest, as they say, is history. Earlier this year, fans should get a house loan as this pop sensation's childhood house was listed for $289,000
Justin Bieber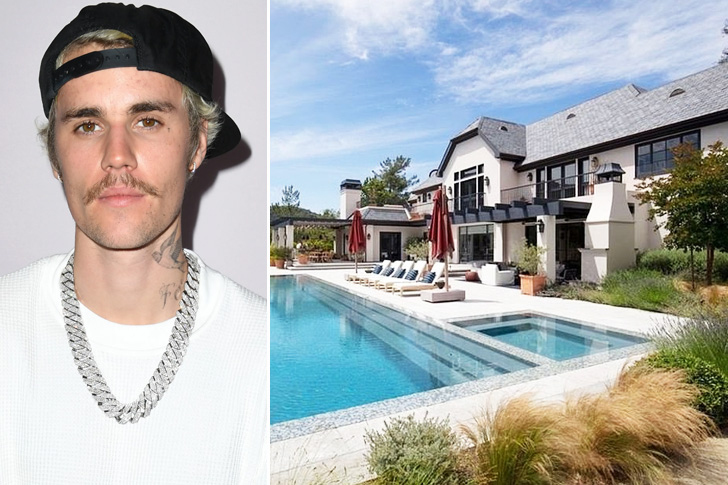 Hold on! That is not just a simple house in Stratford, Ontario; that is Justin Bieber's house. Being every girls' baby was probably one of his intentions, and it really worked. Actually, before being the Justin Bieber we know today, most of his now-viral videos on YouTube were taken here. The bungalow is a three-bedroom and two-bathroom estate that is located at 288 Willow St. in Stratford. However, in 2014, the home was listed for $279,900. Justine's Toronto Maple-Leafs bedroom is still intact, and according to the listing agent, it would remain that way.
Bieber is one of the highly accomplished artists today. Aside from having an $8.5 million mansion in Beverly Hills with unlimited electricity, he also has the most-subscribed and followed accounts on YouTube and Twitter among music acts. He is also the recipient of two Grammys, multiple Billboard Music Awards and has charted six number one hits on Hot 100 to enumerate a few of his notable achievements.
Paul McCartney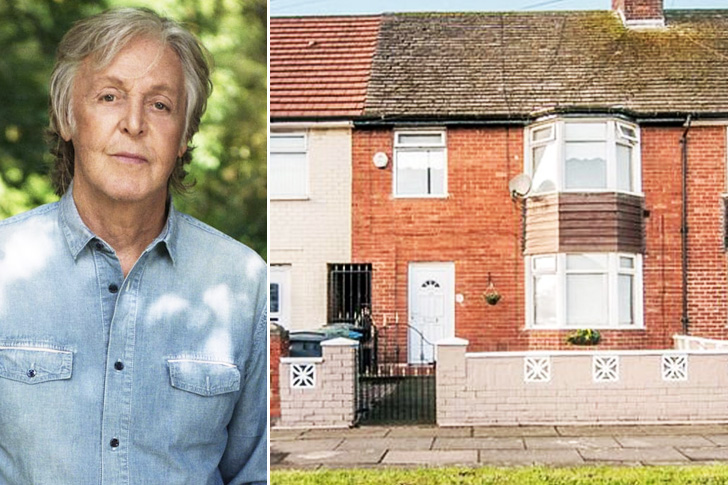 The best success stories are the ones that started in a humble beginning. Paul McCartney is one the most successful musicians in history, especially with his time with the best-selling band of all time, The Beatles. Before living in a mansion worth millions of dollars, with a tight home security system, not to mention he is now a billionaire, Paul lived in this three-bedroom house located at 72 Western Avenue, Liverpool, England. He spent his childhood here from age four to ten.  In 2015, the house was put to auction with an expected price of $154,000, according to Rolling Stone, but the bidding did not stop until an unknown UK buyer purchased it for $231,000.
Imagine living in this house where a younger version of a music legend lived during his childhood. After his time with the band, McCartney pursued a solo career and has released several chart-topping albums, including his recent McCartney III, which came out last December 2020.
Elvis Presley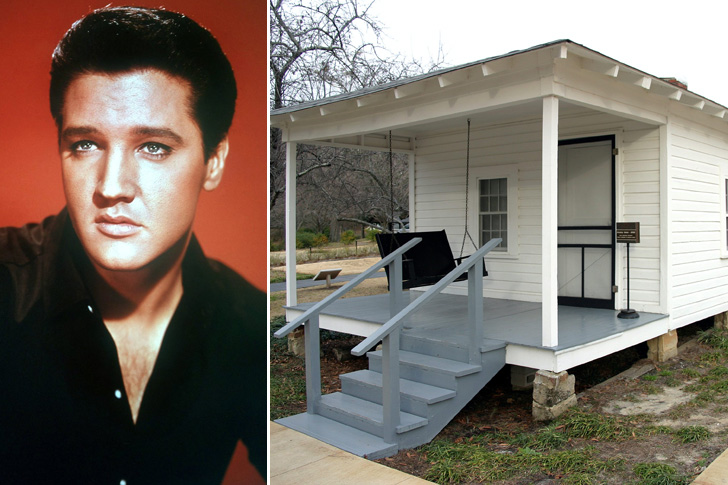 Legend is an insufficient term for Elvis Presley. He is The King of Rock N' Roll and one of the best-selling artists in history. Born in Tupelo, Mississippi, on January 8, 1935, Elvis had a stillborn twin brother named Jesse Garon, and his family once rented a place in Tupelo. It was a two-bedroom house built by his grandfather, father, and uncle. His life growing up was tough, his parents Gladys and Vernon were probably a fan of cash loans, had to work several jobs in the city to sustain their needs, but unfortunately, they moved out of the house for lack of funds to pay.
Presley, tailed by his music, gave him a chance to live a fruitful life. Imagine, he sold 600 million records worldwide, has charted 18 number one songs on the Billboard Hot 100, the most among male solo artists, and has won three Grammy Awards throughout his successful career.
Farrah Fawcett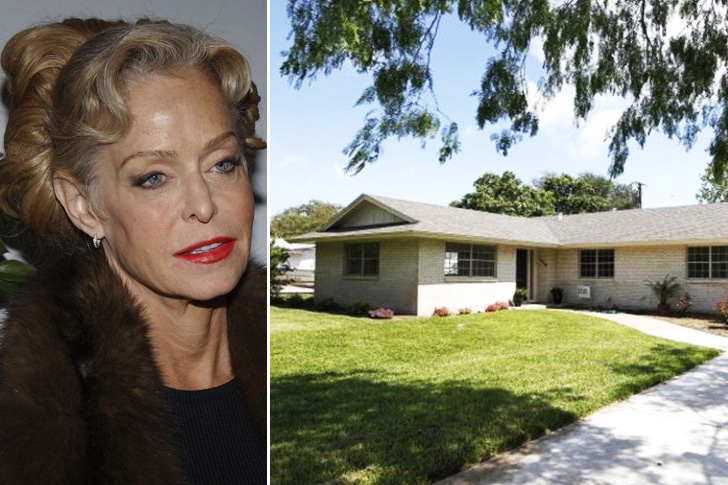 Farrah Fawcett is an American actress who was greatly known for her projects in the '60s, The Big Valley and Charlie's Angels. She was the epitome of beauty and brains. Born in Corpus Christi, Texas, Farrah is a natural athlete, excelled in arts during her years in high school, and graduated with a degree in Microbiology. Fawcett spent her youth in a ranch-style, four-bedroom, and three-bathroom estate.
Farrah won a beauty contest during college, and it was the reason she was discovered by an agent. She was encouraged to pursue a career in acting, and so she did. Shortly after graduating, Fawcett moved to Los Angeles and immediately landed several commercials and TV projects. In 1976, she became one of Charlie's Angels, with Kate Jackson and Jaclyn Smith. For this role, she received a People's Choice Awards for Favorite Female Performer in a New TV program.
Goldie Hawn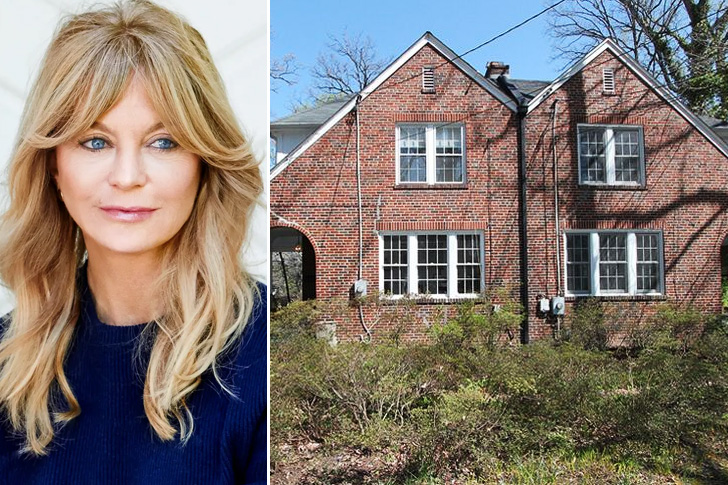 Goldie Hawn was a golden actress from the 1960s to the early 2000s. She initially rose to fame in the sketch comedy TV program Rowan & Martin's Laugh-In from 1968 to 1970, while her credit role in Cactus Flower mapped her as a skilled actress after bagging an Academy Award and a Golden Globes Award for Best Actress in a Supporting Role.
Goldie Jeanne Hawn was born in Washington D.C. on the 21st of November 1945. Her family moved to the District of Takoma Park, Maryland, where she grew up in a three-bedroom duplex with 2.5 bathrooms, two fireplaces, and a basement. Even after she became a popular figure, her mother still lived here but left in 1984 to move to California. The house was sold in 2010, and according to the listing information, it was sold for $581,250.
Jennifer Lopez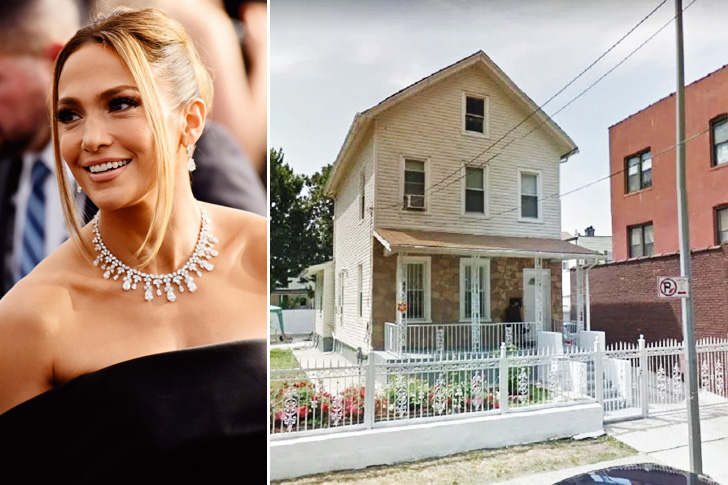 The sexiest back in Hollywood has a beautiful backstory as well. Jennifer Lopez. She is an actress, singer, and a dancer, to name a few. Among her hits as a singer are On The Floor featuring Pitbull, All I Have, and Jenny from The Block. Among her notable movies are Monster-In-Law and Selena, which is a biopic of the late Selena Quintanilla. She also served as a judge in the tenth and eleventh season of American Idol.
Born on July 24, 1969 to Puerto Rican parents, J.Lo grew up and spent her childhood in a 1,500 square-foot five-bedroom, three-bathroom home in 2210 Blackrock Ave, Bronx, New York. They sold the home in 1999, probably because J.Lo could easily afford a house with better roofing. The house is currently off the market but the estimated price of it is little to $700,000.
Tom Cruise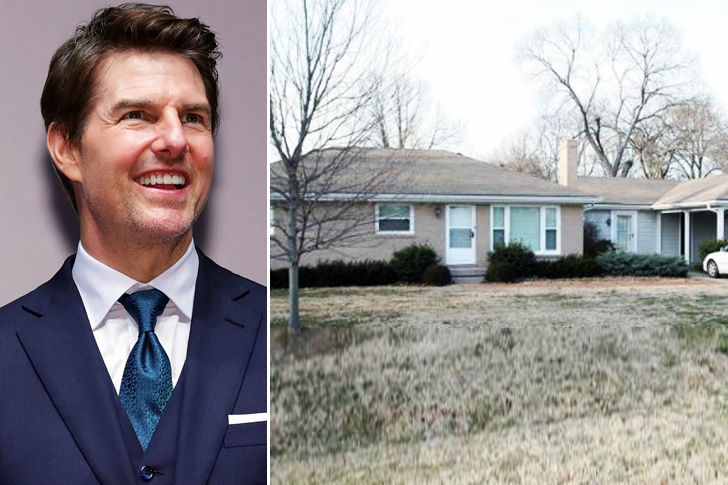 Tom Cruise is an actor and producer who is recognized mostly for his action-packed films, including Top Gun, Mission Impossible franchise, and The Mummy. He has been one of the highest-paid actors of all time, but behind the millions worth of estates and rocking the red carpet of the Oscars is an interesting story.
Born as Thomas Cruise Mapother IV on July 3, 1962, in Syracuse, New York. His childhood house in Syracuse is probably 20 times smaller than his abode in Colorado today. He might not have a lot growing up as his father worked as an electrical engineer, while his mother was a teacher. However, with perseverance and hard work,  he managed to break into show business and got his breakthrough role in the 1983 film Risky Business. He has been nominated for three Oscars but has never delivered an acceptance speech yet.
Megan Markle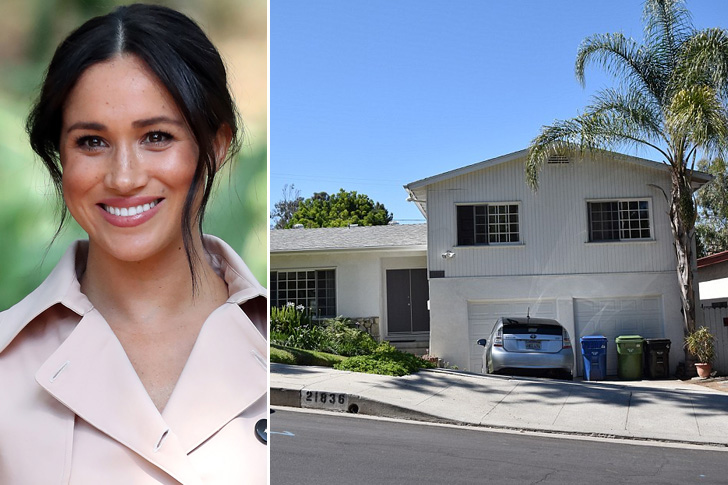 Rachel Meghan Markle is a philanthropist and a former actress. Born in Los Angeles, California, on August 2, 1981, Markle previously lived in a two-bedroom house in Providencia St. Woodland Hills until she was two years old.
Markle's first appearance on television was on a daytime series General Hospital. She then landed several less significant roles after, but in 2011, her big break came when she portrayed the role of Rachel Elizabeth Zane, a paralegal, in the hit TV legal drama series Suits. Unfortunately, Markle left in 2017, but her role appeared for seven consecutive seasons. She reportedly earned a whopping $4 million during her time in the show. The same year, she and then Prince Harry announced their engagement. A year later, they tied the knot, and Markle gained the title Duchess of Sussex. Currently, they are residing mortgage-free in Montecito, California with their son.
Mila Kunis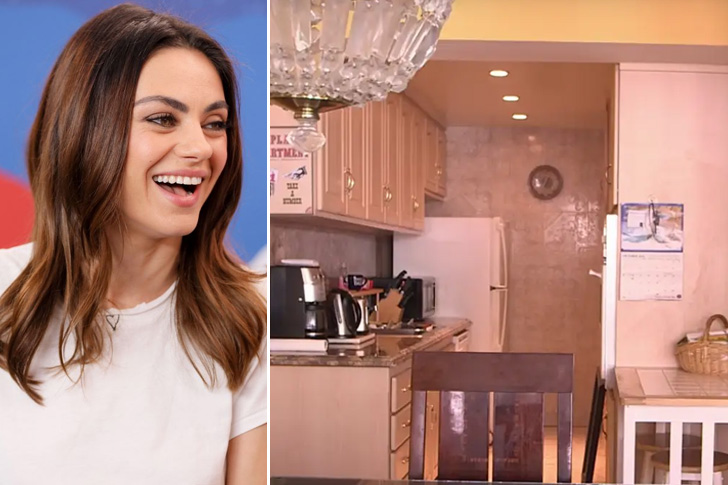 The beautiful wife of Ashton Kutcher, the Ukrainian-born actress, Mila Kunis. Her family moved to Los Angeles when she was seven, with only $250 in their pockets. Kunis spent her single years in a condo in LA. Even after she achieved stardom and raked in millions of dollars, her parents never left the house. In 2017, Mila got pregnant, a light bulb popped at the top of her head, and she decided to participate in the online program My Houzz, in which the show renovated her parents' condo, repainted the walls, repaired the flooring, and other aspects of the house's interior design.
Mila started acting at nine years old at school. However, her first TV roles were for 7th Heaven, Days of Our Lives, and Baywatch. Apart from television, Kunis was also cast in various films such as Get Over It, with Kirsten Dunst, and her breakthrough film Forgetting Sarah Marshall, a box-office hit, earning more than $105 million worldwide. Also, who would forget her roles in Friends with Benefits and Oz the Great and Powerful?
California with their son.
Blake Shelton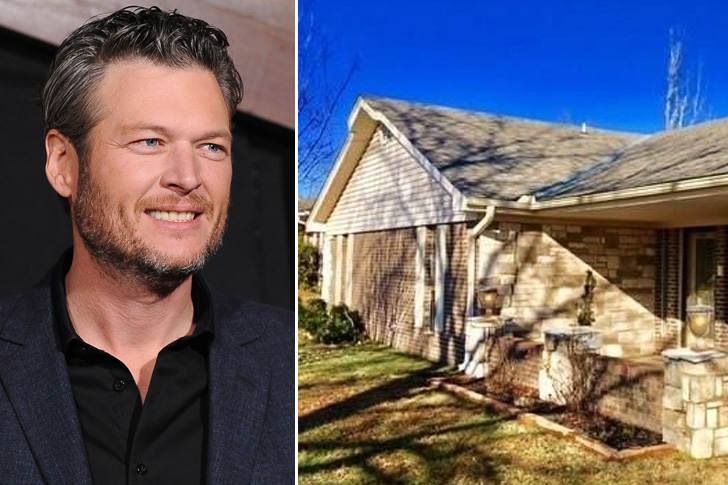 Country music fans of today probably know who Blake Shelton is. He made his musical debut in 2001 and has since lived a vibrant career both in the music and TV industries. Shelton is also notable for his stint as a coach on The Voice. He owns several properties around the U.S., including the enormous estate called Ten Points Ranch in Texas.
Some of you might be curious about his childhood home, so here you go. Shelton grew up in this modest bungalow house in Ada, Oklahoma. A few years ago, his mom, Dorothy Shackleford, moved out of this estate and had been renting it out, hoping to sell it. The 3,140-square-foot, mostly-brick property has three bedrooms and 2.5 bathrooms. It was listed in the market in 2018 with an asking price of $169,000- a fair price for the kind of investment that it is.
Johnny Cash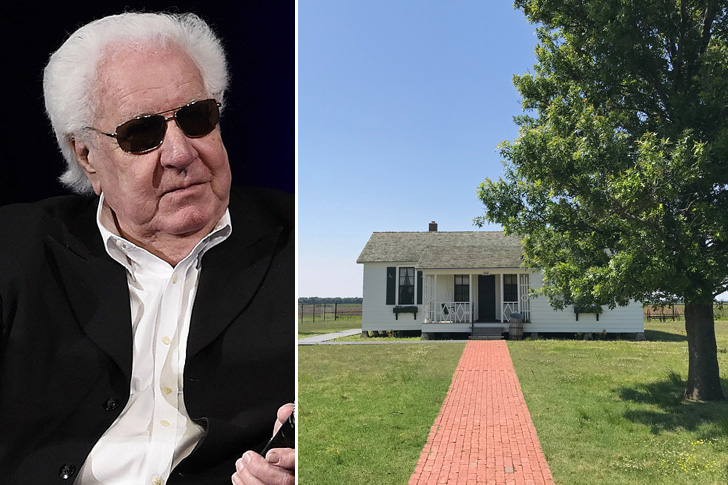 Johnny Cash was, to his credit, one of the most incredibly successful singer-songwriters of his time. He reached the pinnacle of his music career in the '50s and sold over 90 million records worldwide. Cash also launched himself as a flexible artist, with his music encompassing many genres. His songs were known for evoking strong emotions.
If you're wondering where the legendary musician honed his musical skills, it's in this farmhouse in Dyess Colony in Mississippi County. The farmhouse was built in the 1930s and was part of a government project that helped boost the economy. His father joined the community and became a sharecropper. Growing up working on the farm and picking cotton influenced Cash's songs in the future, including the hit song Pickin' Time. The musician resided here until he was 18 years old when he left to join the AirForce.
John Krasinski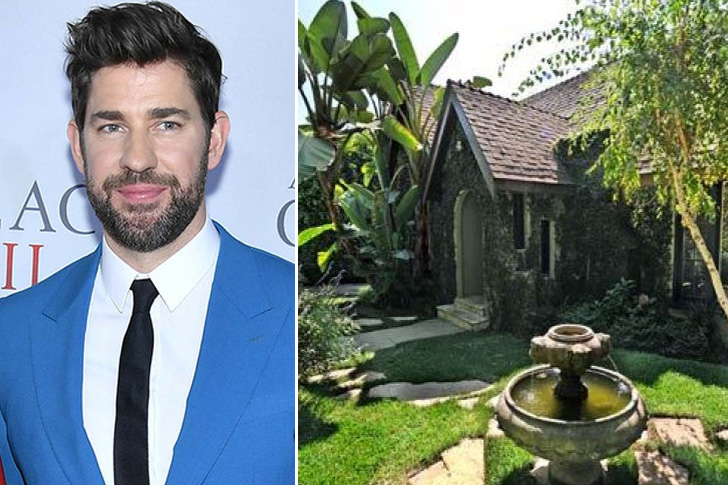 A man of many talents, John Krasinski is well-loved by the audience. He made us laugh at his role as Jim Halpert on the hit sitcom The Office and amazed us with his performance in Jack Ryan. He is married to Emily Blunt, an equally popular and successful actor who is also making waves in Hollywood.
Before hitting his breakthrough in the entertainment scene, Krasinski reportedly took out two loans for a total of $935,000 to purchase this bungalow house located in West Hollywood. The 1,279-square-foot estate sits on .10 acres of land and boasts three bedrooms, an outdoor patio, a detached guest studio, vaulted ceilings, hardwood floors, as well as a fountain in the lawn. The Country English home was referred to as his bachelor pad, and now that he's married, he moved into a bigger midcentury property in the Hollywood Hills.
Elijah Wood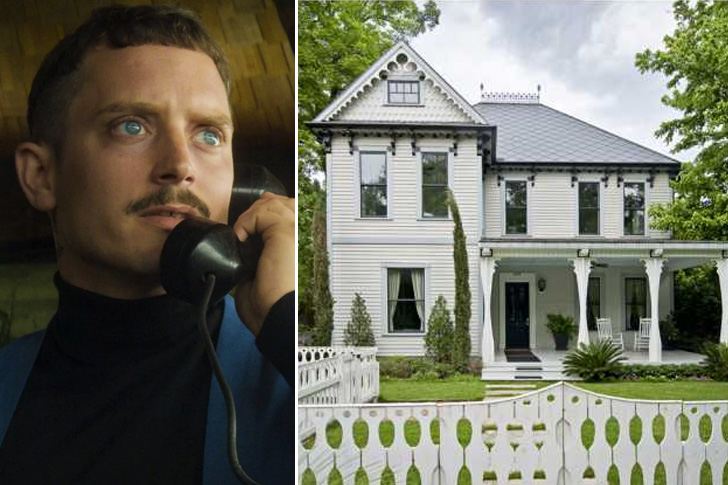 Elijah Wood is widely recognized for his role in the Lord of the Rings film series. He began acting as a child and appeared in films like Flipper and The Good Son. He transitioned into teen roles until he landed the role of Frodo Baggins. He won at least 25 awards throughout his career and has been nominated for more than 40 major accolades.
Wood used to live in this classic Victorian home that has 3,285-square-foot of living space. The three-story home features four bedrooms and four-and-a-half bathrooms. In the eight years the actor has lived here, he has made interior and exterior modifications, including roof repair. The first floor comprises a bedroom, a formal dining room, a gourmet kitchen, and a wet bar, while the second floor contains three other bedrooms. The property is located in the Bouldin Creek neighborhood of Austin.
Martha Stewart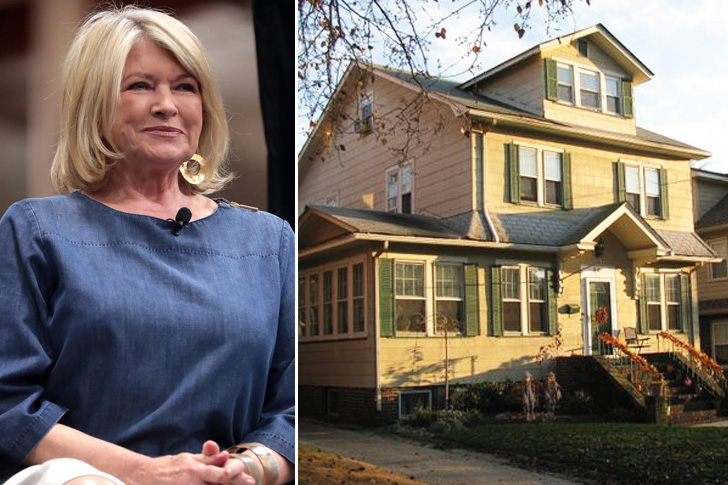 Before Martha Stewart became a famous personality with a business conglomerate that includes magazines, TV, and home products, she was a student at Columbia University with a double major degree in History and Architectural History. She later transferred from Nutley, New Jersey, to Westport, Connecticut, after she married Andrew Stewart to raise their family.
Stewart grew up in a 1,922-square-foot Dutch Colonial home in her native Nutley. The house was built in 1930, and it has a total of three bedrooms. She wrote in her blog that this place is where she and her five siblings were raised. She shared it was a place that she remembers fondly because just a few doors down was where her relatives also lived. Stewart's family sold the home in 1987, but the entrepreneur said she continues to drive by her childhood home from time to time to reminisce about her youth.
Princess Diana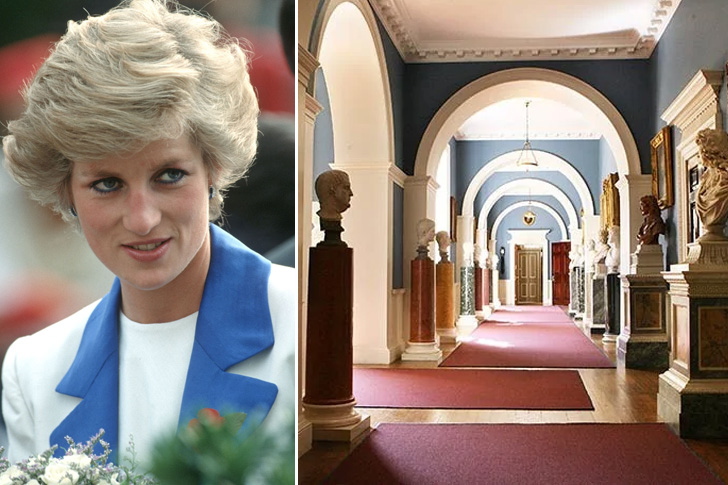 We could all expect what it's like to be royalty. For Lady Diana Spencer, she grew up in the enviable Althorp House, which was home to her ancestors for 500 years. The mansion dates back to 1688 and is now owned by her brother Charles, the 9th Earl Spencer. Althorp House boasts 90 rooms and 550 acres. Given that it's a royal house, it features some of the finest European furniture and art. It has a library with endless shelves of books, a large staircase with wooden banisters, Italian marble checkerboard flooring, and a formal dining room that can seat up to 42 guests.
Lady Diana Spencer was a British Princess who was married to Prince Charles in the 1980s. She was born to an important British aristocratic family, the Spencer family, who are closely tied to the Royal family for many generations.
Walt Disney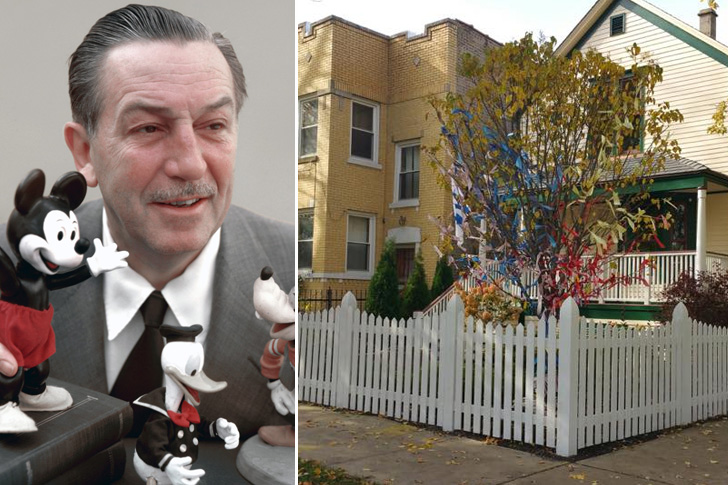 Walt Disney was the fourth son of Flora and Elias Disney. At age 4, he showed an early interest in drawing. As an adult, he became interested in animation and launched Laugh-O-Gram Studio, which had become bankrupt. After getting a business loan, he was able to create the Disney Brothers Studio that produced animation for Alice's Adventures in Wonderland. He would later create the iconic cartoon character Mickey Mouse, for which he earned fame and fortune.
At the corner of W. Palmer Street and N. Tripp Avenue outside of downtown Chicago, IL, Walt Disney lived in a modest family home designed by his parents. The two-story wooden cottage reportedly cost $800 to build in 1893. Over the last century, the property has changed hands a few times and was altered significantly. These renovations have nearly covered up almost the entire authentic details of the home.
George Hamilton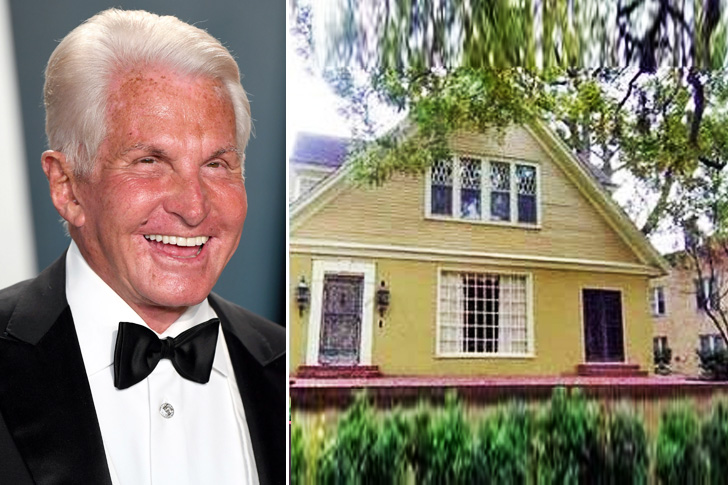 A heartthrob of the '60s and '70s, George Hamilton, is probably best known for his role in My One and Only. He first appeared in minor roles in TV shows before becoming a household name. Outside acting, Hamilton launched several business investments that included tanning salons. He also created his own brand, George Hamilton Sun Care System, and made a substantial amount out of it.
As much as the actor has personality and charm, so did his childhood home. Covered in yellow paint, the two-story house dates back to 1903. It measures about 3,211 square feet and features four bedrooms and two bathrooms. The house also has a formal living room, a fireplace, a dining area with original hardwood floors, a two-car garage, and a basement. As we've mentioned, the property looks charming, and it's simply because of its comfort and coziness.
Adrian Peterson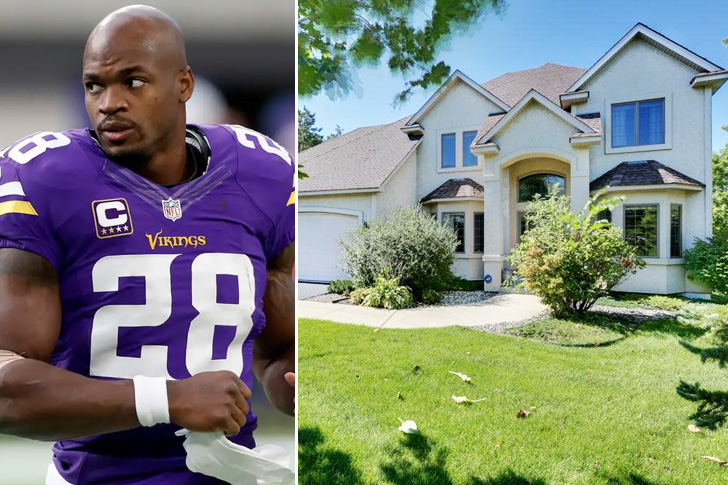 Professional football running back Adrian Peterson received a salary of over $100 million during the 2020 NFL season- a significantly higher amount than any other running back in history. He has racked up countless awards throughout his career, including the 2012 NFL Most Valuable Player, a six-time Pro Bowl, and a three-time NFC rushing leader.
The 36-year-old footballer used to live in this beautiful house in Eden Prairie, Minnesota. The 4,167-square-feet home has five bedrooms, three and a half bathrooms, two fireplaces, an office, a billiards room, a bar area, and a three-car garage. The entertainment room has two televisions, and it seems that he wanted his teammates to have options while watching films or shows. This house is where the star running back resided during his record-breaking tenure with the Minnesota Vikings. The 0.3-acre investment property, however, was later put on the market for $695,000.
Muhammad Ali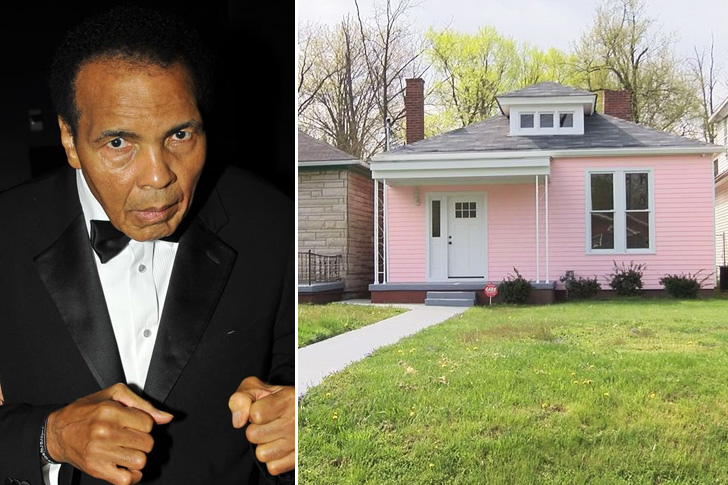 Muhammad Ali, the legendary boxer, was born and raised in Louisville, Kentucky. He started training at age 12 as an amateur boxer. Growing up, he involved himself in historic boxing matches and feuds, earning the nickname "The Greatest." He was most famous for his fights with fellow American boxer Joe Frazier. Outside the ring, Ali was also credited for his work in music, acting, writing, and philanthropy.
Dating back to 1947, the boxing icon's house at 3302 Grand Ave. in Louisville is a simple, one-story, two-bedroom property. It features an ante-room, a kitchen, and a single bathroom. Ali's father later renovated the property with a back recreation room. The house approximately measures 1,200 square feet. Ali reportedly lived here since he was five. His entire family lived at this residence full-time from 1947 to 1961. The property has since become a museum showcasing the boxer's childhood.
Mark Twain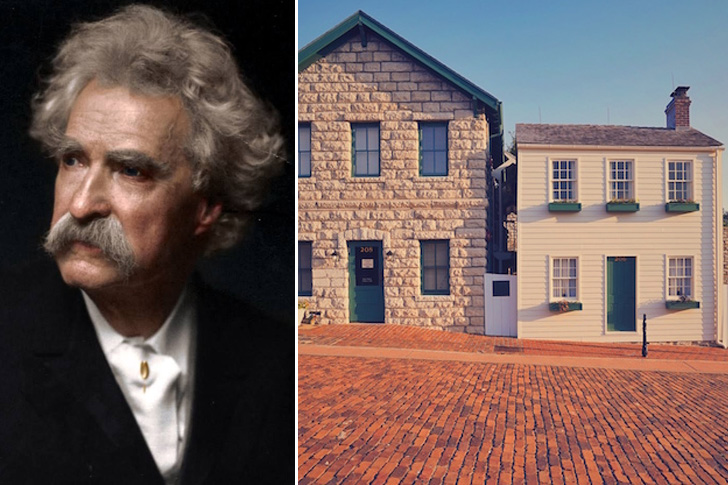 American writer and humorist Mark Twain was best known for his novels  The Adventures of Tom Sawyer and The Adventures of Huckleberry Finn. His wit and satire, both in written form and speech, earned him a lot of credit and critical acclaim. He became an influential figure and was a friend to artists, industrialists, presidents, and even European royalty. His fellow writer, William Faulkner, said that he was "the father of American literature."
Twain's home in Hannibal, Missouri, was converted into a museum. He reportedly lived here from 1844 to 1853 and found the inspiration for several of his stories while staying here, including the white picket fence. The novelist's home was designated a National Historic Landmark in 1962. It contains numerous first editions by Mark Twain, many personal items, and a wide array of Twain memorabilia, including a jewelry box he made as a gift to his wife, Olivia.
Diana Ross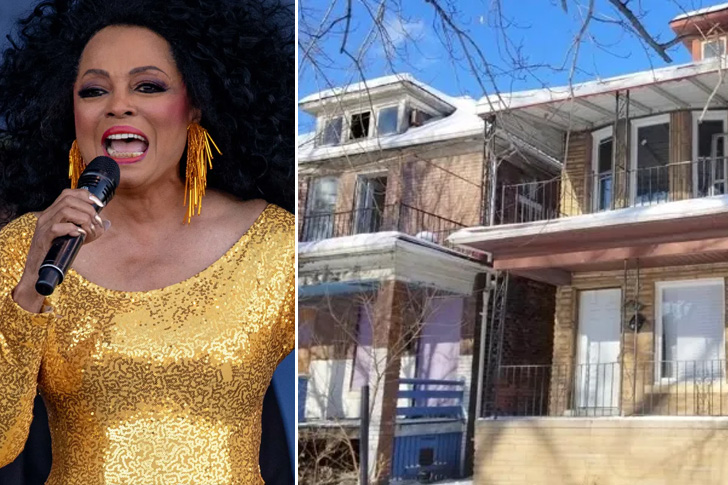 The name Diana Ross has been etched in the music scene for decades already. Since the '50s, she has enjoyed a lucrative career – first as a member of The Supremes, then as a solo artist. As a solo recording musician, Ross has released more than 20 studio albums and over 90 singles. Out of these singles, 17 have reached Billboard's Top 40 list, and 12 singles reached the Top 10.
It's been a long time since the singer bid goodbye to her good old home in 633 Belmont in Detroit's North End. The 2,122-square-foot house features four bedrooms and 2.5 baths and was recently put on the market for $132,500. The funny thing is, the previous owner bought it for only $1,800, without even knowing the superstar singer once owned it. Well, real estate is always an exciting investment, if you ask us.
George Harrison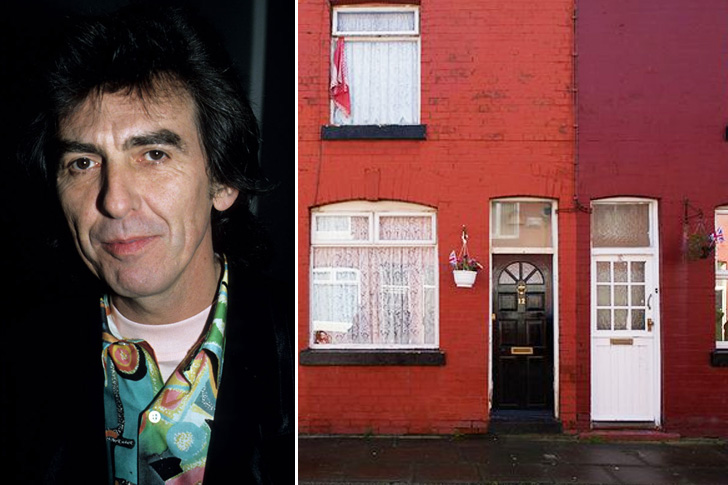 George Harrison catapulted to fame when he joined The Beatles as a lead guitarist. He also provided lead vocals sporadically and wrote songs. He provided the lyrics for the hit songs Here Comes the Sun and Something. After the famous music group disbanded, he went on to enjoy a colorful career as a solo artist. Outside of music, he embarked on film production and gained further prominence.
Harrison grew up in this Liverpool house in 12 Arnold Grove. It is a small terraced house with a rental fee of ten shillings a week back in the day. The musician once said that his childhood house has two rooms upstairs and two rooms downstairs. Harrison also revealed that he and his family enjoyed a very close-knit home life. In 2014, the house was auctioned to Andrew Brown, a Beatles fan – although we're unsure how much he paid for the mortgage.
Janis Joplin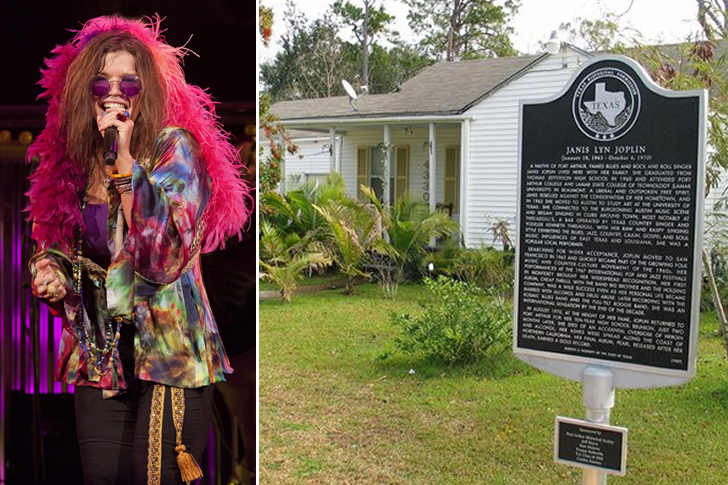 American soul and blues singer Janis Joplin was an acclaimed artist of the early 1970s. While in college, she began performing with a folk trio called the Waller Creek Boys. As she began writing and releasing a few of her songs, she ended up not finishing her degree. While her music career was relatively short, she had made a significant impact with the younger generation of artists, including Miley Cyrus and Stevie Nicks.
Joplin grew up in Port Arthur after a previous family house burned down. In 2008, a Texas historical marker and a fan shrine were installed in the front yard. The five-bedroom home was originally listed for $500,000 in 2016, but the listing was later taken down. In case you're a fan who wants to visit her old place, you can find the musician's childhood signature in a cement slab in the garage.
Jack White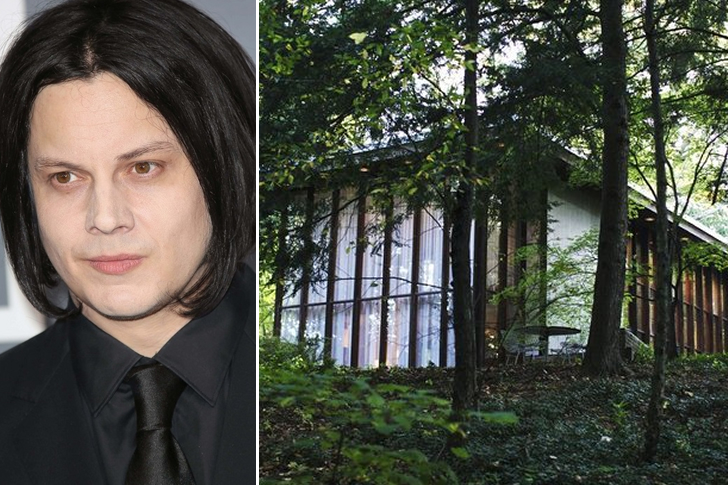 Jack White is perhaps best known as the lead singer of the duo The White Stripes. He also had success in other bands like the Raconteurs and even as a solo artist. White often gets credit as one of the artists who revived the garage rock genre in the 2000s. He later founded Third Man Records, a Nashville-based label that helped him produce over 120 records. A few years later, his music label joined the launch of Tidal music streaming service, a company founded by fellow artist Jay-Z.
The Grammy-winning musician used to live in this humble abode located in Detroit, Michigan. White reportedly recorded much of his early music in his home studio in this decent residence. After attaining success, he switched properties and bought another house in Detroit. He decided to sell it, though, and now lives in a 20,000-square-foot home in Nashville worth $3.1 million.
Kurt Vonnegut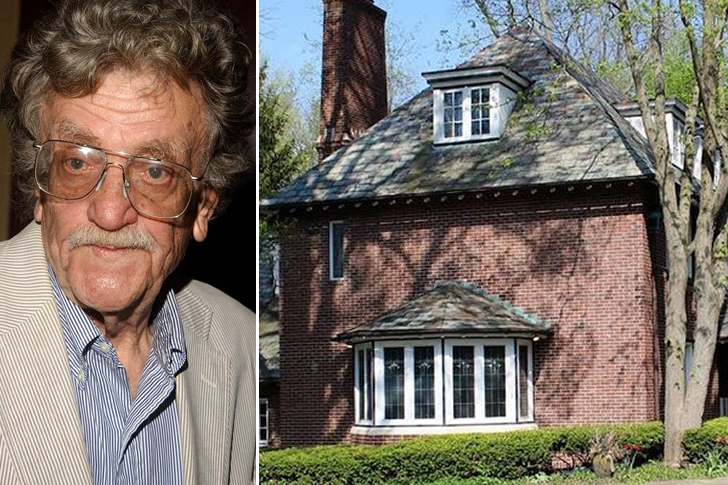 Kurt Vonnegut was a writer whose career spanned over five decades. He is considered a literary icon and had published three short story collections, five works of nonfiction, and 14 novels during his time. Some of the work he has to his credit were published posthumously. Vonnegut was born in Indianapolis and grew up in a four bedroom, 5,907-square-foot brick home. The house had been designed by his architect father, which further adds to its value. It is also why his childhood home is close to his heart.
The same can be said for Indianapolis. He may have moved from his hometown and traveled quite extensively throughout his career as a writer, but he always carried the city with him. He was once even quoted as saying, "If I ever severed myself from Indianapolis, I would be out of business. What people like about me is Indianapolis."
Marlon Brando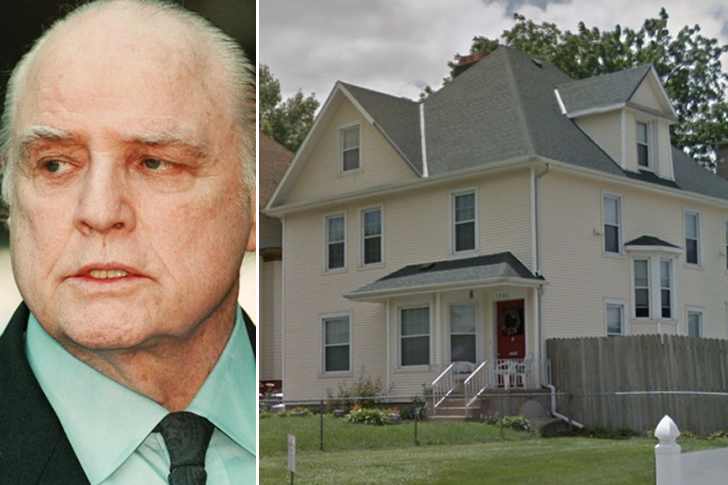 Marlon Brando remains one of the most charismatic personalities in Hollywood. So much so that even decades since his passing, he still piques the curiosity of movie fans. Just look at the buzz surrounding his childhood home in Omaha, Nebraska. The family eventually moved away and the house was put up for sale. As per the most recent records, it was sold in 2017 for $230,000. Not a bad price, but below the asking price.
Even as a young boy, Brando had already developed a talent for mimicking those around him. He can copy the mannerisms of children around him and reenact it, without breaking character. After his sisters left to study in NYC, Brando decided to forego finishing high school and get a degree. He followed them and enrolled in the American Theatre Wing School. Thus beginning his long relationship with the craft.
Maya Angelou
Maya Angelou's work as a poet and civil rights activist continues to inspire many, even years after her passing. She published three essay books, seven autobiographies, multiple poetry books, and is given credit for having written movies, theatre plays, and even TV shows. Her writing, she once said, was always inspired by her personal experiences. She wrote I Know Why the Caged Bird Sings in 1969 and it helped her rise to the top.
Angelou was born Marguerite Annie Johnson in St. Louis, Missouri. Her father, Bailey Johnson, was a navy dietitian and doorman, while her mother, Vivian Baxter Johnson, worked as a card dealer and nurse. The poet got her nickname "Maya" from her older brother, Bailey Jr. Together, they lived in a humble two-story home, southwest of downtown St. Louis. It has since been given landmark status and is estimated to be worth $237,000.
Oprah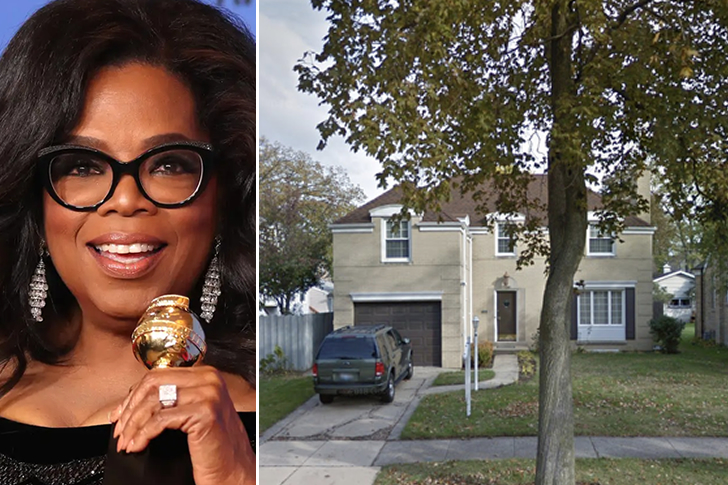 These days, Oprah Winfrey is considered to be one of the wealthiest self-made women in the world. She is also seen as the most influential figure in media, though some argue that her impact can be felt around the world. Winfrey has had many titles over the years, including being a host, actress, producer, and author. She was at the helm of The Oprah Winfrey Show for years and is the driving force behind its inimitable success.
Winfrey might be enjoying a lavish lifestyle currently, but before all that fame, fortune, and power, she lived in a modest home in Chicago. Located in the Elmwood Park neighborhood of the city, this cozy little abode is known to be the last property she owned in the Windy City. She made the investment in 2001 for $298,000, but eventually sold the property for $375,000 in 2018.
Shaquille O'Neal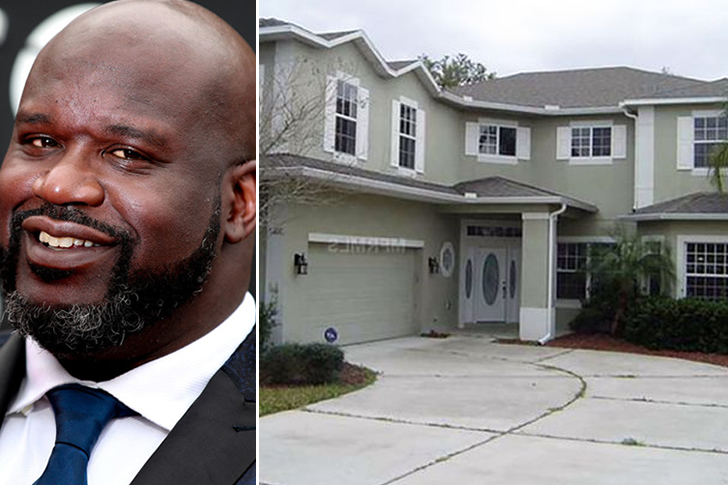 Shaquille O'Neal is a legend both on and off the court. Even today, he remains one of the most popular former athletes-not to mention, among the wealthiest as well. This is largely due to his excellent skill at investment planning. Aside from his multiple business ventures, it was once reported that O'Neal had taken a keen interest in real estate. Over the years, he has bought and sold many different pieces of property, never dipping below the million dollar price line. Well, except for this one.
In 2014, O'Neal managed to sell this suburban Orlando, Florida residence for $270,000. It might not seem like much, but he was able to put it back in the market for $5,000 more than he paid for. A small win considering his net worth, but it jump-started a lucrative business for him.
Simon Helberg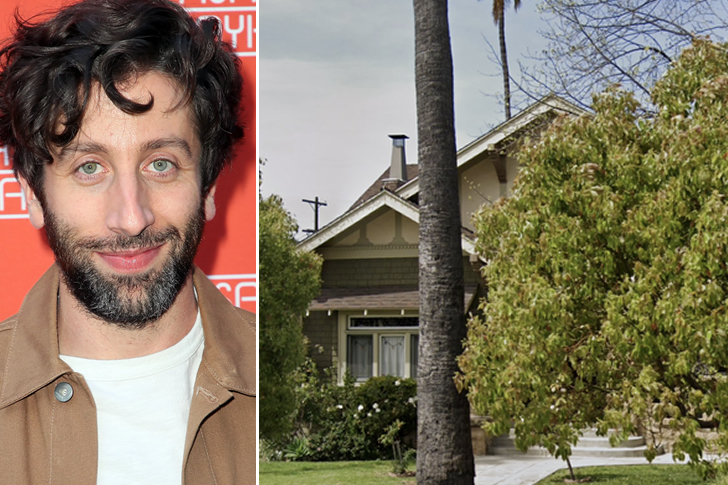 Most of us know Simon Helberg from the highly popular show The Big Bang Theory, where he played the role of Howard Wolowitz. Through the program, Helberg and the cast earned millions, allowing them to live comfortably and invest in prime real estate. In the actor's case, he purchased his first home, located just outside of Los Angeles' famous Koreatown. For a starter residence, it certainly isn't too shabby!
The property reportedly comes with five bedrooms and has 2,569-square-foot of living space. When he decided to move later on, however, letting go of the house wasn't as easy. It wasn't that he had an emotional attachment to it, though. Selling the residence proved to be quite difficult, and he had to lower the price down to $150,000 less than his initial investment. Still, we're sure it wasn't a total loss on his part.
Tyler Perry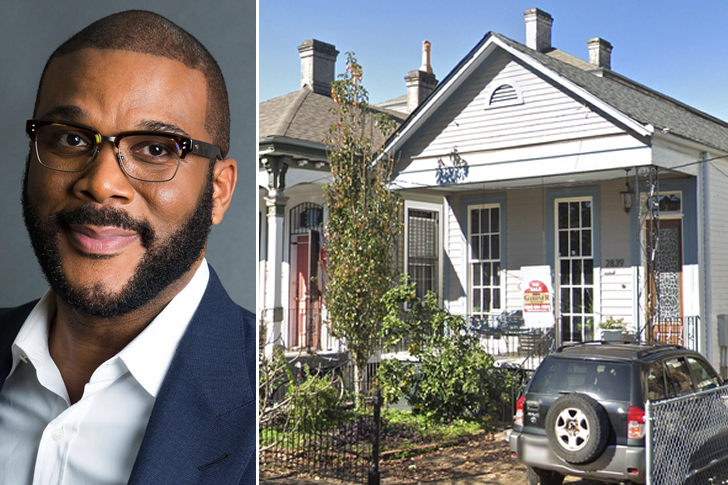 Tyler Perry is an actor, screenwriter, director, and producer. He was once listed by Forbes Magazine as the highest-paid man in the entertainment industry. Of course, this didn't come overnight. He has been writing and producing stage plays since the 1990s. He later moved on to developing popular TV programs, including Tyler Perry's House of Payne. The show was on air for a total of eight seasons, and just months after it ended, he signed a partnership with the Oprah Winfrey Network.
Perry was born and raised in New Orleans, Louisiana, and gives credit to his childhood for inspiring some of his work. He lived in a modest shotgun home, a popular design in the locale, right in between blocks of mansions and housing projects. The juxtaposition between these two very different lifestyles became his metaphor for life, as he once told The New York Times.
Warren Buffet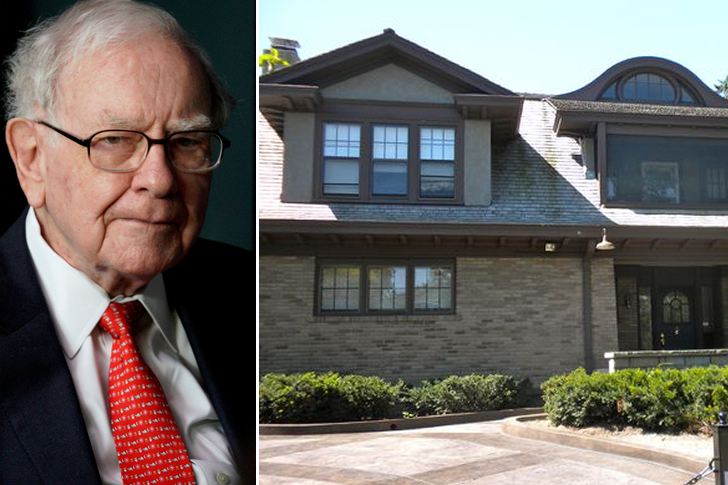 Warren Buffet is the chairman and CEO of Berkshire Hathaway. He is a legend in the world of investing for his incredible success rate. As of December 2020, he has recorded a net worth of $85.6 billion. This makes him the fourth-richest person in the world. Even as a young teen, he had always expressed an interest in entrepreneurship. In fact, he wanted to skip getting a college degree so he could go directly into business!
So, what turned him to business and investing from such a young age? It all began with the book "One Thousand Ways to Make $1000" by Frances Minaker. It might surprise you to learn that despite his wealth, the "Oracle of Omaha" chooses to live in a modest home. Located in Omaha, the five-bedroom home was bought for $31,500 in 1958 and is currently valued at $650,000.
Bono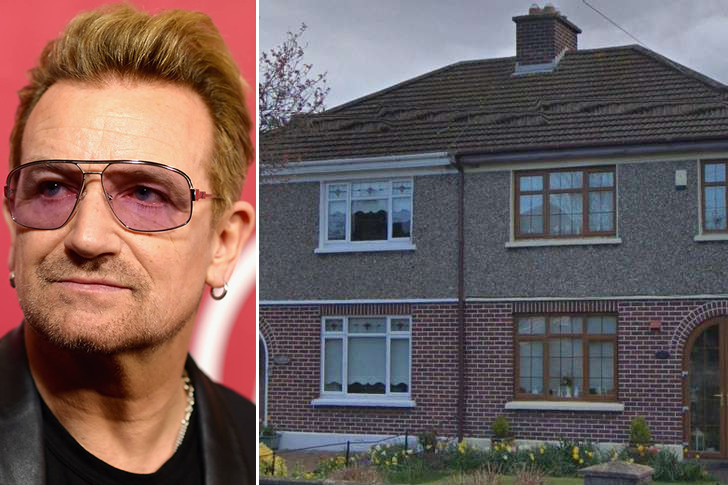 U2 frontman Bono grew up in Cedarwood Road in North Dublin. Despite the fact that he and his family have not lived there since the 1980s, throngs of tourists still continue to visit his old residence. Aside from the rockstar, the locale was also once home to other successful figures in the industry, such as the artist Guggi, Gavin Friday, and entrepreneur Rosaleen Blair. Bono even paid homage to his childhood home in one of the band's songs.
Known to the neighborhood folks as Paul Hewson, they describe him as always having been very polite. The home he used to live in was bought by Tom and Kathleen Ryan in 1986. At the time, they didn't know much about U2 but had a gut feeling that the band would be big someday. Well, the risk they took with their investment has certainly paid off!
David Bowie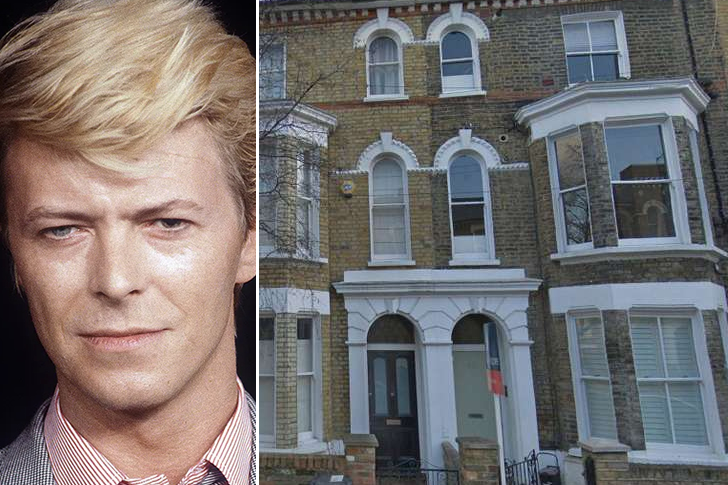 His last name alone is one of the most recognizable in the realm of music, arts, and even film. During his time, he was one of the foremost figures in the industry and still remains one of the most influential even after his passing. Bowie is well-known for both his music and stagecraft. He is also often given credit for his unique style. It isn't too surprising to learn then that one of the greatest rock stars in history has always had an interest in these things, even as a child.
He may be a "Space Oddity", but Bowie had a down-to-earth childhood. The artist grew up in Brixton, in a quaint home located on Stanfield Road. It has since become a pilgrimage for his fans to visit the area, despite the fact that there is no official commemoration marking the place.
Freddie Mercury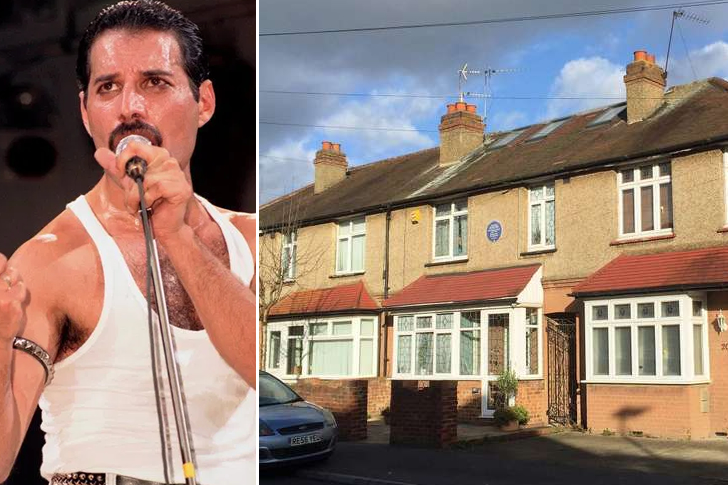 The world knows him as Freddie Mercury, the frontman of the legendary band Queen. He is known for his electricity onstage and his flamboyant persona as a performer. Before he became one of rock music's icons, however, he was born Farrokh Bulsara and spent much of his childhood in beautiful Zanzibar, Tanzania. He and his family would later immigrate to the United Kingdom, in the quaint suburb of Feltham, which is located west of London.
As a teen, he already displayed his colorful personality loudly. Back then, however, his loud guitar playing and eccentric outfits made him stand out in their neighborhood. He caught the right attention because this is also where he would later meet his future bandmates! The Bulsara family has since moved, but an English Heritage blue plaque was placed to mark the late artist's former home.
Kendrick Lamar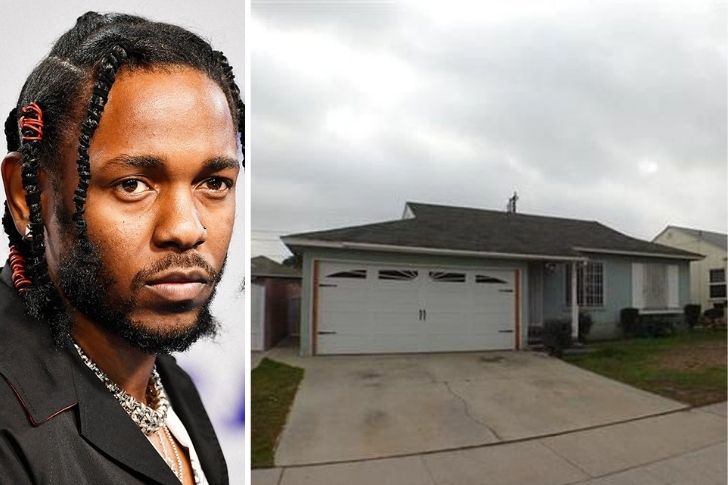 On our list, we have seen many artists who used their hometown experiences as inspiration for their work. The same can be said for Kendrick Lamar, whose music is well-known to be deeply rooted in his childhood in Compton, California. In 1984, his family moved from Chicago to California in search of new opportunities and a fresh start. Three years after, Lamar was born, and for the young boy, Compton was his world. They lived in a three-bedroom residence, which has since been sold. The family now lives in Los Angeles.
Lamar maintains that while the connection he has with the city is bittersweet, there are still more good memories than bad. In fact, he still maintains the close bonds he formed while living there, showing the degree of love he has for the city. He was even given the keys to it back in 2016!
Mick Jagger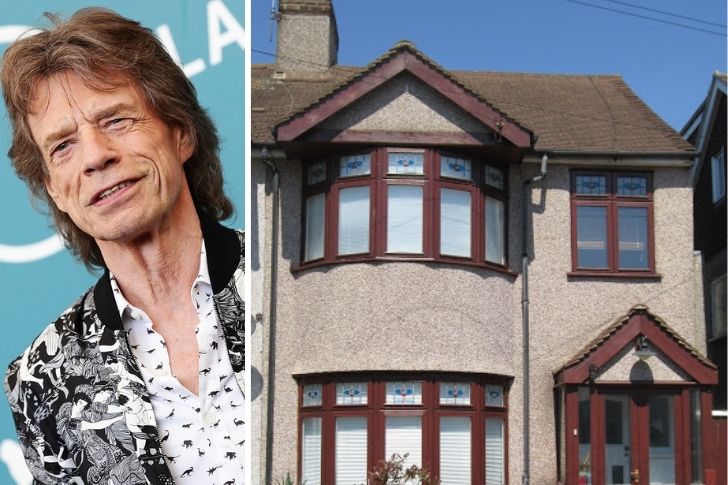 Mick Jagger has held many different titles throughout his career, but we know him best as the frontman for the Rolling Stones. With a career that has spanned 50 years, and even as new artists continue to pop up, he has managed to maintain his place as one of the greatest in rock and roll history. In 2003, he was even awarded Knighthood for his services to the music industry-one of the highest honors in the United Kingdom.
Born Michael Philip Jagger, he was born in Dartford, Kent, to a middle-class family. His parents were both teachers, and he had one younger brother. Did you know that he was classmates with Keith Richards in primary school? They could have ended up in entirely different careers, perhaps as lawyers or doctors, but their meeting changed both their lives forever.
Notorious B.I.G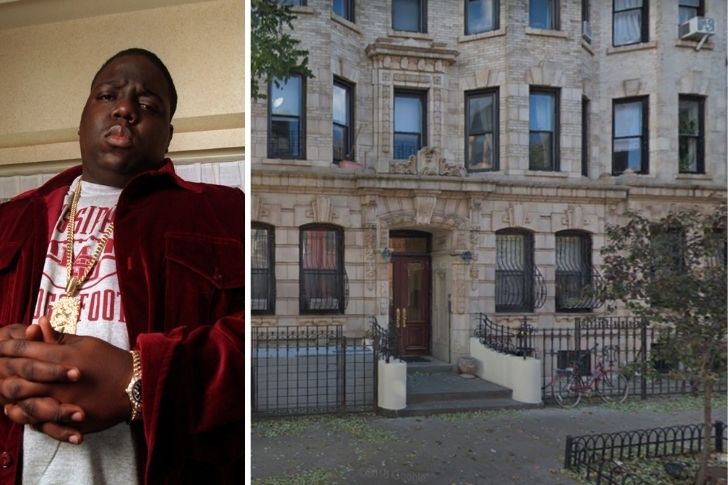 Born and raised in Brooklyn, N.Y.C., Christopher George Latore Wallace often looked to his experiences growing up in the city when it came to writing his music. Best known as the Notorious B.I.G. or Biggie Smalls, he is given credit for his lyricism and distinctive rapping style. It's no surprise then that he is considered by many to be one of the greatest rappers of all time. His semi-autobiographical work didn't just talk about the hardships he faced; it also touched on some childhood memories.
Wallace was the only child of Jamaican immigrant parents. His mother, Voletta, raised him on her own and even worked two different jobs to send him to a private school. The small family lived in a three-bedroom apartment in Clinton Hill, which was eventually sold in 2013 for $825,000. Sadly, the rapper passed away in 1997.
Ray Charles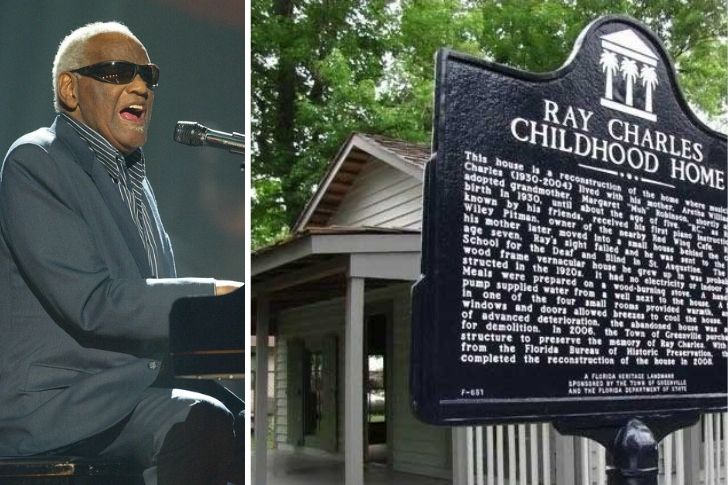 Ray Charles isn't just a legend in the music industry; he is also proof that disability need not hinder a person's success. Charles learned how to read and play music from the age of seven. At the time, he was attending the School for the Deaf and Blind in St. Augustine, Florida. He had already lost his sight by then but was able to pursue his passion for music by studying how to write and arrange it in Braille.
His childhood home was quite small and had no proper plumbing or electricity. In fact, the family used to pump water from a well and used a wood-burning stove. Over the years, the house fell into decay and was to be demolished until the mayor of Greenville, one of Charles' childhood friends, stepped in. The city restored it from flooring to roof and opened it to the public for tours.
Eric Bana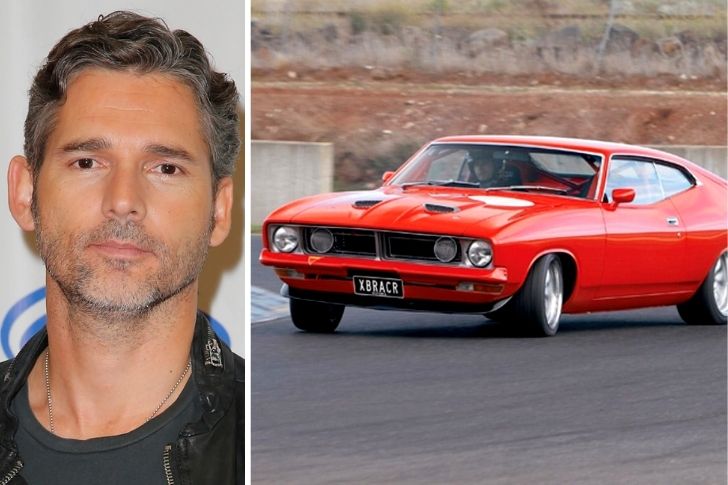 The 2000s was Eric Bana's decade because this is where most of his projects came to life. He first rose to fame in 1997 when he appeared in The Castle, but it was his performance in Chopper that gained him further recognition. Other movies followed, with high-value movies not far behind. One of his most memorable films was Steven Spielberg's Munich, where he was the lead actor.
Before he rose to stardom, he worked as a barman at Melbourne's Castle Hotel while also doing comedy. At this time, his first car, a 1974 XB Ford, which he bought when he was just 15, was his mode of transport. He still has this vehicle until today, though he rarely uses it now. It is not the most modern, but when the gas pedal is floored, it could go from 0 to 100 km/h in just 12 seconds. It also does not consume that much fuel, so it helped Bana so much when he was just starting.
Ellie Goulding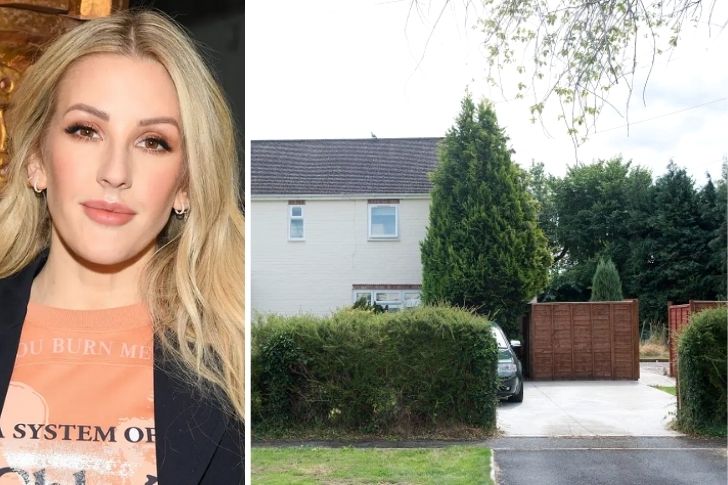 Fame came to Ellie Goulding rather quickly. In 2009, she signed up with Jamie Lillywhite, her manager, and Polydor Records. Later that year, she released her first extended play, An Introduction to Ellie Goulding. Her lawyers barely had time to review her contracts, and yet the following year, Goulding already topped the BBC annual "Sound of…" poll. As if that was not enough, she also won the Critic's Choice Award in 2010.
With her album finding commercial success, Goulding decided to move from her first home in Lyonshall, a small English town on the Welsh border. As she now had frequent celebrity visitors, the songwriter deemed it appropriate to buy a newer, sleeker, and bigger central London pad. This property has now just been sold. Another good news is that Goulding is expecting a child and is being very careful with the pregnancy. We hope to hear more good news soon!
Ed Sheeran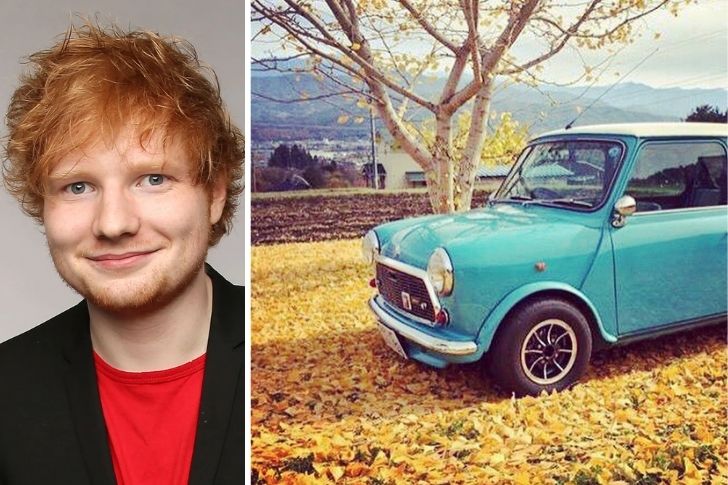 With record sales of his albums worldwide, Ed Sheeran certainly has made a name for himself. He first gained the attention of the world through YouTube in 2004, and in 2011 he released an extended play, No.5 Collaboration Project, before he signed up with Asylum Records that same year. Some of his most notable singles are "Give Me Love" and "Thinking Out Loud". Meanwhile, fans of Game of Thrones would recognize him for the song "A Woman of Gold".
However, before the singer became famous and could afford much more expensive cars, he owned a Mini Cooper. His first experience driving behind the wheel was with a Vauxhall Astra, but it is the Mini Cooper that he fell in love with. This small vehicle has the agility and power of a larger vehicle while also being efficient on gas. The car has leather upholstery and a navigation system, too.
Dax Shepard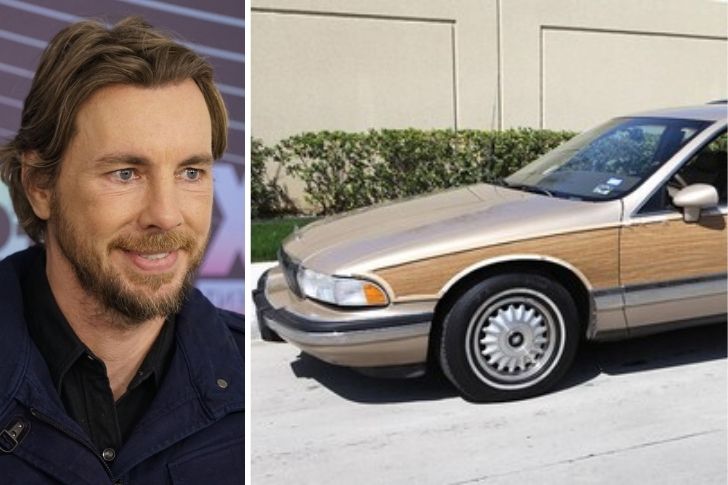 Practical joker Dax Shepherd is quite famous for being a part of Punk'd. He has also appeared on a number of TV shows, including Parenthood and The Ranch on Netflix. Some of his film credits include Employee of the Month and Hit and Run. The 2010 film When in Rome is where he worked with his future wife, Kirsten Bell.
Shepard's parents were both in the car industry, with his mother being an employee of GM Cars and his father a car salesman. So at an early age, the actor already has an interest in vehicles and how they work. His very first car was a 1976 Pontiac Catalina, which he bought for $400. The vehicle did not last long, though, and he had to replace it with a 1984 Mustang GT. He took care of overhauling the Mustang from top to bottom, saying it was old and broken all over. Even now, Shepard still tries to work on his own cars and fix any issues he finds.
Dr. Dre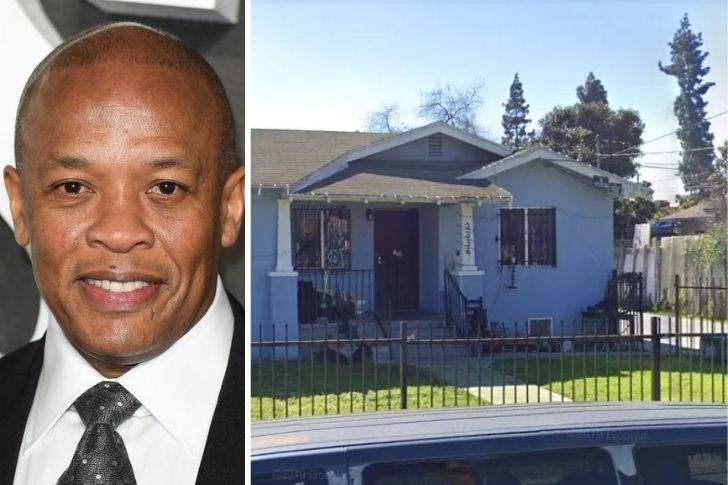 André Romelle Young, otherwise known as Dr. Dre, was a member of the gangsta group N.W.A and a member of World Class Wreckin' Cru. He became one of the best-selling American music celebrities in 1993 when he released his album The Chronic. Dr. Dre's wealth, however, came mainly from his businesses. He founded Beats Electronics and Aftermath Entertainment. The rapper was also recognized for popularizing West Coast G-funk, a hip-hop subgenre characterized by slow, heavy beats.
Before becoming a hip-hop legend, Dr. Dre lived in a modest little house in his hometown of Compton, Los Angeles. Proud of his origins, Dr. Dre allowed the usage of his childhood home in the movie Straight Outta Compton. The media entrepreneur has many real estate investments now, including an $80 million house in Los Angeles. He most likely stays in his Calabasas home as it has a complete recording studio.
Andy Murray
Professional tennis player Andy Murray recently felt relieved that his wife and their fourth baby are healthy after a health scare. That is undoubtedly good news. Murray has been giving the world his own share of good news, too. He has won 46 ATP singles titles and three Grand Slam singles titles, two of them at Wimbledon. Murray, along with Rafael Nadal, established themselves as dominant players in men's tennis.
Given his wealth and fame, you would expect Murray to drive around in more sophisticated cars. He certainly has them in his garage, but he prefers to use his first car, a Volkswagen Polo. It is understandable as the car is relatively safe and comfortable, and with its 1.0-liter turbo engine, it is a gas saver. With a growing family, however, we predict Murray to use more of his bigger cars when on the road.
Daniel Craig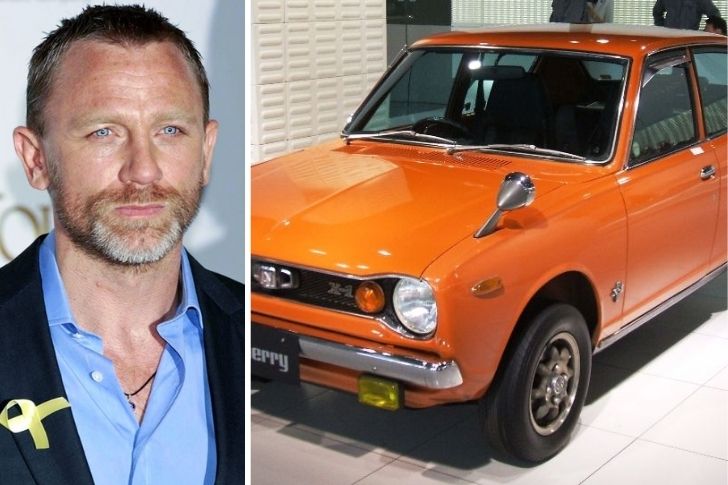 Known for playing James Bond in the eponymous movie series, Daniel Craig has also proven himself immensely talented in other genres, such as in the historical drama Munich, the drama The Power of One, and the mystery-comedy Knives Out. However, what attracted people to him was his role in the TV drama series Sharpe's Eagle. His Casino Royale performance was also at par with the best, and as a result, he was nominated for a BAFTA Award.
While Craig himself would attract attention wherever he goes, his first car probably would not. It is a very common Nissan Cherry with its 1.2-liter engine. He bought it before his career took off. It cost him a minimal investment of about £300, which back when he purchased it, was even a bit too much. Now the actor could afford the latest and the best vehicles.
Melania Trump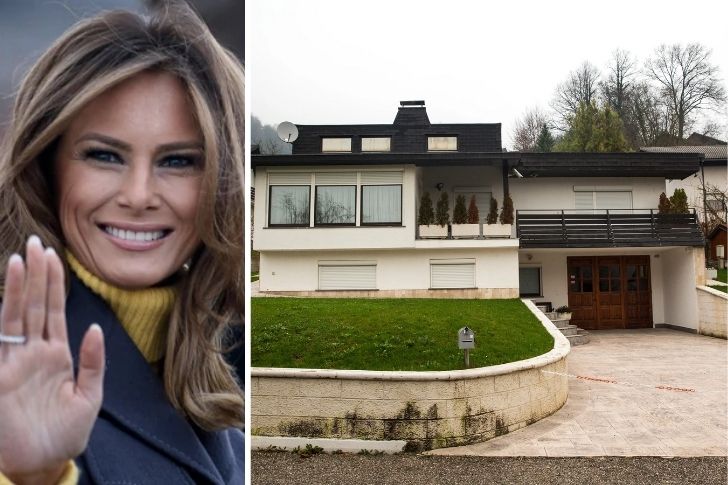 The former First Lady of the United States, Melania Trump, is a former model and a businesswoman. While she was born in Slovenia, most of her life was spent in the US after she moved there in 1996. She married former President Donald Trump, then a TV personality and real estate developer in 2005. Later in the year, her citizenship change was approved, and she officially became an American.
The house where she grew up in Slovenia was a regular apartment block. It was not quite the Trump Tower, but it was here that her dreams of being a model were hatched. Now that she became the significant other of a US president, reports said that the former First Lady is even more famous than her husband in his hometown of Novo Mesto. A statue of her was even made! We can see the degree of love her folks back home are giving the former model.
Jay-Z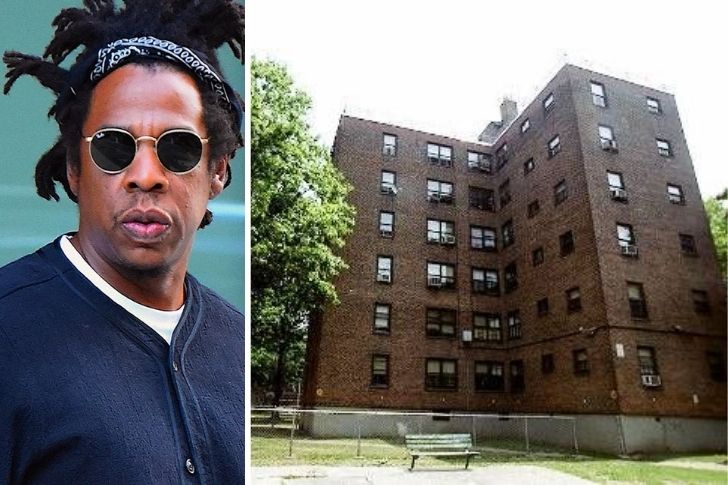 Shawn Corey Carter, or more popularly known as Jay-Z, is a rapper, songwriter, and music entrepreneur. He is often recognized as one of the greatest rappers of all time, but one other contribution he gives the industry is discovering and supporting aspiring rappers to find their footing. He founded the record label Roc-A-Fella Records in 1995, which was responsible for releasing albums like Philadelphia Freeway and The Understanding.
Many will notice references in Jay-Z's early music to how he grew up in the projects, specifically the Marcy House or Marcy Projects, a 1,705-apartment public housing complex in Brooklyn, New York. While the complex has the basics — electricity, water, and a roof, life there was described as challenging, and so Jay-Z had to develop his street-smart skills. This actually proved helpful as his life there became the inspiration for him to succeed. Now he owns several houses, a far cry from his childhood days.
Jeremy Clarkson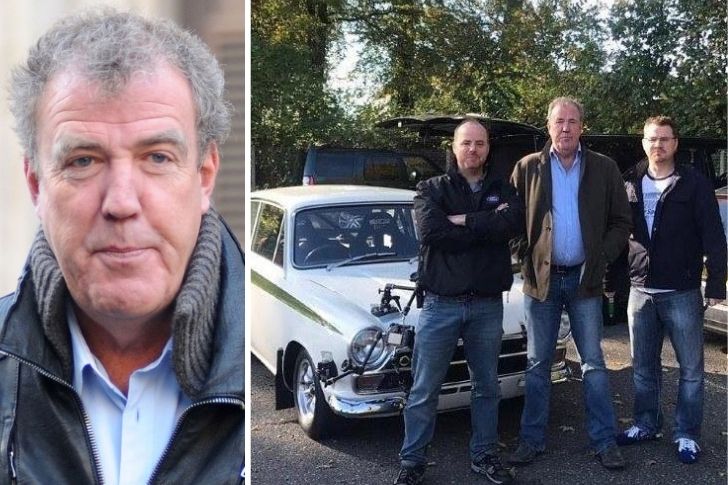 Motoring has been Jeremy Clarkson's life. It is his 9 to 5, and it is also his passion. He is a broadcaster, journalist, and writer who has specialized in the field and writes a column for The Sun and The Sunday Times. Clarkson likewise became famous for hosting Top Gear and The Grand Tour. In 2015, he founded the company W. Chump & Sons, which produced The Grand Tour.
As an enthusiast, Clarkson has driven many types of cars in his lifetime. His very first, however, was a Mark 11 Ford Cortina. It cost him £900, a small amount by today's standard. As he is well-versed in cars, he selected only the best version. The journalist revealed that he was prejudiced towards Cortina. Despite its age, his Cortina could still run from 0 to 100 km/h in just 19.9 seconds. It is unlikely he would need to press the gas pedal to its limits, but it is a decent speed, nonetheless.
Brad Pitt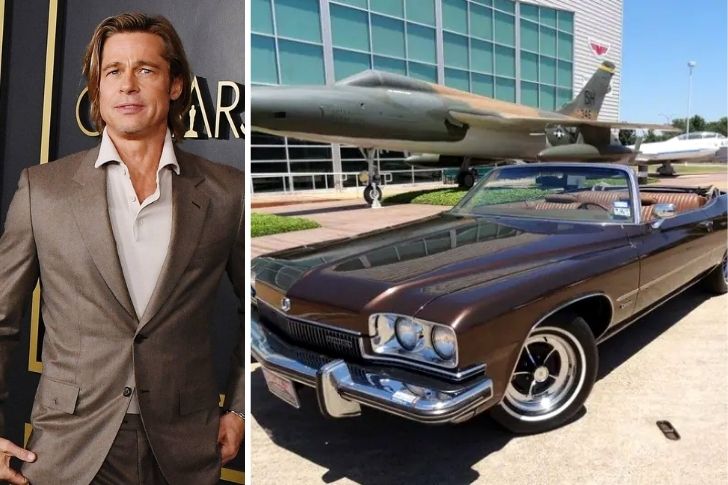 Most would have forgotten how Brad Pitt came to be famous. He is just popular–that's it. The actor, however, had his beginnings in the road film Thelma & Louise in 1991. A leading role did not come until A River Runs Through It the following year. Vampire stories? Before Edward Cullen in Twilight, there was Louis de Pointe du Lac in Interview with the Vampire, a movie adaptation of the book of the same title.
He had come a long way from when he started in his hometown. The actor used to drive limos, even transferring refrigerators, just like a moving company would, and a number of other jobs. While doing this, he relied on his parents' 455 Buick Centurion. It is a two-door coupe with a V8 engine under the hood. It is not comparable to modern cars, but it served its purpose. Nowadays, the actor could be seen driving a Lexus, a Jeep Cherokee, and an Audi Q7.
50 Cent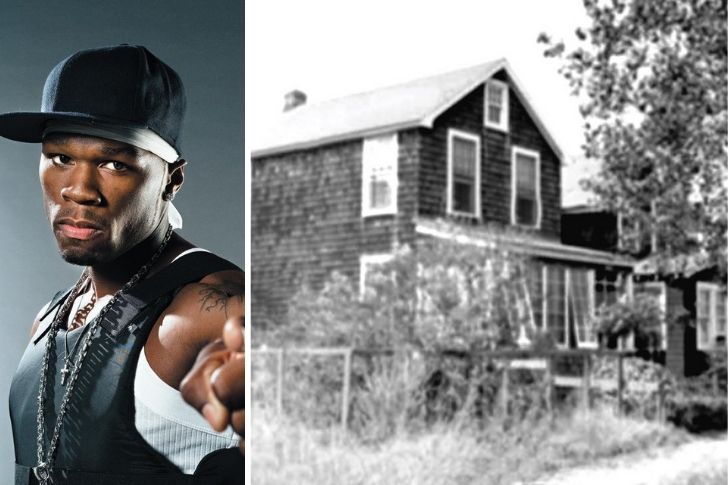 Curtis James Jackson III is an American rapper known for his professional name, 50 Cent. He is definitely worth more than 50 cents, as the rapper and actor has been given credit for his impact in the hip-hop industry. 50 Cent has been described as someone who has mastered the art of nuanced meaning and brevity. Fellow rapper Eminem discovered 50 Cent in 2002 after he released his album Guess Who's Back?
Queens, New York, in the South Jamaican neighborhood is where 50 Cent grew up. The small, 1,025-square-foot home did not have a garage and only had essential fixtures. It was a rough neighborhood, too, and just like Jay-Z, he had to learn the ways of the streets early. All of that is behind him now and has served as an inspiration for music. He is currently ranked as one of the wealthiest rappers.
Jennifer Lawrence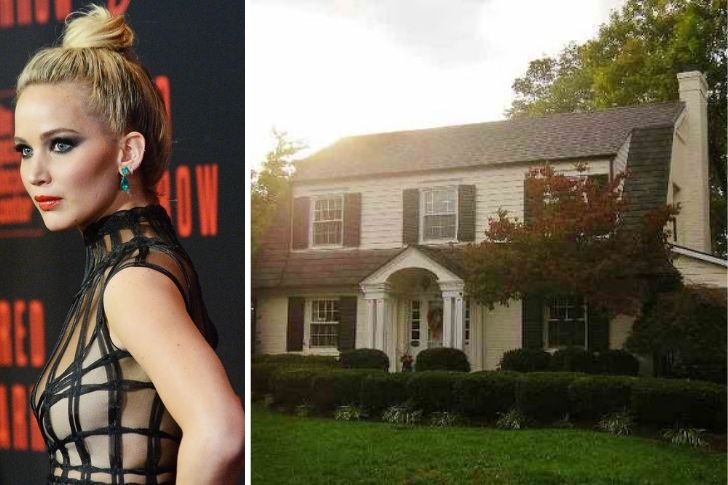 X-Men's Mystique, Jennifer Lawrence, has earned so many accolades over the years. It is hard to imagine that she is only 30 years old and has already accomplished so much. One such honor was being listed among the most influential people in the world in 2013. She also became the youngest actress to win an Oscar in the Best Actress category for her Silvery Linings Playbook performance in 2012.
Lawrence used to live in the family home in Louisville, Kentucky. Her parents still live there now. The cozy house looks immaculate from the outside. The house was bought in 2003, so it really was not her childhood home — the first house is situated only two miles away from the East Louisville dwelling. Now, the actress has the ability to purchase various homes outright with no need for monthly mortgages.
David Letterman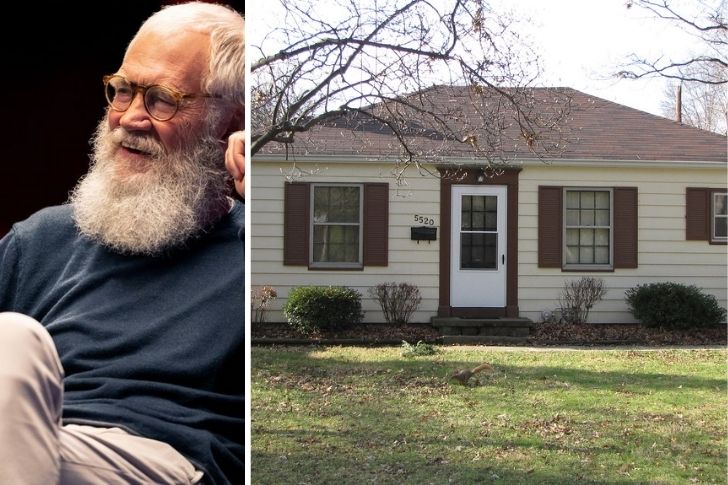 Famous for being a talk show host, David Letterman is also one of America's most beloved. He had served as the night owls' companion for 33 years, starting when he hosted NBC's Late Night with David Letterman in 1982. He ended it with Late Show with David Letterman, this time on CBS. Letterman has hosted a total of 6,080 episodes, even surpassing the record of his mentor, Johnny Carson.
This was a long way from where he started as a weatherman for a local broadcaster in Indianapolis. The host was born in the Broad Ripple area of Indianapolis, Indiana, and lived there until he was 18. Letterman has always been interested in the broadcast industry, even as a college student. He credits Paul Dixon for inspiring him to pursue this line of career and for his eventual decision to try his luck in Los Angeles.
Adam Carolla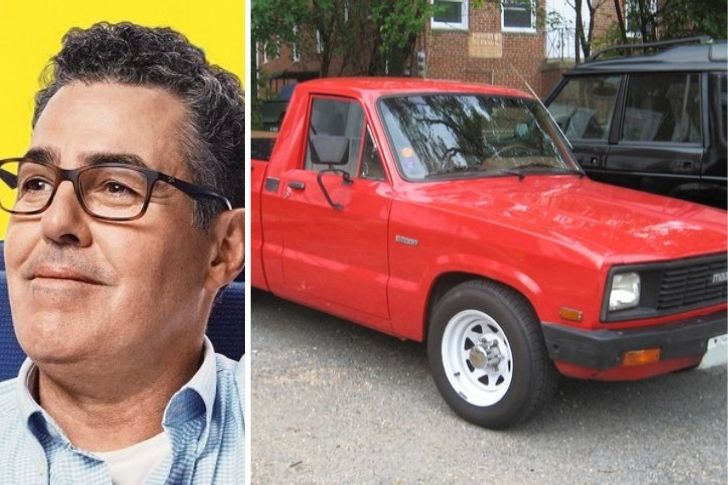 Top Gear host Adam Carolla is a celebrity comic and a radio DJ too. We can say that he is highly talented and can wow an audience well. As evidence of that, he currently holds the record of being the most downloaded podcast according to the Guinness World Records in 2011. He has also hosted a number of shows, including The Adam Carolla Project and The Car Show.
When he was not yet famous, Carolla used to have low-end cars. This is not really bad, as living within your means is a good money management strategy. Besides, his vehicle, a 1978 Mazda B-Series Pickup, is not at all bad. It has a top speed of 65 mph, which, if you are not racing, is a decent enough speed. The car is reliable for hauling things, given its long bed and towing power. While Carolla had to jumpstart it from time to time, it still was what he relied on during that time. Now, of course, he could purchase better rides.
Ludacris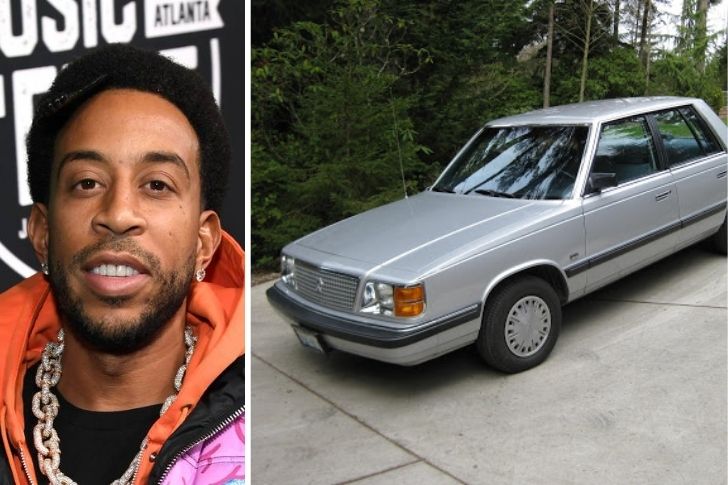 It's no surprise that music has become an integral part of many of our lives, and we have musicians to thank for that. With that said, one such person that has a high degree of love for art is Ludacris, who wrote his first rap song when he was nine years old.
Born Christopher Brian Bridges, Ludacris is one of the music industry's well-known rappers and is also a just-as-recognizable actor, thanks to his role as Tej Parker in The Fast and the Furious movies. Although his on-screen persona is often seen behind the wheel of some of the world's luxurious cars, Ludacris' first ride was far from great. This vehicle in question is a 1986 Plymouth Reliant he bought from his teacher. Despite its less-than-stellar performance, there is still one thing the rapper loves about the Reliant, and that's the 15″ subwoofers he installed, providing him with a satisfying music-listening experience.
Drew Carey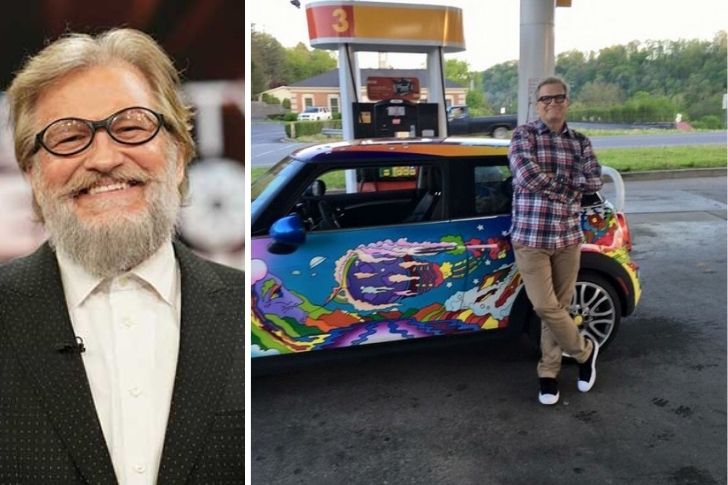 Making it big in one's career of choice is quite challenging, though that doesn't negate the fact it's an investment no one will regret making. Well, the same can be said for Drew Carey. Before he made his way into the entertainment industry, Drew worked as a waiter and bank teller, and at that time, only had a car for a home. In retrospect, it's safe to say all that hard work finally paid off for him.
After improving on his comedic chops, Drew eventually had the chance to appear on The Tonight Show Starring Johnny Carson. Since then, he has garnered more and more fame and recognition thanks to works such as Whose Line Is It Anyway, The Drew Carey Show, and The Price Is Right. Outside the studios he works in, Drew is also quite generous with his fortune, sharing portions of it in numerous philanthropic endeavors over the years.
Kelly Clarkson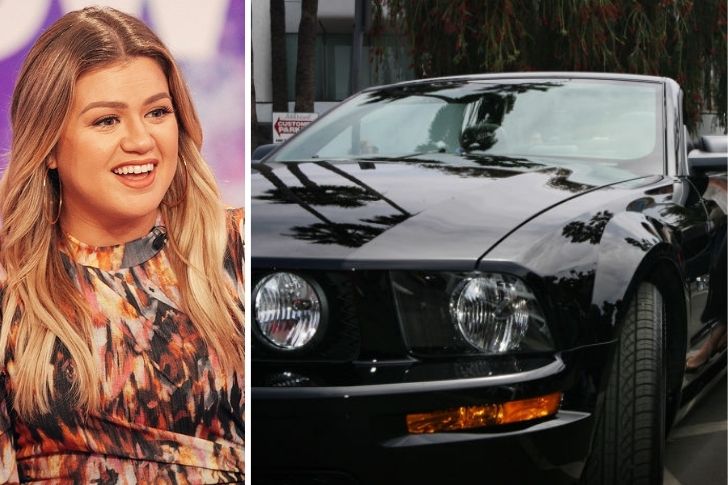 More often than not, the end goal is just as valuable as the journey it took to get to it. For Kelly Clarkson's case, it's safe to say her rise to celebrity stardom was more than worth it. During her earlier years as an aspiring singer, Kelly worked a variety of jobs to turn her dreams into a reality. At that point, due to a few other hurdles, she was also forced to live in her car, though that surely didn't stop her, even for a second.
Kelly's hard work finally paid off when she got the chance to compete in American Idol, where she showcased her natural singing talent to millions of viewers. After winning the talent show program, she released her debut single, A Moment Like This, to even greater success. Since then, besides releasing Grammy-winning and chart-topping albums and records, Kelly now has a coaching credit in another world-famous talent show program, The Voice.
Hilary Swank
A fan base usually begins with one person before finally garnering millions of followers. Well, for Hilary Swank, it's safe to say her mother can take credit for being her first supporter. When Hilary was still an aspiring actress, her mother was never far behind. At that time, before they saved enough for an apartment, the mother-daughter duo lived in their car — this was when Hilary didn't have auditions to go to.
By the looks of it, all that hard work has paid off, and Hilary's mom is surely more than proud of it. After she appeared on the public's radar thanks to her part in Camp Wilder, Hilary has since become well-known for her role in projects such as The Next Karate Kid, Beverly Hills, 90210, and Million Dollar Baby. Along the way, she's also dabbled in behind-the-scenes work, producing the movies Conviction, What They Had, and Amelia.
Katy Perry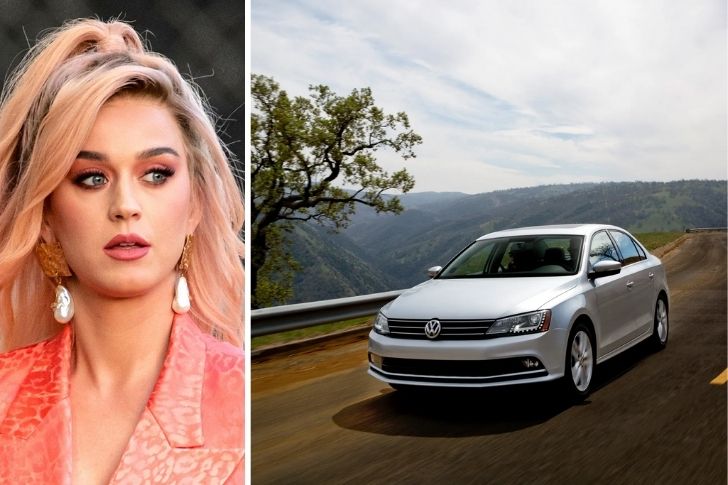 Through the years, the music industry has introduced us to numerous influential artists. One such figure worth mentioning is Katy Perry. With her parents' support, Katy began taking vocal lessons when she was nine and eventually performed alongside a local church choir. Well, from that point onward, there was no other direction for her journey but forward.
Since then, Katy has garnered widespread recognition and fame for creating hit tracks such as ET, Firework, Dark Horse, and Roar. Along with her career in the music industry, Katy's car collection has become more and more impressive over the years. The first car she ever spent her investment money on was a Volkswagen Jetta. Even so, the singer still thinks it's one of the best she's ever owned, despite now owning other beauties, including a Ferrari, an Audi, and a Fisker Karma.
Jose Mourinho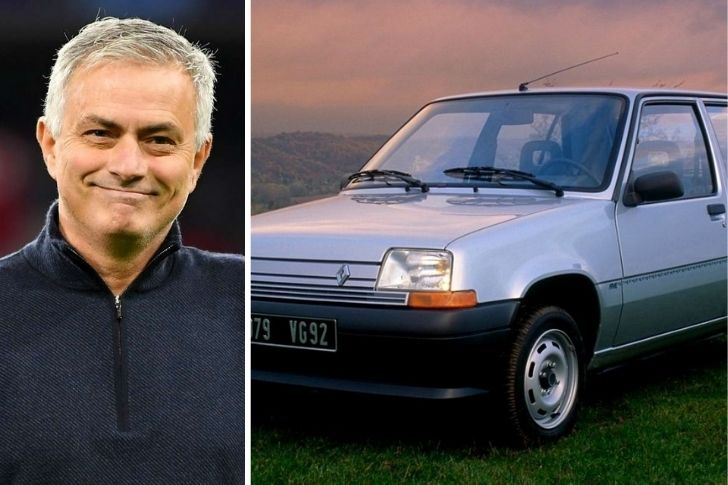 The world of football introduced to us many talented players and recognizable teams over the years. Besides its athletes, it would be a great disservice not to give credit to their coaches. At this point, Jose Mourinho has become one of the sport's most highly regarded coaches, having had the chance to manage teams such as Chelsea, Real Madrid, and Manchester United.
Outside the stadiums and football fields, Jose is a fan of all things automobile-related. Even so, like his journey into the sport, his car collection had a modest beginning. During his college years, Jose's father bought him his first-ever ride, a Renault 5. Despite its simple design, it's safe to say Jose loved it, nonetheless. With his successful career earning him quite a fortune, he now shelters many of the world's lovely mechanical beasts, including a Ferrari F 599, a BMW X6, an Audi A7, and some Aston Martins.
Miley Cyrus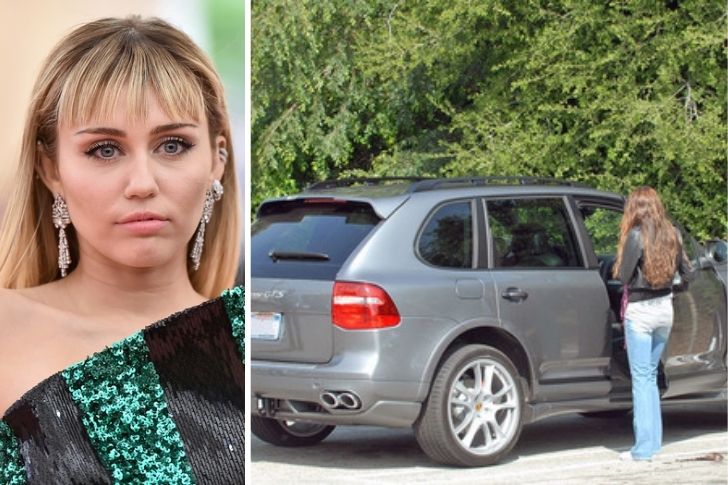 Since her dad, Billy Ray Cyrus, and godmother, Dolly Parton, are well-known names in the music scene, it comes as no surprise Miley Cyrus eventually followed suit. Along with her musical talents, Miley also had a passion for acting and began her career with a part in the TV series Doc.
At a young age, Miley was already making achievements left and right. As a reward for all her work, Miley's mom gifted her a Porsche Cayenne for her 16th birthday. In a sense, it's safe to say this present was a sure-motivator for the actress-singer to make great investments in her career. Since then, Miley has released many memorable records and starred in projects such as The Last Song, Black Mirror, and voice-acted for Bolt. Thanks to all her work, she now has quite an impressive car collection, which includes a lovely Maserati Quattroporte.
Jewel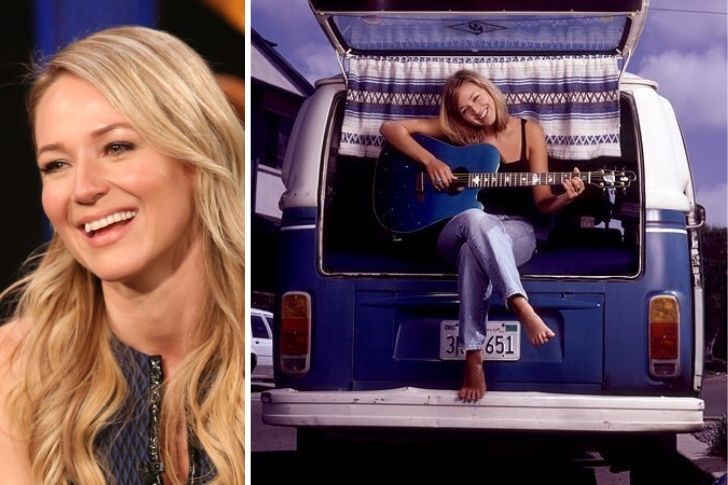 Popularity is often one of the most integral factors for someone to make it big in the entertainment industry, and like many things, it is easier said than done. Even so, that didn't stop many of today's stars, including Jewel Kilcher. During her childhood, Jewel spent some time performing alongside her father in roadhouses, taverns, and hotels.
By the time she was in her teens, the at-the-time aspiring musician was already traveling from city to city, looking for gigs to earn money. Jewel slept in her car at this period of her career. Even so, she didn't give up and kept her foot steady on the proverbial gas pedal, with her eyes still locked on the prize. Since then, Jewel has garnered widespread fame and recognition for albums such as Pieces of You, Perfectly Clear, and Lullaby. Along the way, she also received praise for her performance in the 1999 movie Ride with the Devil, among other endeavors.
Justin Bieber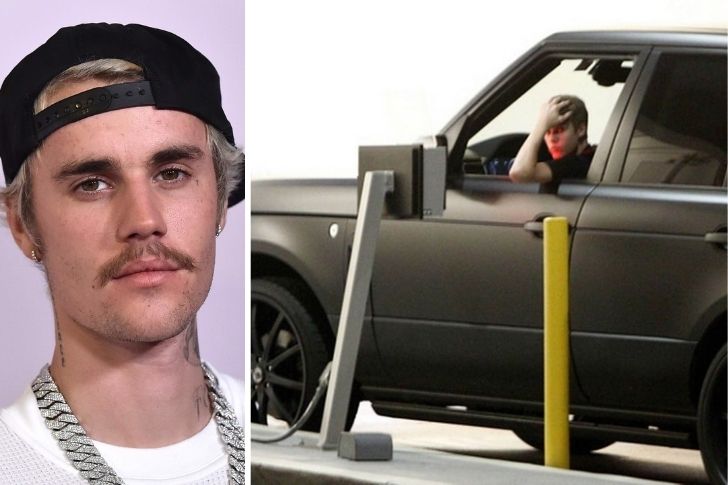 At this point, it's safe to say that the internet is one investment made in the world of technology that people won't be regretting anytime soon. It has become a go-to platform for people to communicate and share their thoughts and interests. With that said, it is also where Justin Bieber got his first shot to fame. After videos of him covering songs by his favorite artists became viral hits, Justin has since found his way into the music industry.
During the earlier years of his career, Justin had a friend that helped him along the way, and that was fellow artist Usher. In fact, to congratulate the young singer, Usher even gave Justin a Range Rover for his 16th birthday! With that said, other cars he's owned since then include a Lamborghini Gallardo Spyder, a Fisker Karma, and a Rolls Royce Ghost.
Steve McQueen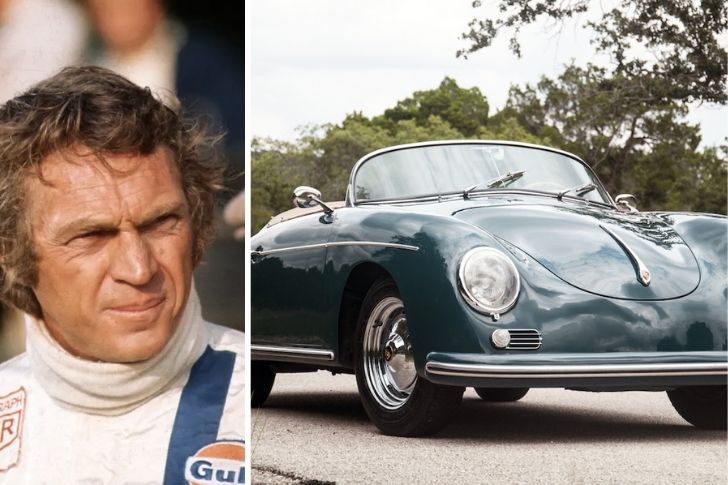 The film industry has introduced us to many unforgettable actors over the years. One such star that has since achieved a high degree of fame and recognition is Steve McQueen. Before he made his way into Hollywood's spotlight, Steve took acting classes at HB Studio and at Sanford Meisner's Neighborhood Playhouse.
Since then, Steve has become well-known for his performance in titles such as The Cincinnati Kid, Le Mans, Bullitt, and The Sand Pebbles. Outside the film industry, however, the actor had a knack for racing, and along with it, a love for all things automobile-related. With that said, it comes as no surprise his first car further emphasized his reputation as "The King of Cool." This vehicle in question is the 1958 Porsche 356 Speedster. Despite later selling it, the actor couldn't help being away from the car for long that he eventually bought it back!
Paul Newman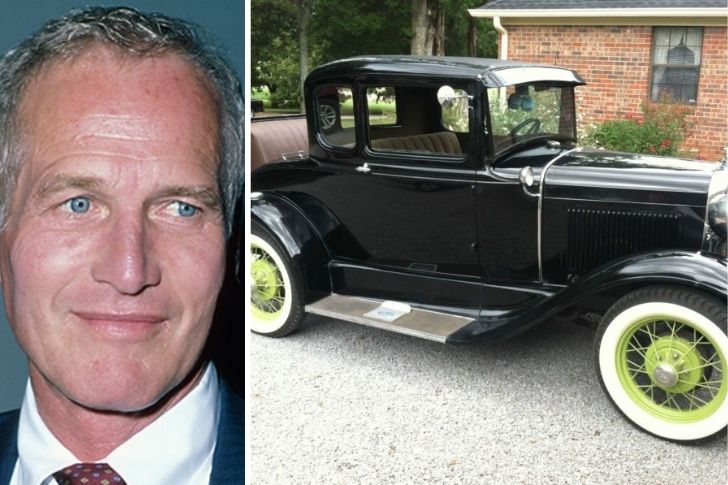 Of course, like other lines of work, the entertainment industry is no stranger to competition. Well, for the previously-mentioned Steve McQueen, he often considered Paul Newman his rival in the acting scene. For his journey into the spotlight, Paul developed an interest in performing when he was just seven. With his talent improving through the years, Paul eventually garnered widespread recognition for his roles in The Verdict, Butch Cassidy and the Sundance Kid, and his voice-acting credit in Disney's Cars movies.
Just like Steve, Paul had a love for cars and even competed in a couple of races along the way. With that said, Paul loves all types of rides, both modern and classic. In fact, the actor's first-ever purchase was a 1929 Ford Model A. Despite it only having a top speed of 65 mph, its horse carriage-inspired look is more than enough to make Paul happy, and that's what matters.
Vin Diesel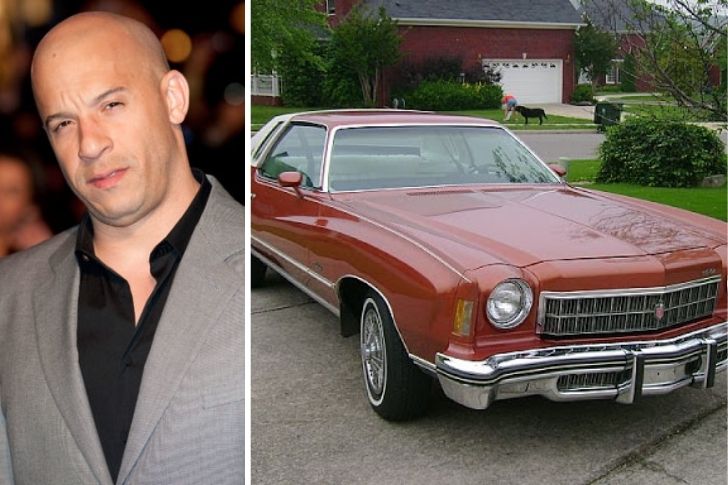 More often than not, one thing can lead to another like a domino effect. Well, the same thing happened to Vin Diesel. At one point in his childhood, Diesel and his friends attempted to prank a local theater. Although they were caught in the act, the group was offered a chance to perform on a stage play as compensation, which then developed Diesel's love for acting.
Since then, the actor has become a recognizable figure in the entertainment industry, with his role in the Fast and the Furious films skyrocketing his reputation to greater heights. With that said, like his on-screen persona, Diesel has a love for all things automobile-related. Before his acting career went swinging, the actor once drove a 1978 Monte Carlo. Although he didn't enjoy his first ride, Diesel has since owned other gas-powered beauties, including a 1970 Plymouth Roadrunner, a Mazda RX7, and a 1970 Dodge Charger RT.
Tom Cruise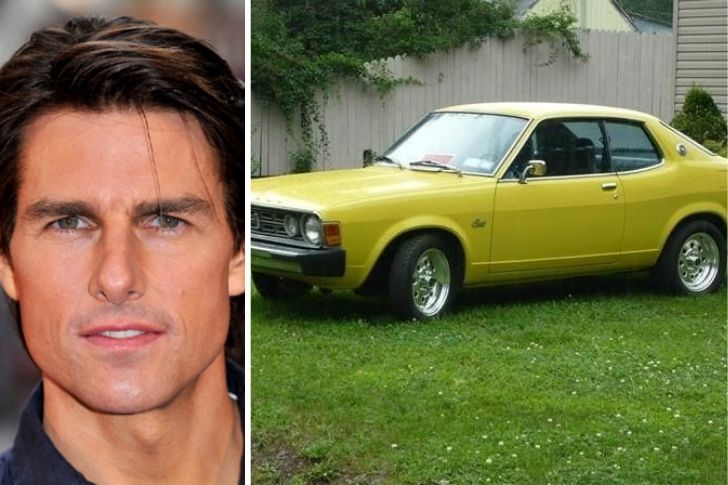 Most of the time, actors have stunt doubles for the scenes that require their on-screen personas to do something riskier than usual. Even so, there are a few that prefer to do these stunts on their own. With that said, one such celebrity that's got insurance companies on their toes is none other than Tom Cruise.
Debuting his career in the '80s, Tom has since become a well-known name in Hollywood, thanks to his performance in films such as Rain Man, Top Gun, Edge of Tomorrow, and of course, the Mission: Impossible movies. Along with his fame, the actor earned quite a fortune, so he spent some of it on his vehicle collection. The first ride he ever called his own is a Dodge Colt, which he often drove around his hometown. Other beauties that now accompany the Colt in the actor's garage include a Chevrolet Chevelle SS, a Porsche 928, and a Bugatti Veyron.
Johnny Depp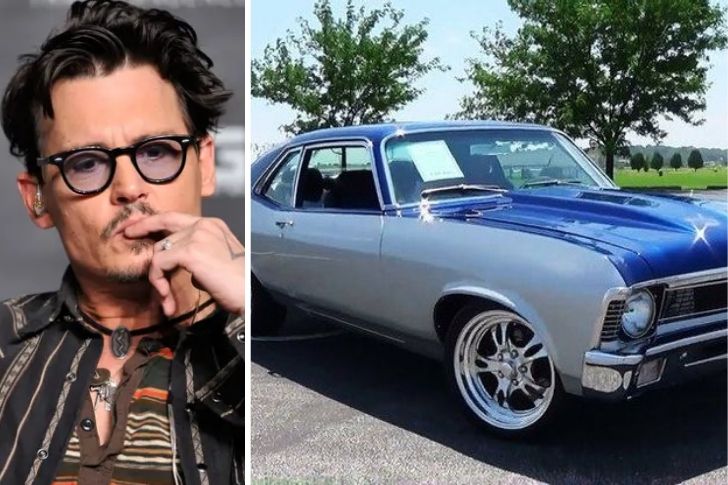 At this point, it's safe to say that almost everyone recognizes Hollywood's Johnny Depp, an actor who has portrayed several iconic characters throughout his ongoing career. Debuting with 1984's A Nightmare on Elm Street, Johnny eventually rose to prominence following his role in the 21 Jump Street TV series. Since then, he has starred in notable projects such as Ed Wood, Sweeney Todd, Black Mass, Charlie and the Chocolate Factory, and of course, the Pirates of the Caribbean movies.
Like many celebrities, however, this actor's beginning was anything but easy. With that said, it comes as no surprise his first ride of choice was a Chevy Nova. Although it doesn't have many memorable features, the Nova was quite efficient in terms of gas consumption. Well, thanks to the work he's done down the lane, Johnny now owns many mechanical beauties, including a Rolls Royce Wraith and a 1959 Corvette – his garage reportedly shelters 45 cars.
Rowan Atkinson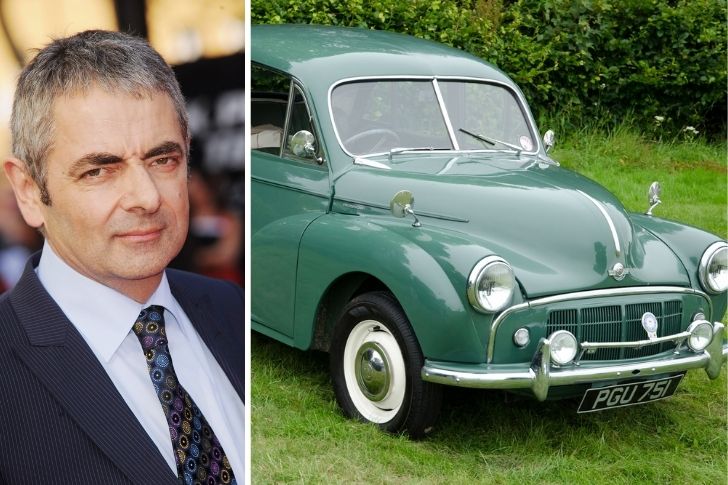 Everyone loves to have a good laugh every once in a while. Well, that's why we have things like comedians and comedy shows and movies. With that said, one such figure that has made quite a name for himself thanks to his comedic chops is none other than Rowan Atkinson.
Before his world-famous Mr. Bean persona's Mini Cooper, Rowan bought himself a just-as-small vehicle – a Morris Minor. Along with spending some investment money to enhance its overall performance, the actor also bought other beauties to accompany his Morris. In fact, he has a deep love for all things vehicle-related, which is most apparent with his impressive car collection. Thanks to his ever-successful career, Rowan has since owned many of the world's automobiles, including a Rolls Royce Phantom Drophead, a BMW 328, and a McLaren F1, which he eventually sold for approximately $11 million.
Mila Kunis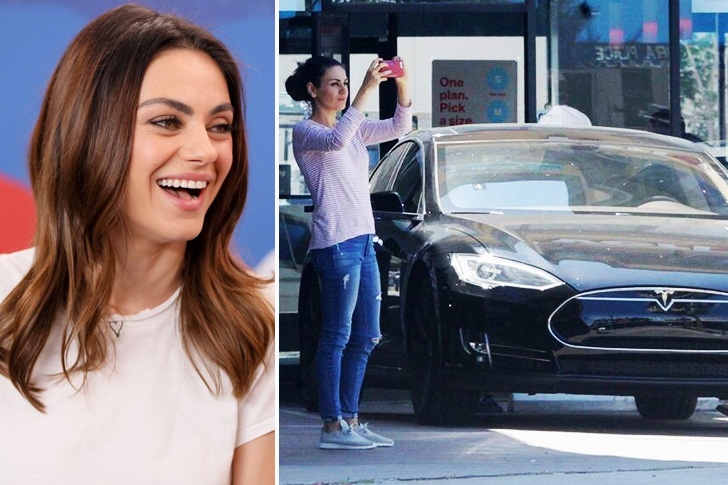 Mila Kunis is an American actress who's appeared in several television shows and films. The Ukraine-born actress started acting when she was young, and she purchased a Ford Explorer using the money that she made from her earliest credit roles. Interestingly, you'd often see Mila engage with other Ford owners in so-called "Ford Parties." The That 70s Show actress and her Ford buddies would often cruise around Sunset Boulevard in a beautiful forest-green Ford Explorer and blast loud music.
Since Mila achieved massive success in acting, she's moved on into driving way more expensive cars. She also now shares a garage with her husband, Ashton Kutcher. The couple has been seen cruising around Los Angeles in a good variety of luxury and sports cars. The happy couple's car garage comprises a Ferrari, Tesla, an Impala SS, a few Mercedes, Toyotas, and of course, a few Ford SUVs. We're confident that Mila and Ashton can easily cover the insurance bill on all of their cars.
Lizzo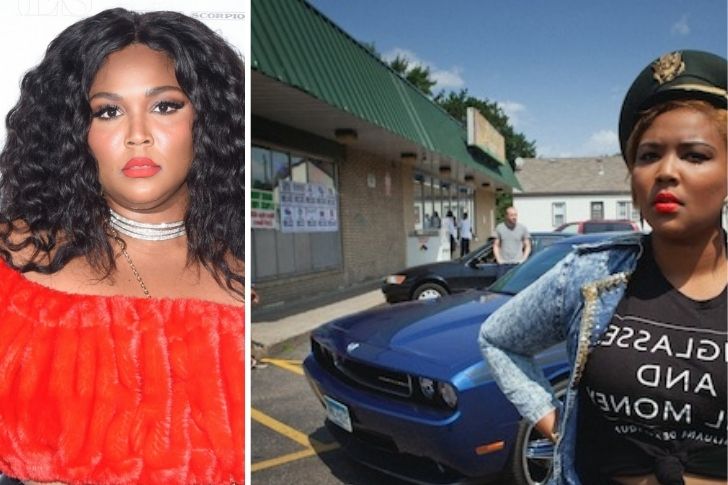 Lizzo is an American singer-songwriter, rapper, model, and flutist. She gained mainstream success with her 2019 album, Cuz I Love You. Lizzo is a strong empowered woman who progressed by leaps and bounds. She is idolized by many because of her music and impact on modern society. Not only does she have multiple Grammy Awards and nominations to her credit, but she also paved the way for body positivity among the younger generations.
Moreover, Lizzo's success story serves as an inspiration to aspiring musicians. During her acceptance speech for the Grammy Award, she shared that for a time she was homeless and lived on her friends' couches and even in her car. It was a decade filled with trials and hardships until she finally had a breakthrough in her career. She is an example of true perseverance. She has truly come a long way and now has an estimated net worth of $10 million.
Steve Harvey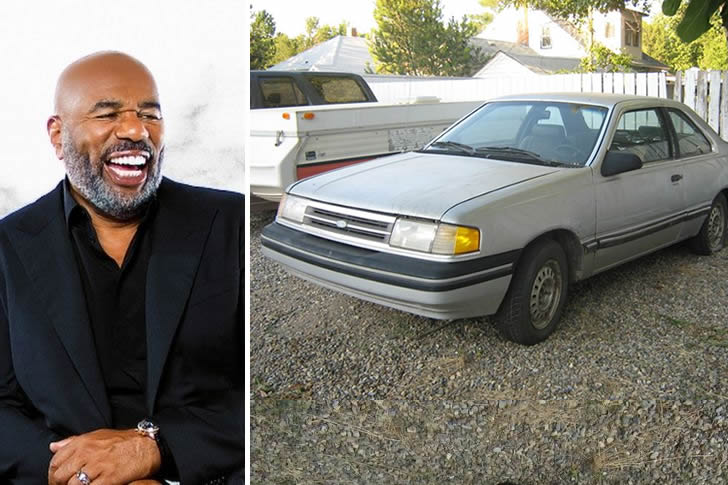 Steve Harvey came from a modest family. He spent the majority of his formative years in Cleveland Ohio, in East 112th street, in a humble two-floor house he once called home. During his birthday in 2018, in his show, The Steve Harvey Show, his wife, along with his family and friends, did a special that moved Steve to tears. They appeared live on the show along with his childhood friends on the very street he grew up in.
The way he seemed so emotionally moved showed his gratitude for the accomplishments he achieved throughout his career and for how far he has gone. To his credit, Harvey is a self-made man who persevered through financial hardships and who once experienced living in his car doing comedy gigs across America just to get by. Today he has an estimated net worth of $200 million.
Claire Danes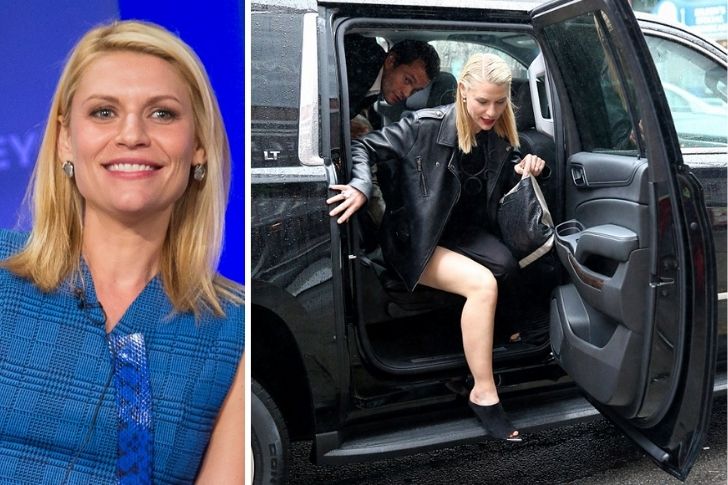 Claire Danes is a prolific actress with multiple accolades to her credit. These include three Emmys Awards, two Screen Actors Guild Awards, and four Golden Globe Awards. Claire got her breakthrough in the industry with a role in the teen drama series, My S0-Called Life in 1994. Her film debut was in Little Women. Other films to her credit include Romeo and Juliet, Home for the Holidays, Les Miserables, Terminator 3: Rise of the Machines, and Stardust.
As of 2021, she was estimated to have a net worth of $40 million. With the wealth that she has amassed, it was interesting how a celebrity of her stature would spend her earnings. Most stars would buy luxury cars to go along with their lavish lifestyles. But before all the available financial possibilities came her way, Claire was sporting a humble Chevy Blazer. A peculiar choice for a young lady, but it served its purpose well. We can only imagine the memories she created with the truck as she journeyed on towards success.
Elijah Wood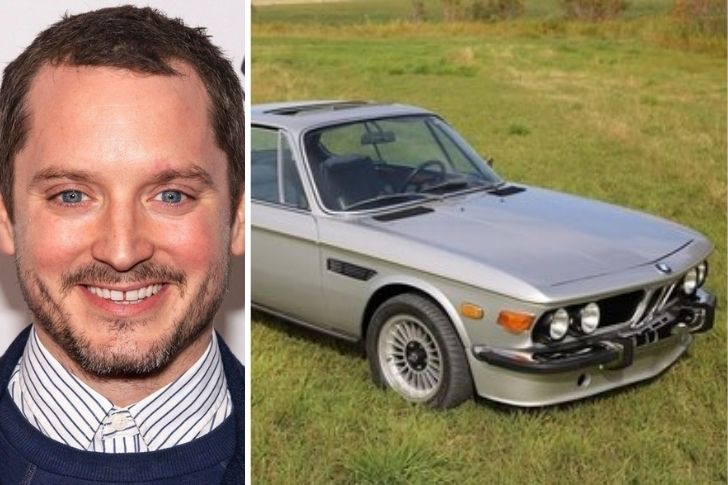 Every fan of the fantasy genre knows who Elijah Wood is. He is known for his portrayal of Frodo Baggins in the Lord of the Rings movies and its prequel, The Hobbit. But before all that, Elijah grew up in Cedar Rapids, Iowa. He started modeling at a young age and starred in school plays. In 1989 his family would make a move to Los Angeles, where the young Elijah would pursue a career in acting. He has shared that with his earnings, he bought a classic BMW 3.0 CS right after he learned to drive.
A good partner for the then aspiring actor would later star in films such as Avalon, Radio Flyer, Flipper, Deep Impact, and North. Among the investments that came with his acting career's success was his record label, Simian Records, and his production company SpectreVision.
Harry Styles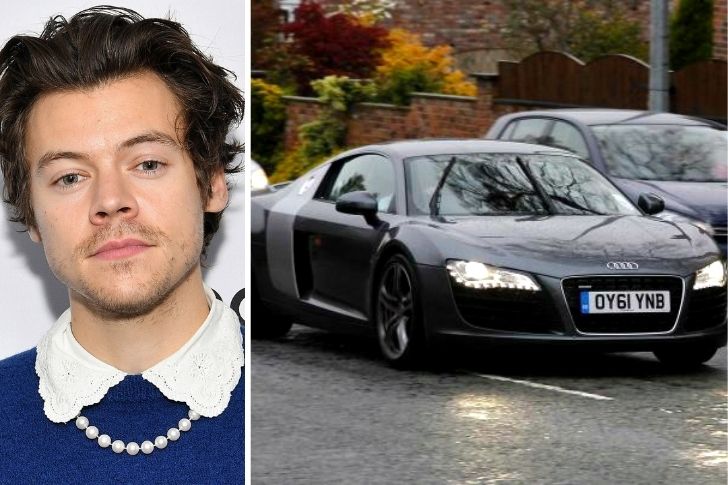 Harry Styles is an English singer-songwriter and actor. He lived a modest life as a young man growing up in Redditch, Worcestershire. In 2010 with his mother's suggestion and blessings, he joined the British talent show The X Factor. Here along with Liam Payne, Niall Horan, Zayn Malik, and Louis Tomlinson, they formed the band One Direction under Simon Cowell's guidance. They'd gained significant attention among the viewers, and they reached the finals, finishing 3rd in the competition. One Direction then moved on to become one of the best-selling boy bands of all time.
From being a modest young man coming from a relatively small town to being a top-selling boy band member, Harry gained financial success at a very young age. And just as any young man would do with the wealth he got, Harry made several investments, one of which was in a $100,000 sports car, an Audi R8. He immediately bought the sports car right after getting his driver's license, and it was a very fitting car for a young pop star.
Jay Kay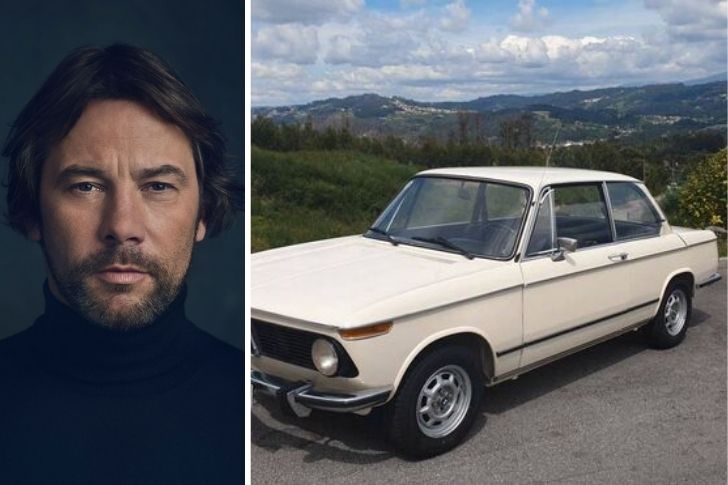 Jay Kay is the vocalist and founding member of the band Jamiroquai. The band gained worldwide prominence during the 1990s and 2000s. They set themselves apart with their funk-jazz fusion music, which would be their ticket to success. Some notable albums of the band include Emergency on Planet Earth, Return of the Space Cowboy, and A Funk Odyssey. Apart from his music career, Jay is also known for being a car enthusiast. He has had multiple Top Gear appearances and is the proud owner of various sports cars.
But before his rise to fortune and fame, Jay sported a modest BMW 1602. It was a far cry from the collection he now has. Among his luxurious and classic car investments are a Ferrari 275 GTB, a Mclaren 675 L, a Ferrari LaFerrari, a Ferrari Vignale 330 GT, and an Aston Martin DB6 MK1 Volante. He indeed has achieved his dream and more.
Jerry Seinfeld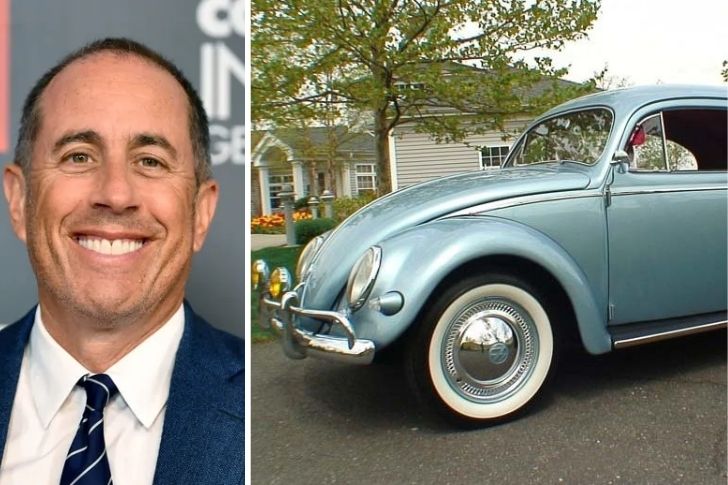 Jerry Seinfeld is a famous American comedian. He grew up in New York City and graduated with a degree in communications and theater. He developed an interest in comedy during his college years and would perform in open-mic events, honing and mastering his comedic craft. Little did he know that he would set off in a career in the industry that would earn him a fortune from there. He is best known for his sitcom Seinfeld, which he co-wrote with Larry David. To some degree, the show was based on his own life, and it captured the hearts of many.
Apart from his prolific comedy career, he is a well-known car enthusiast. He is a proud owner of 80 Porsches and a total of 150 cars. It's certainly not a bad way to spend the millions that he earned. But before he achieved his fortune, he was sporting a humble Volkswagen Beetle. Though modest, it also showed his love for classic vehicles.
Jodie Kidd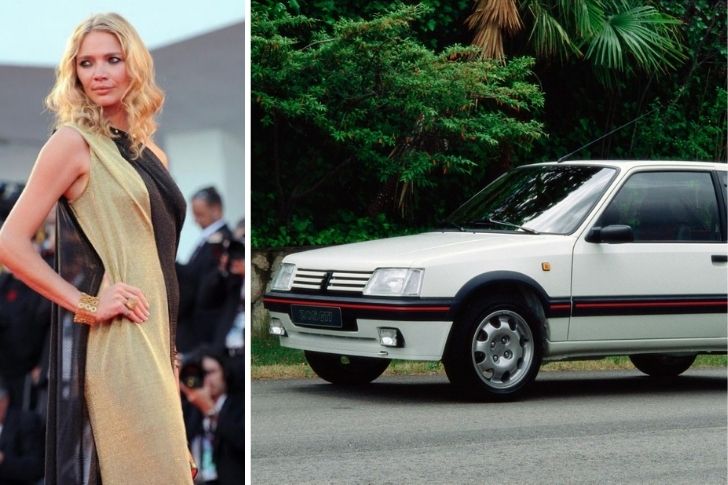 Jodie Kidd is a British fashion model. She was born into a wealthy family — as one of the grandchildren of Canadian press baron Max Aitken. She started her modeling career at the age of 16 and quickly gained attention. She was involved in a controversy that circulated in the modeling industry during the time. Since she is six feet tall and was 48 kg in weight, many criticized her for having an unattainable body type, which many argue was bad for impressionable young teens. She turned this around and changed her look to fit a size 14 dress.
Kidd modeled for various luxury products and got a career in the fashion industry not unlike that of a supermodel. Jodie also appeared in TV shows, most notably in the TV car series Top Gear. There she displayed her prowess in driving and doing laps around a custom race track. She is said to have owned a Peugeot 205. A very modest car considering her wealthy family background.
Jon Stewart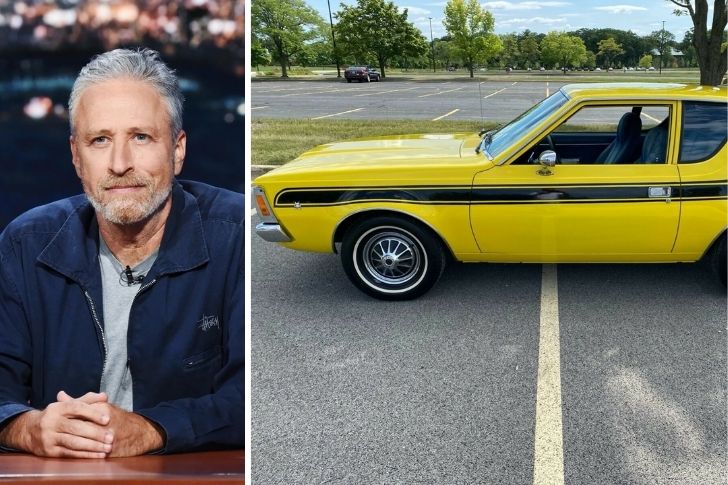 Jon Stewart is a famous American comedian and political commentator. He is most famous for his work in the satirical news show The Daily Show. The success of this show earned him a staggering 22 Primetime Emmy Awards, and two Academy Awards. Jon also co-authored the best-selling book, America: A Citizen's Guide to Democracy Inaction. After his tenure in the successful show, he stepped out of the limelight and made use of his influence to help the 9/11 first responders receive their due benefits for their heroic service.
In a popular show by Jerry Seinfield called Comedians in Cars Getting Coffee, Jon shared his experiences in life before he became famous. While grinding it out in the underground stand-up comedy scene, Jon drove an AMC Gremlin. Though a sturdy and reliable car it may be, Jon hilariously voiced out his resentment for the modest vehicle calling it a 'contraception' for young men. With all his accomplishments to date, he surely has, to his credit, better cars to drive around.
Justin Timberlake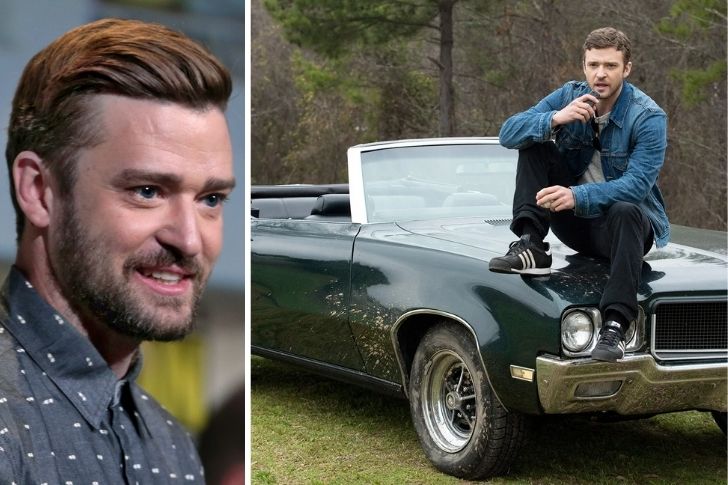 Justin Timberlake is a famous singer and actor. In some of his interviews, Justin shared his love for cars, and for someone who has earned millions, luxury cars are good investments. His first car was a Mercedes-Benz ML. A luxurious car right off the bat and it is not surprising as Justin started his career at a young age with Disney. He starred in the All-New Mickey Mouse Club along with the likes of Britnney Spears, Christina Aguilera, and Ryan Gosling. But he made his fortune from his music career.
He garnered worldwide recognition alongside his boy band NSYNC. Later on he cemented his name in music history as a pop icon following his solo career. His second album, Future Sex / Love Sounds, showed his musical maturity — it was a commercial success, debuting on top of the US Billboard 200 charts. To date he is still active in the music scene and in 2019 he received an honorary Doctorate from one of the most prestigious music schools, Berklee College of Music.
Khloe Kardashian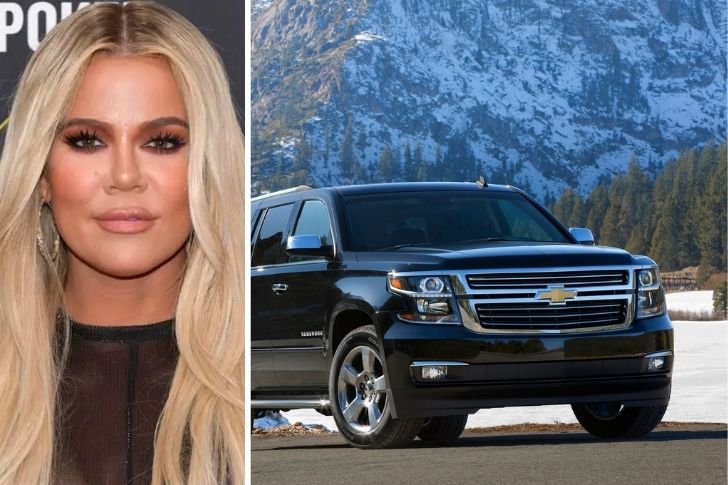 Khloe Kardashian became famous following the success of the reality show Keeping Up with the Kardashians. She is a TV personality and a model. She is also known for her appearances in The Celebrity Apprentice and for hosting talent show The X Factor. Khloe also hit media headlines with her marriage with professional basketball player Lamar Odom. They also had a reality show centered around their relationship — it was called Khloe and Lamar.
But before Khloe earned her celebrity status, she was an aspiring model managed by her very own mother, Kris Jenner. Much to Kris' credit, she never lacked in providing for her daughter's needs. Khloe boasts of receiving a luxury SUV, a Chevrolet Tahoe, as a gift from her mother. She is very fortunate to have Kris as her manager and she certainly wouldn't be where she is today without the support and guidance of her mother.
Lebron James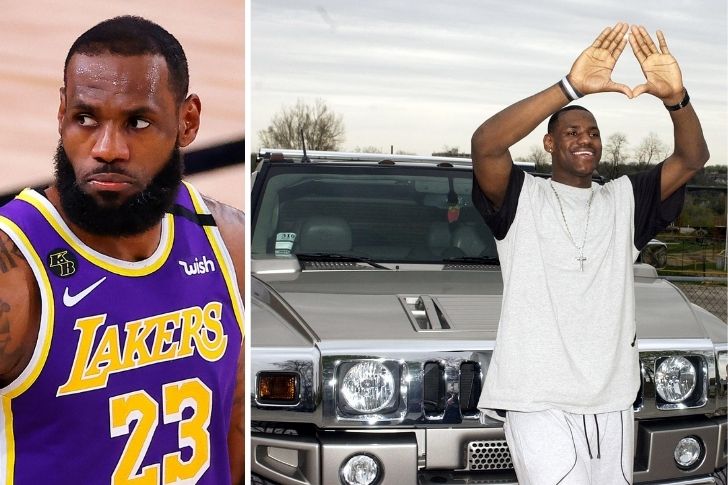 When talking about the NBA and who the best to ever play the game is — apart from Kobe Bryant and Micheal Jordan — LeBron James, more often than not, is someone who comes up. His stardom in the professional scene started even before he stepped in the NBA. Playing as the star player of St. Mary-St. Vincent High School basketball team, he was already heavily regarded by sports media as the next NBA superstar. He earned the honor of being the first draft pick of Cleveland in 2003.
Now, it goes without saying that since an early age, LeBron was making hundreds of thousands of dollars, and it comes as no surprise that he was putting the money to good use. One of the earliest investments he's made was in a car — a luxurious Hummer. It was fitting considering his stature and physicality, which gave him his financial success in the sports industry.
Leonardo DiCaprio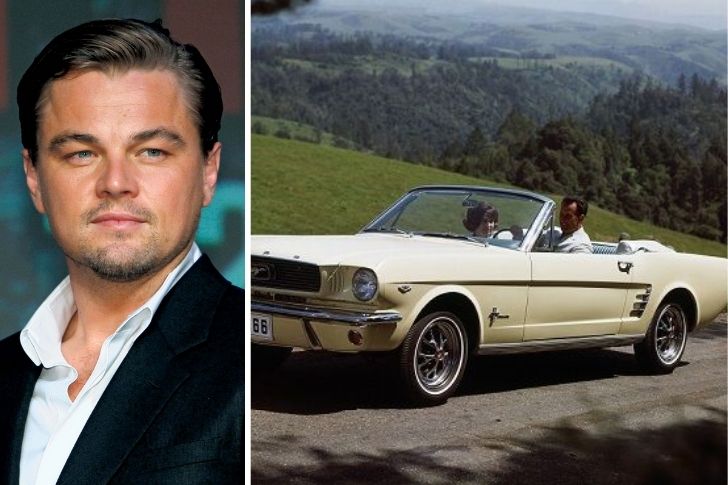 Leonardo DiCaprio is one of Hollywood's wealthiest celebrities, with an estimated net worth of $260 million as of 2021. With the vast amount of wealth that he has earned, he has numerous investments throughout his career, including properties and cars. In a Top Gear interview, he shared that he wasn't particularly fond of the idea of being chauffeured around and liked driving himself around better. He further shared his experiences as a young man driving around a beat-up station wagon delivering comic books for his father.
He also drove around his mother's car, an old Ford Pinto. But what was most interesting was his first car, a classic '60s Ford Mustang. Leonardo fondly retold the story of how fast the old car was but that it repeatedly broke down on him. Surely he won't have the same problems with his current collection of luxury cars.
Lindsay Lohan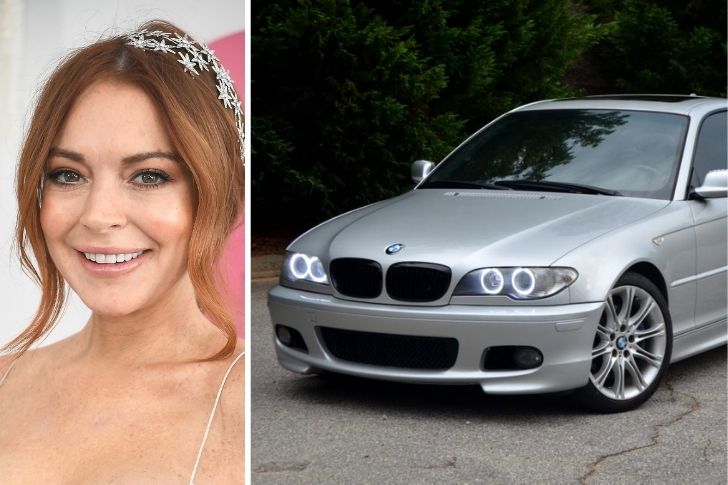 Lindsay Lohan is an American singer, actress, and TV personality. She started her career at a very young age. When she was 3-years-old, she was already signed to a modeling agency, Ford Models. She had her breakthrough in the movie Parent Trap in 1998. After which, she made appearances in TV films, including in Get a Clue and LifeSize. Lindsay would then return to the big screen with movies such as Confessions of a Teenage Drama Queen and Freaky Friday.
At this point in her life, she already had a successful career in TV and film. It goes without saying that she was able to earn an ample amount of money and was able to make some investments along the way. It's reasonable that one of her first investments was in a car. It was reported that with the money that she saved up, she bought a BMW 330 Ci — not a bad choice for the then teen celebrity, considering the BMW 3 series is a popular and practical choice for young people.
Mark Zuckerberg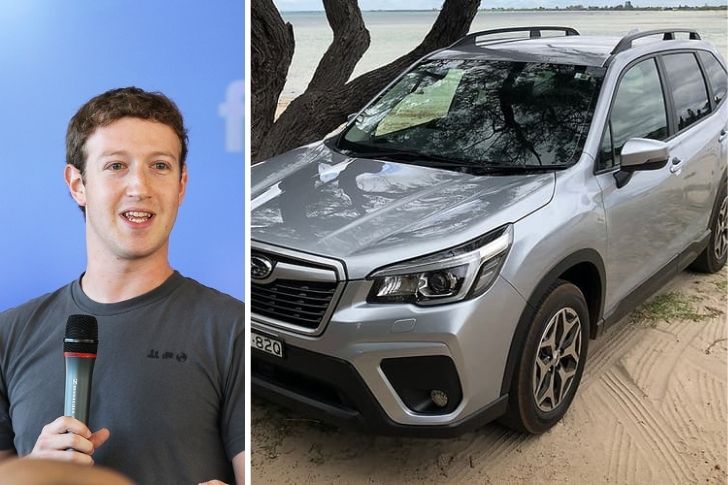 Mark Zuckerberg may be one of the most influential people in the world today. His company Facebook has spearheaded the evolution of social media to what it is today. What started out as a college experiment for Mark became, as of 2021, a company with a valuation of more or less $700B. His net worth, on the other hand, is estimated to be $105B. Although he didn't have a college degree, he is an example of someone who's found the means to become successful.
Being a multi-billionaire, it comes as no surprise that Mark has a vast array of assets to his name. Among those in his growing collection of luxury cars is a modest Subaru Forester. Today, however, his collection ranges from a $1.4 million Pagani Huayra to a humble Honda Fit. Indeed, his cars are amazing, but one would expect more from someone who's as rich as he is.
Nicki Minaj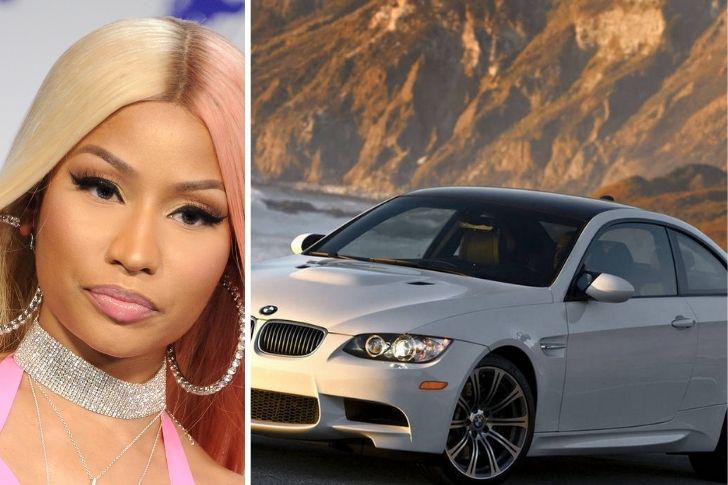 Nicki Minaj or Onika Tanya Maraj-Petty is an actress, singer-songwriter, and model. She was born in Spain but was raised in Queens, New York. Before her successful career, Minaj lived a life of hardship. During her formative years, her father was always under the influence of alcohol or illegal substances. She lived with her grandmother along with her siblings and eleven cousins. She was admitted to an art school to pursue a degree in visuals and performing arts.
By the age of 19, Minaj was already balancing multiple jobs while trying to get into the music industry. It finally happened when she got signed to Lil' Wayne's record label Young Money Entertainment. It was all uphill from there for the young artist, and she eventually got a successful career. She was later cited as one of the best-selling female artists of all time. Having great wealth under her belt, she turned her life around, and in an interview with Vogue, she shared that one of her initial investments was a BMW 3 Series.
Paul McCartney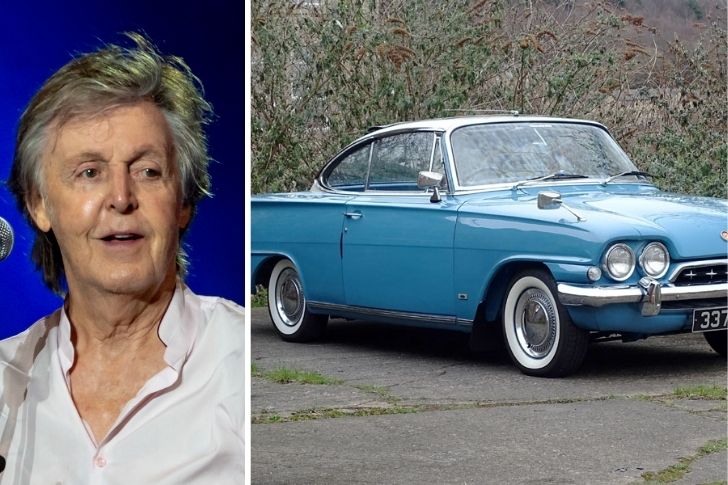 Paul McCartney is a living legend in the music industry. Anybody who has an interest in music would know of his band, The Beatles. The band was a very prominent British rock group in the 1960s. They toured across the world, capturing the hearts of women and men alike. Their music is often cited as a great influence for famous bands, signifying their cultural and musical impact to the industry. And when the Beatles disbanded, Paul continued cementing his legacy, achieving a degree of success that was the envy of other musicians.
But apart from all of these achievements, some may not know that Paul is an avid car collector. He has a love and passion for the classics. His collection includes an Austin Healey 3000, an Aston Martin DB6, a Lamborghini 400GT, and a Land Rover Series I 86 Station Wagon, among others. With such a vast array of expensive classic cars, it is interesting to know that his first car was a Ford Consul Classic.
Prince William and Kate Middleton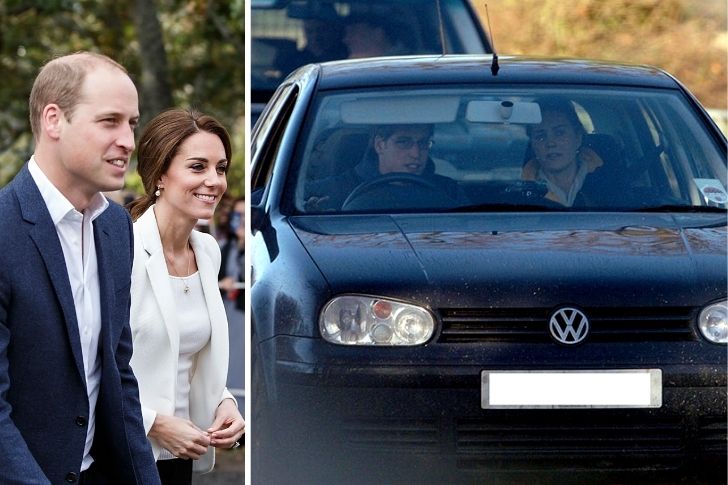 Prince William is the second in line to the British Throne. He is married to Kate Middleton, making her the future Queen consort. Their love story began during their college years while studying for their degree. They both lived at the University of St. Andrew's St Salvator's Hall. Kate caught the Prince's attention during a fashion show in the university in 2002 and the two started dating in 2003. From then on, they both lived together, cultivating their lifelong relationship. It was reported that during these times, the couple drove around in a modest Volkswagen Golf.
The inconspicuous car was a wise choice for their clandestine dates, considering the Prince's high profile. In 2010 they were engaged while on a trip to Kenya. The Prince gave Kate the highest honor in the form of an engagement ring that belonged to his mother, Princess Diana. The couple would be married in 2011. Nowadays they are happily married with three lovely children.
Sharon Osbourne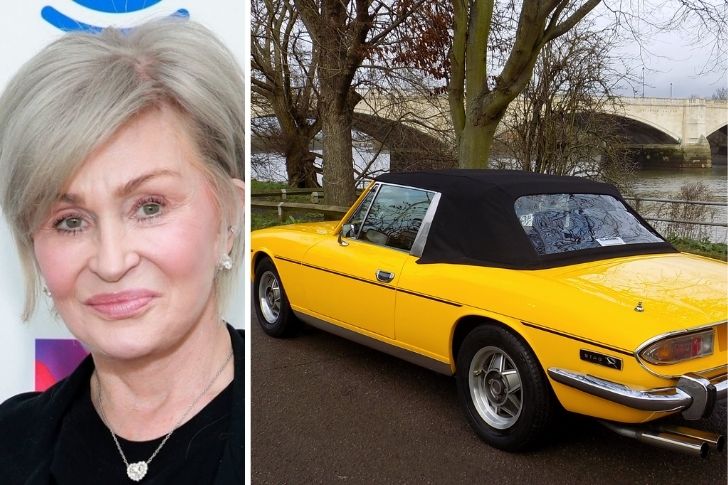 Sharon Osbourne is the wife of the heavy metal icon Ozzy Osbourne. She took credit for reviving Ozzy's music career by creating the successful summer Ozzfest Festival. She gained more fame after the reality show The Osbournes aired on MTV. Sharon would then make further breakthroughs as a TV personality by hosting talent shows such as The X Factor and America's Got Talent. Currently, she is the co-host of CBS' The Talk.
Sharon was the daughter of Ozzy's band Black Sabbath, back in the day. When her father fired Ozzy from the band, Sharon managed Ozzy's solo career, and this was when they started dating. During this time, the couple wasn't as successful as they are now, and Sharon was reported to have driven a Triumph Stag. It is a British classic worthy of a British icon like Sharon.
Taylor Swift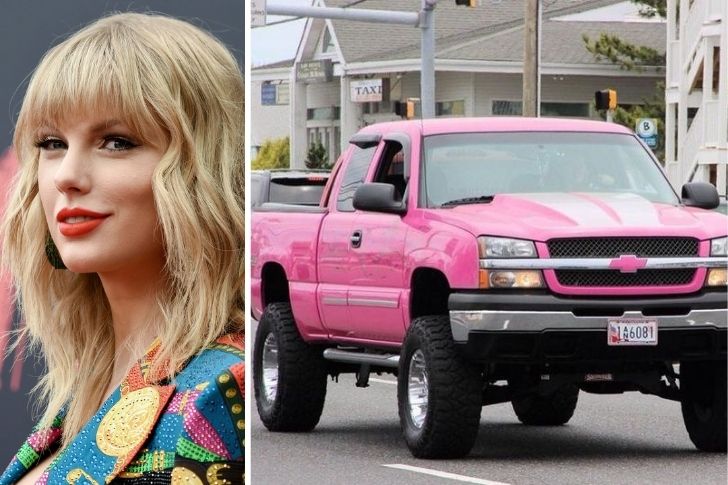 Taylor Swift is a prominent American musician. She is known for her music, which often relates to her personal life that captures her fans' hearts. Her style mainly consists of country music blended with mainstream, which easily translates to commercial success. To her credit, she is a recipient of multiple accolades, including a total of eleven Grammys. Taylor started at a young age, and her debut album in 2006 was a success, but it wasn't until her second album that she reached mainstream success.
Her fourth album, Red, transcended the country genre and was infused with pop, rock, and electro-synth — it showed her musical maturity and diversity. Later on, her eighth and ninth albums would dabble in folk and alternative rock. Today she is considered one of the highest-selling musicians in the world. Taylor is an artist that any record label would be lucky to have. And it's been reported that Taylor was gifted a Chevrolet Silverado for her 18th birthday. Very fitting for a star in the country genre.
Victoria Beckham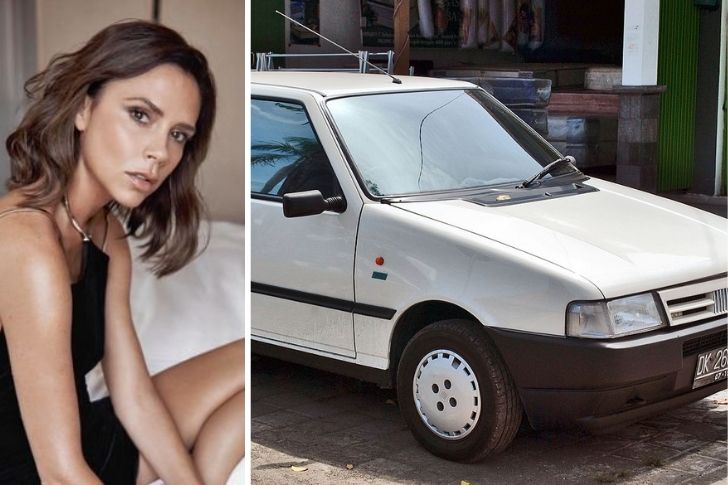 Victoria Beckham was born into a regular family. Her father was an electrical engineer who founded a wholesale electronics company. Victoria had a very comfortable upbringing considering she was given everything she needed. To be sure, it was still very different from the glamorous lifestyle that she has today. It was reported that her first car was a modest Fiat Uno. It wasn't a very posh look for the would-be Posh Spice at the time. Victoria's first steps towards fame and fortune were made in the girl group, The Spice Girls — a group that sold over 90 million records worldwide.
After the group broke up, she continued with her solo career. Nowadays, she is well-known for her marriage with soccer legend David Beckham and her appearances on different reality and talent shows. Much to her credit, she is also a talented fashion designer who has collaborated with various luxury brands worldwide.
Wayne Rooney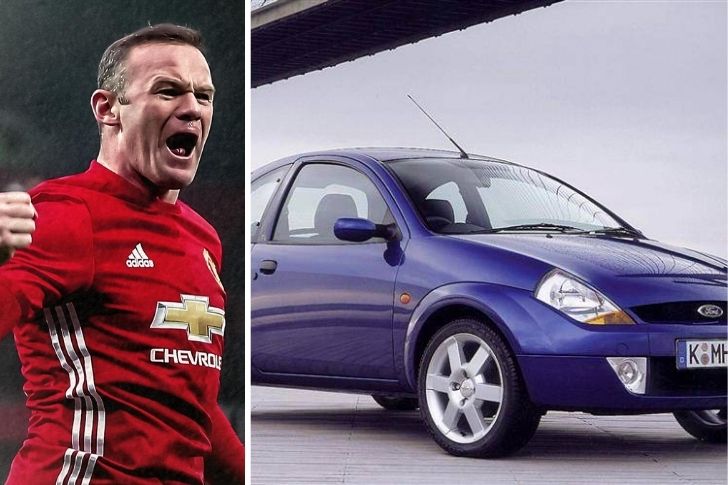 Before Wayne Rooney made a name for himself in soccer, he was a young aspiring Liverpool native supporting his local football club, Everton F.C.. And like any other aspirant, Wayne joined one of the local youth clubs, honing his soon-to-be world-class skills. From here he followed the natural progression and joined the junior leagues where an Everton scout finally noticed him. He joined the prestigious club at the age of 9. To his credit, he had a successful early start in the club's under 19 squad.
During that time, he was driving around in a modest Ford Sportka. A very fitting and practical car for the young aspirant to drive to-and-from practice sessions. At the age of 16, he finally got his career breakthrough by making the first squad of Everton. After two seasons, he gained enough attention from rival clubs in the league and transferred to one of the biggest clubs in the world, Manchester United. From there, he set off to one of soccer's most successful careers in history, winning multiple Premier League and Champions League titles.
Kurt Cobain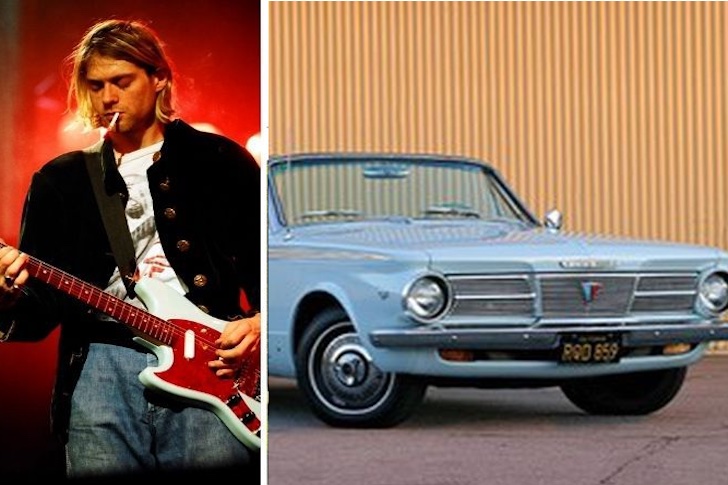 Kurt Cobain was a cultural and music icon of the 1990s. To his credit, he was known for his anti-establishment persona and his influence in the grunge rock genre. He gained global recognition along with his band Nirvana for the song Smells Like Teen Spirit. Their album Nevermind was a commercial success that effectively cemented the band's name in music history. Prior to this overnight success, Kurt was said to have been living in his car — a 1963 Plymouth Valiant.
The success couldn't have come at a better time for the young rockstar as he would set off on a roller coaster journey from then on. He experienced the highest of highs as a rockstar as well as the lowest of lows. Oftentimes he battled with the idea that his massive following misunderstood the message and vision of his art. During his last years, he suffered from substance abuse and eventually died at his home in 1983. He had a short life, but his legacy as a musician lives on to this day.
David Letterman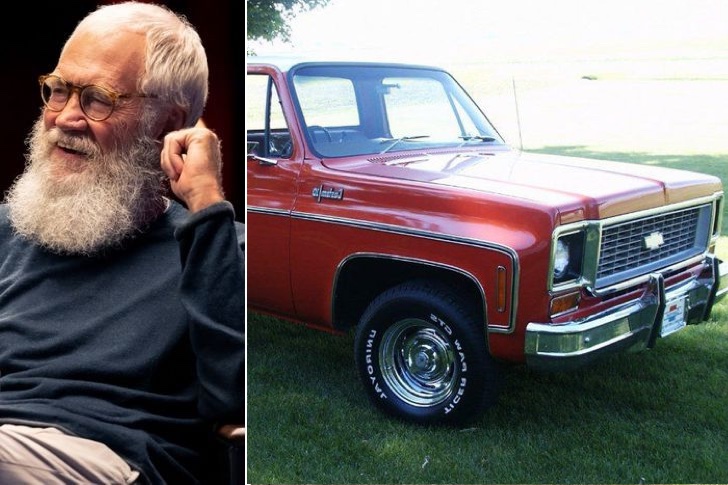 David Letterman is an American TV host, writer, producer, and comedian. He is considered the king among late night talk show hosts because of his tenure in the Late Night and Late Show programs. But prior to all the TV glory, David had humble beginnings. He grew up in Indianapolis, Indiana, and graduated at Ball State University with a degree in telecommunications. He started his career at the local radio station in Indiana but would be discontented and would later leave to pursue success in Los Angeles.
Due to financial issues during that time, he was forced to live in his 1973 Chevy pick up truck. From there he'd write for various shows and land TV hosting roles that would later be his ticket to fame and fortune. David has certainly come a long way and remained true to his passion.
Dr. Phil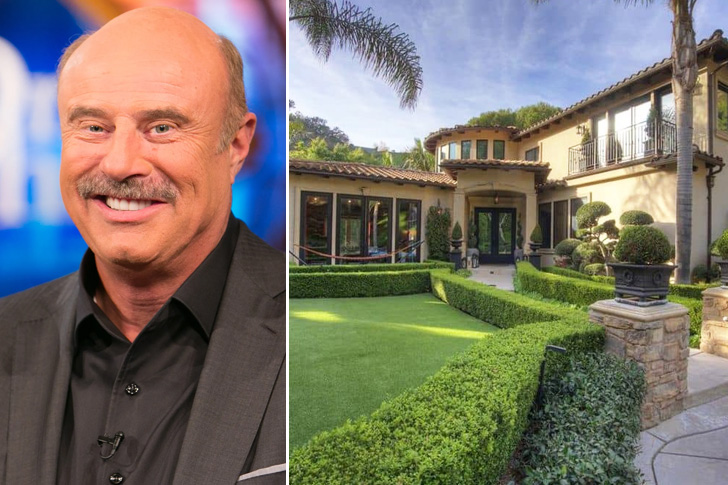 Dr. Phil Mcgraw is a famous TV personality and probably the most famous psychiatrist in the world. With a PhD degree and a prolific career in TV, many will be surprised to know that Dr. Phil was born into a financially troubled family. By the age of 13, he was already out and working for extra cash at the local burger and pizza joint. In an interview, he shared that it was at this point that they felt so financially stricken — sometimes his family would spend nights in their car. Phil would eventually make a turnaround and land a football scholarship in the University of Tulsa.
He later transferred to Midwestern State University and moved to the University of North Texas to earn his doctorate in Clinical Psychology. From there, he established his private practice and later co-founded Courtroom Sciences Inc. or CSI.The trial consulting firm provides services to US legal court cases. Phil had his TV breakthrough when Oprah Winfrey sought out the services of CSI. She was astounded by Dr. Phil and would later invite him to her show. His appearance was so well-received that he became a regular on the show and would later host his very own.
William Shatner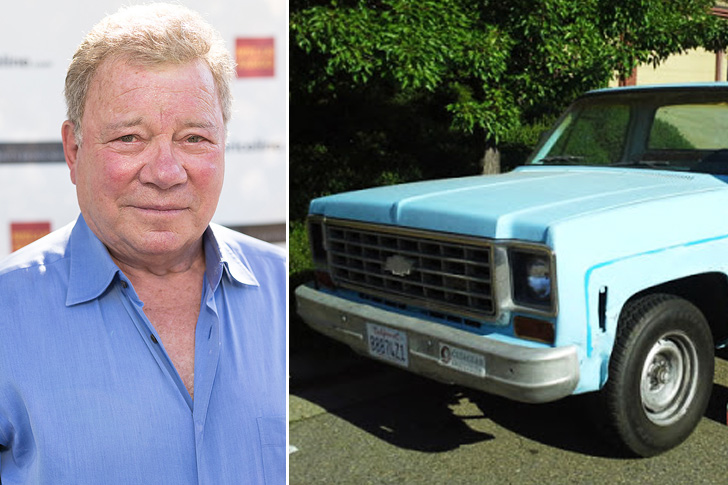 William Shatner is known for his credit role in the iconic film franchise Star Trek. William went through a tough time stretch when the show was taken off the air in 1969. With this fact, he and his wife separated, and Shatner began living in his truck.The actor recounted that he managed to find a job back on the east coast on the straw-hat circuit, but he couldn't afford a hotel room.
It was a no-brainer for Shatner to use his old pickup truck as his shelter for the time being. The vehicle was well-equipped to take care of him as it had a little stove, a toilet, and he drove from theater to theater. William wasn't alone in his truck, though, as he had his dog that served as his partner through all the hardships. Luckily, the star's career eventually prevailed, and he became not just an icon for Star Trek but also an Emmy-winning actor for his acting performance in the hit show Boston Legal!
Scarlett Johansson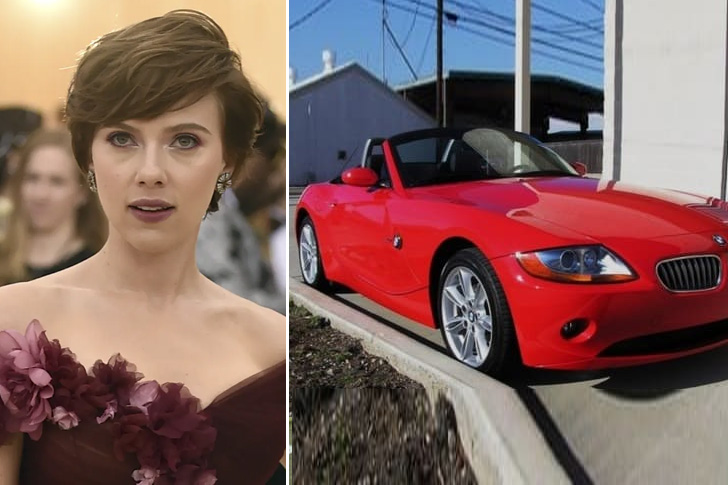 Scarlett Johansson is a well-known celebrity that you'd often see cruising around in her BMW Z4. Scarlett's BMW Z4 is the first car she ever bought herself, and the roadster coupe came with a few unique features. Scar-Jo can easily travel with the top down and watch the beautiful California sunset from her Z4.
The Black Widow star recently said that she regrets purchasing her BMW Z4. She expressed that the car was "too wild and too fast" as she ended up getting into a vehicular accident. Luckily, the airbags were more than capable of keeping her safe. As for her BMW Z4 Roadster, we're confident that her auto insurance will efficiently cover all the maintenance and repair costs. Although, she might want to trade in the Z4 for a car that has a more relaxed and comfortable ride. Perhaps one that's not a bit too wild with all the safety features.
Kim Kardashian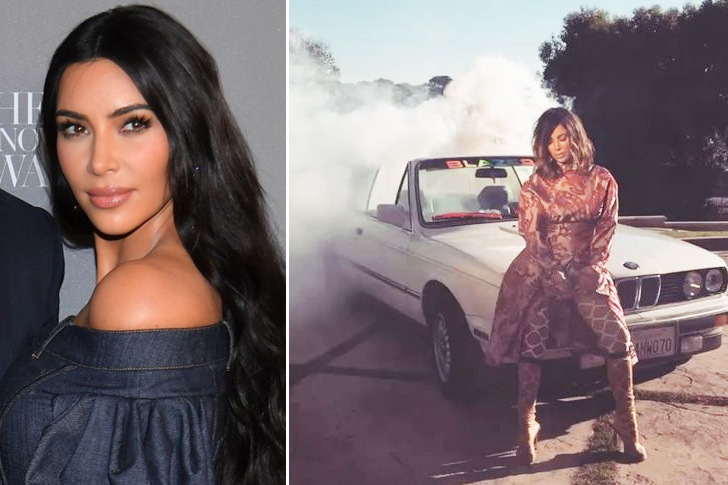 Kim Kardashian is one of the biggest and most recognizable celebrities in Hollywood today. Of course, when you're a Kardashian, it's almost possible to acquire anything that you like. With this fact, Kim has a wide choice for houses, designer clothes, and of course, cars! The reality TV personality's first car was a BMW 3 Series which was also the same car that her older sister got for her first car. With a celebrity of Kim's stature, you'd expect that she didn't have any problems covering the insurance, maintenance, and auto-detailing costs on this beautiful BMW 3 Series!
We're certain that this gorgeous BMW coupe isn't the only car in Kim's ownership. Of course, she's been known to acquire several exotic and expensive cars throughout the years. The celebrity influencer has been seen driving Range Rovers, Porsches, Ferraris, and Lamborghinis. Experts even say that Kim's car collection totals up to a whopping $7 million!
David Beckham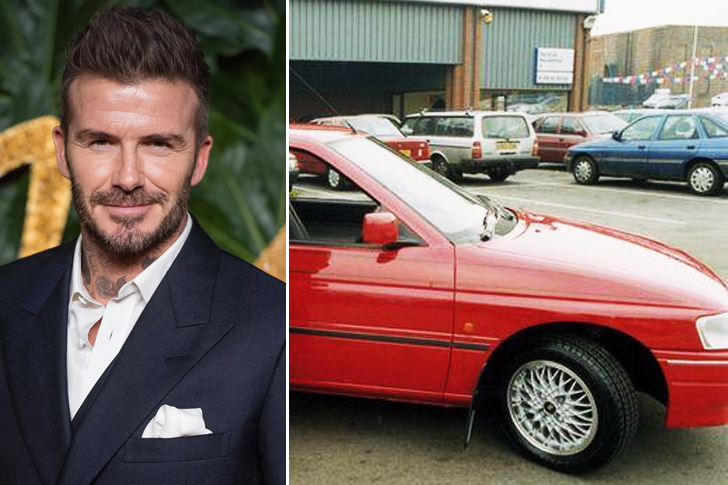 Before he became a global football sensation, David Beckham was often getting from point A to point B in his modest Ford Escort. Beckham bought his Ford Escort from his former teammate Ryan Giggs in 1992, and it came with a 1300cc engine. The football superstar reportedly paid Giggs around 6,000 pounds for the Ford, and it'll always be close to his heart. Interestingly, this Ford Escort was the car he passed his driving test in! You could say that this Ford opened doors for Beckham into driving far more expensive and exotic cars in the future!
It's a bit comforting that the great David Beckham cruised around the roads of Britain in a modest 1300cc-Ford Escort. Since he's achieved fame and success as a football icon, he's moved on into driving far more expensive and exotic cars. The pro athlete is often seen driving Ferraris, Mercedes cars, and other luxury sports cars. Imagine the insurance and maintenance costs of all the vehicles in Beckham's garage!
Ariana Grande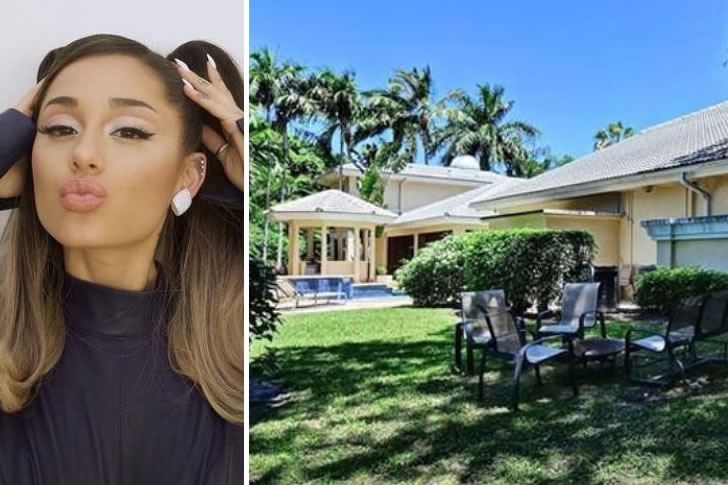 Ariana Grande is one of the biggest names in the music industry today. She is also one of the youngest person to have a Hollywood success story. In retrospect, however, the singer seems to have always lived comfortable life as she was born to parents who were known to be successful entrepreneurs. Ariana grew up in a luxurious property located in Boca Raton, Florida. Her childhood home was not only spacious and modern, but it also featured a swimming pool! Now that she's one of the most successful pop sensations, it was a no-brainer for Ariana to move out and purchase her own luxury home.
The thank u, next singer acquired several luxury homes and real estate investments over the past couple of years. One of her properties that stands out the most is her modern mansion located in Hollywood Hills. Ariana reportedly paid $14 million for her Hollywood pad, and it came with four bedrooms, seven bathrooms, and a home office. Of course, this lavish property also sports amenities that are perfect for a pop sensation such as herself! It comes with a swimming pool, a wine cellar that can store 300 bottles of wine, and an exceptional and breathtaking view of Los Angeles.
Beyoncé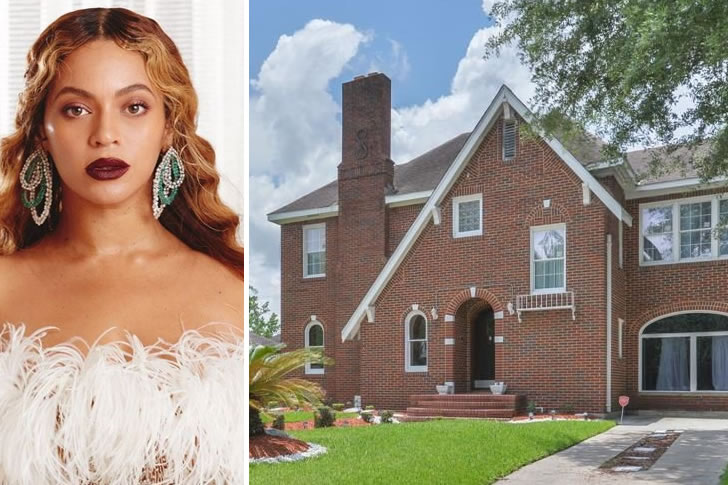 Beyoncé, or Beyoncée Giselle Knowles-Carter, is one of the most successful pop divas in the music industry today. Beyoncé was born and raised in her hometown of Houston, Texas, and she used to live in a modest two-story home. Beyoncée then carved out massive success in the industry as she's been able to earn millions of dollars in the process. Given her record-breaking success, the Singles Ladies singer certainly made millions in her name. It's only fitting for her to upgrade and purchase several real estate investments.
In 2017, Beyoncé moved into a beautiful mansion in Los Angeles together with her husband, Jay-Z. Renowned architect Paul McClean designed the estate, and it is undoubtedly suited for pop star royalty. The Carters reportedly paid around $90 million for this mega-home, and it came with eight bedrooms and eleven bathrooms that sit in 30,000 square feet of living space! This massive Los Angeles home also sports a 15-car garage, four different pool areas, a regulation-sized basketball court, bulletproof glass, and many more celebrity-grade amenities!